Facebook, towards ubiquitous computing?
Last week an opinion piece by sociologist Ben Caudron was published in the Dutch newspaper De Volkskrant. In it, Caudron expressed his views on the latest announcements by Facebook's CEO Mark Zuckerberg at F8. The most interesting new changes Facebook will bring us consist of the better integration with applications and of course the news about Facebook Timeline. At least, those announcements created the most buzz.
In his article the sociologist states that Facebook has reached its borders when it comes to privacy. "Facebook does not only want the entire web, it wants your life", he says. Take for instance the Like-button. It has become the symbol for Facebook's Open Graph strategy which makes it possible for the social network to connect with almost everything on the web. The user's likings are shared and registered for an unknown period of time. Integration between several media can be even more social with placing a single link. In theory, each page you view from a certain site, could be visible on the social medium and immediately be shared with your friends. Facebook teamed up with Spotify to do the same for music. Every song that you listen to using Spotify can immediately be seen. Timeline then forms the cumulus of everything that entails the digital self throughout personal history (and future). You could upload photos from your past, adding meta-deta and placing it in the right chronological order. With these major changes, Facebook hopes the user will contain their lives within one single digital space.
Talking shoes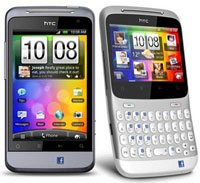 How can we can we place these takes on Facebook within a larger context? Is Facebook taking over our lives? In a way this question, focused on by Caudron, also drew my attention. Not so much in a privacy related matter, although I do believe this is key for a sustainable user-network-relation. No, it is the notion of the physical which interests me the most. So, to broaden the context, is Facebook also taking over our physical world? In a way Facebook is very pervasive. If you wish to have any viability online, Facebook is one of the main ways to go. Just look around and see how many website you visit do not have a Facebook-connection on their page (like-button, share-button, and so on). Facebook even has plans for an own smartphone and it's already incorporated in phones like the HTC Salsa or HTC ChaCha. With the click of a button things are shared. But let's home in on Nike+ Running Monitor (as can be seen in the clip above). Simply put, Nike created shoes that keep track of your runs and so stores and shares all sorts of meta-information on your runs. With the integration on Facebook your shoes tell your friends how good your run was. Maybe they want to beat your time or maybe they want to run your route. A connection is thus made between physical objects and the (social) network. Is Facebook then, moving towards ubiquitous computing? How can we envision the relation between the objects that surround us and the social factor of the users of those objects?
Spimes and blogjects
I've mentioned spimes earlier, in my very first blogpost for this site. Futurist and science fiction writer Bruce Sterling coined this term in his manifesto Shaping Things. A spime consists of the words and, perhaps more importantly, connects the notion of space and time. A spime is an object in time and space. It is an object with its own story, with multiple histories, with an identity. A spime is networked and searchable. Sterling states that spimes are everyday objects, like a shoe, a wine bottle or a book. These objects then contain loads of meta-data which can tell when, where and how the object is produced, how many miles it has traveled before it reached you, what materials it is made of, and so on. Julian Bleecker uses Sterling's concept of spimes when he mentions blogjects. Bleecker states that the blogject is the predecessor of the spime. A blogject participates in a networked environment or social web. There are certain properties that form a blogject, such as embedded histories (location or experience based) and an attributed form of agency. We could again take the Nike + running shoe as an example. Another example that shows resemblance with these aspects of blogjects is pothos, the Canada based Twitter plant. Why not link it to my Facebook-account to tell me when it needs watering?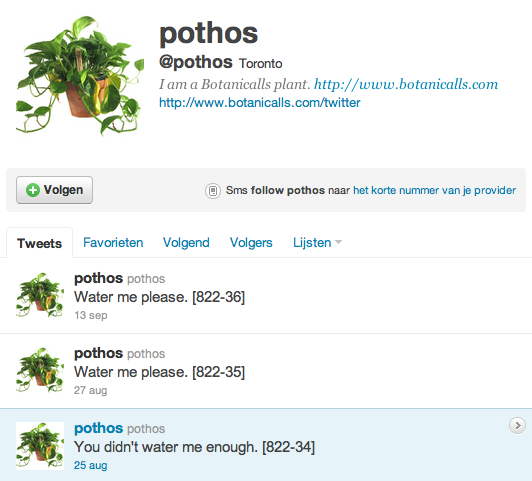 Taking it to the extreme
There are a lot of critiques that one could think of. Questions of surveillance, privacy and security for example. Sustainability also forms an important factor in all this. While doing some research for this post, I ran into this project by David Zhai & Alexis Burson from the Graduate School of Architecture, Planning and Preservation at the University of Columbia. The project is called The Ubiquitous Network and it contains a model for community in times of new urbanism. Data farms and servers are put closer to the users of the same network that it feeds. In a world of blogjects and spimes data is formed by user and object interaction. Is this a possible sustainable future? Could a network community live in a building powered by the data its own users and even objects provide?
References
Bleecker, Julian. "A Manifesto for Networked Objects – Cohabiting with Pigeons, Arphids and Aibos in the Internet of Things", unpublished manuscript, http://research.techkwondo.com/files/WhyThingsMatter.pdf, 2006
Sterling, Bruce. Shaping Things. Cambridge: MIT Press, 2005
Sterling, Bruce. "When Blogjects Rule the Earth," presentation at SIGGRAPH, Los Angeles, http://www.boingboing.net/images/blobjects.htm, 2004.