App review: Open Signal Maps
No signal?
Mobility and GPS
Locative media has always been an interesting topic to write about, especially nowadays of the ubiquitous present of smart phones in society. A smart phone is a very rich tool to research because it has so many functions and options; it is connected to the Internet, you can play games, watch movies, uses GPS and much more. With the use of GPS you can draw art works, as seen on www.gpsdrawing.com. That's all true but what if your smart phone doesn't have any signal? Or your data connection is extremely slow? Do you walk outside to get a better signal? Do you held your smart phone up in the air? Which way do you have to walk to get a better signal? With this application, Open signals Maps, you don't have troubles finding a good signal. Open Signal tells you which way you have to walk by crowd-sourcing mobile signals.
How does the application work?
You download the application in the android market, it is still not available in the Iphone app Store, and start using it. It will automatically send information of your location, signal and probably more to the databases of Open Signal Maps. You, as an users, have an interface that displays your signal strength, a map of the cell towers, data traffic speed and more. For Example, it gives detailed information about your RSSI (Received Signal Strength Indicator), this means you could precisely see the strength of your signal. With the use of the signal indicator you can see which direction you have to walk for a better signal or you can just connect to another cell phone tower that is nearby. With the different maps in the application you can see where the best signal is in your town or country. It gives, besides that, an overview of WiFi hotspots in your area that you can use. Another options is testing your data connection, you have a normal test and a more accurate test in the application.
Another feature is the ability to graph your signal over time. This allows the user to monitor his or her signal. This is for example very handy if you live in an area where there is not a lot of cell phone signal. You can see exactly where you had the best signal.
Mapping cell phone signal
Open Signals Maps creates maps of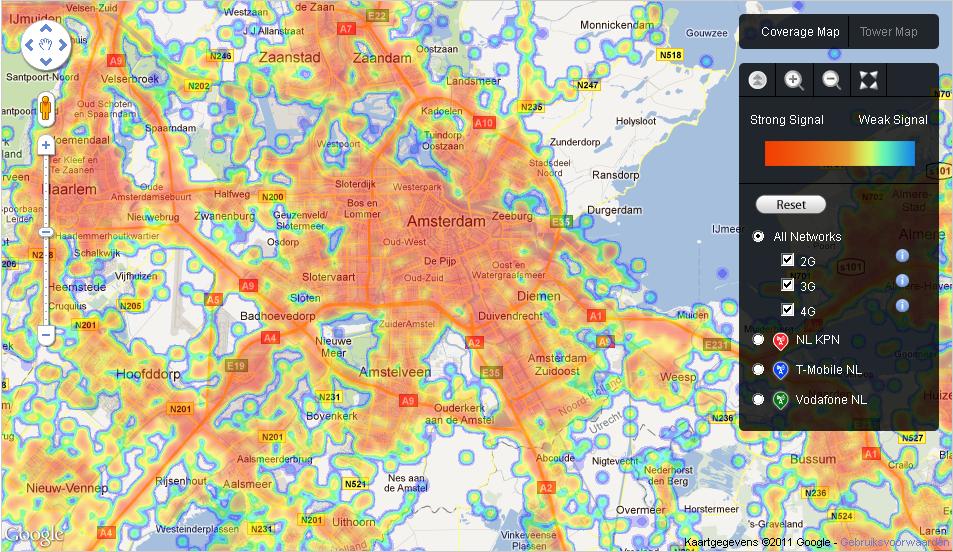 the cell phone towers, WiFi access points and signal strengths by harvesting information of the app-users or you can say crowd sourcing. They, Open Signals, are collecting all this information and putting them one big database so that everyone around the world can access it and use it to his or her advance. Their mission is to map cell phone signal around the world. On their website they have a  Google maps application running that gives all this information on a world wide scale, it is very useful if you go somewhere where there isn't enough cell phone signal. For example in a big Park or Mountain area. They say that are creating this database with information but is this information really for the users or are the selling it to communication companies like Vodafone, KPN or AT&T? If you look at their blog they are showing the information that they are collecting. For example about; 'UK Mobile Notspots Report' or 'the progress of AT&T's testing of 4G networks'.
With your help, we're creating a comprehensive database of cell phone towers, cell phone signal strength readings, and Wi-Fi access points around the world.
Personally, I found this application very useful to have on my smart phone. I don't use this application that much but if I do, it is very easy to use and it gives me the exact information to get a better signal. So if you need a better signal for your smart phone on any given moment, start using Open Signal! Only if you are using an android phone, apple lovers have to wait.