"Funny is fun but humor is cool." – The New Style of Humor in China's Film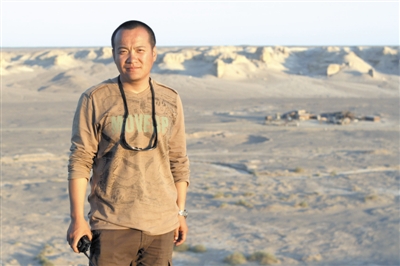 Ning Hao, from Taiyuan, Shanxi province, who had studied at Beijing Normal University in Art Department, and in June 2003 graduated from the Beijing Film Academy School of Photography. Winner of "The Eighth Student Film Festival Best Director Award" in 2003, The Director of Crazy Stone and Crazy Racer.
You are tagged by the media as a "humorous director", are you humorous inherently?
I don't think I'm a humorous person at all. In fact, I am very rigid and my past classmates, girlfriends, or my wife right now are sure enough that I am boring and unfunny. Rather I am into focusing on some absurd things like hiding in dark corners and taking pleasure from others' lunatic behavior as schadenfreude. I especially like the irony and like listening to cross talk since I was a child. The traditional cross talk's life built on the basis of irony for If there's no ridicule, we won't have any chance to be educated by works of Balzac, and also there will not be laughing to any extent. I prefer observing things from a hidden and low-key perspective inaudibly.
Do you think that Chinese society is low on humor? What about China's films and Chinese people? Is this your ideal plan or just spontaneous doing to put humor into your movie?
Well I think Chinese people are not lack of jokes but lack of the sense of humor. A person can be very stiff but he could understand humor. The key is to understand the humor not be humorous. When people's intelligence and cultural enrichment reached at a certain level, he or she will develop another way to understanding things like a combination of several things so as to find their humorous side. That is called humor but usually a relatively calm one. The Cultural Revolution, however, overturned many traditional routines, which is required to re-establish and re-learning. According to this particular procedure, there must be a period of turmoil, during which being funny may be more outcrop than being humorous. China always is a funny nation for instance the Spring Festival Gala is a typical template of being funny and lively. Actually, I didn't deliberately want to mess my films into a humorous comedy, and all I want to bring out is the humor itself.
Do you agree with the fact foreign films have much stronger humor than domestic films do? Which foreign films enlightened you the most? Is humorous film your favorite type?
It's a certainty that foreign films contains stronger sense of humor than Chinese films do for the word "humor " is an exotic term somewhat. And also foreigners have a deeper understanding of humor than Chinese people. Compared with humor, we Chinese people feel more exciting explosion upon funny. When I was a chid, I was a very stable audience of a program named Hollywood Old Films cast by CCTV. What impressed me the most at that time is the logical dialogue in Hollywood films for it contains certain humors which is easy to find but quite tough to catch. Talking about my favorite movies, well, in fact I'm into every genre of films because I'm able to find what I need and expect in every of them.
Nowadays the so-called "spoof movie" is really popular and commercial in communities. Do you like it? How do you see the Bread Massacre by Huge?
I don't particularly like the current movie trend which named after the "spoof movie". About Huge's Bread Massacre, I think it really was playing to the gallery rather than humor. I do think there's quite a distinction between humor and comedy. Lots of things put on the internet are more funny than humorous. The real humorous performance or films could be hardly found there.
Have Chinese comic films formed a force or grand trend already?
I think most of Chinese comic films are largely based on Feng Xiaogang's work, which are mainly initiated from the China's northern part's humorous linguistics for it is easy and expressional for comedy form. Geyou, the famous actor, really understands humor quite well and he's skillful at not merely emotional control but also operating the accurate performing rhythm. Right now Zhao Benshan is still the best comedian in China, who has become the only main reason for people to watch the Spring Festival Gala every year.
Which humorous actress/actors and directors you appreciate?
Stephen Chow obviously! He is very good, who really comprehends humor very well. His sense of humor has become a extremely high model and the very unique view of humor has become a extremely high model for many people. He cannot be said as simply funny, however, he has already come up with an attitude to humor which has superseded the humor itself. This attitude to life and to the film has "humorized" the pure fun. Although I admire him so much, it's been largely difficult to cooperate with him.
Will you continue this humorous type to shoot your future films? And could mainstream films be shot in a humorous way?
I haven't thought about that. The motive of my film was not for being humor but telling a story, to obtaining resonance from audience upon its content and value. Humor, as might be expected, can be made into a mainstream blockbusters like Hollywood films which contains humor in any kinds of films even King Kong. The mainstream movies are made for account  of entertainment, and whose large main function is to carry out the entertainment by using diverse approaches.
As your films often win awards in foreign film festival, and which part of your films in your opinion attracts the judges' favors? Is that your unique sense of humor which accounted for less than great?
My winnings often are inexplicable and I didn't win frequently in fact. Zhang Yimou is the person who can be called as a frequent winner. I don't know how foreigners view my movies, but they understand my film and I made them laugh where they should, which is to say, to some degree they show more understanding of my films than the Chinese audiences. As a result, I always acquired a better effect after my films were launched in foreign countries.
Is Crazy Stone a humorous movie?
Yes, I think it could be more entertainment and humor in a fast-paced and informative film form entwined with a more complicated storyline about telling a complicated story. Some kind of dry sense of humor will be shown in this movie. Dramas are emphasized on inner tension but this movie would be more external and distinguishing in the way of telling story not just from applying the light but also the music which is accomplished by a well-known Japanese music producer, leading to bringing about the freshness and vividness inside.
Why do you choose Chongqing to shoot this movie?
Not like a traditional film, this one seems a little bit eccentric and Chongqing is a representative city combining the old and new. Chongqing underwent a truly rapid changes in recent years which led to allowing many contradictions together at the same time. This place, suffered scorching temperature, and people there eat hot pot as a routine, is Chongqing where you will find people who are really noisy and easy to get angry, will not happen in other places. The people in Chongqing live in a natural status and being happy with that, too. Additionally, the city gets the sophisticated structure not int people relationship but in construction and architecture as well. I like this kind of structure because it can exhibit visual expression in a ample scale. Thus I chose there.
This interview is taken by QQ, a frequently used software in China.