An interview with Jerom Fischer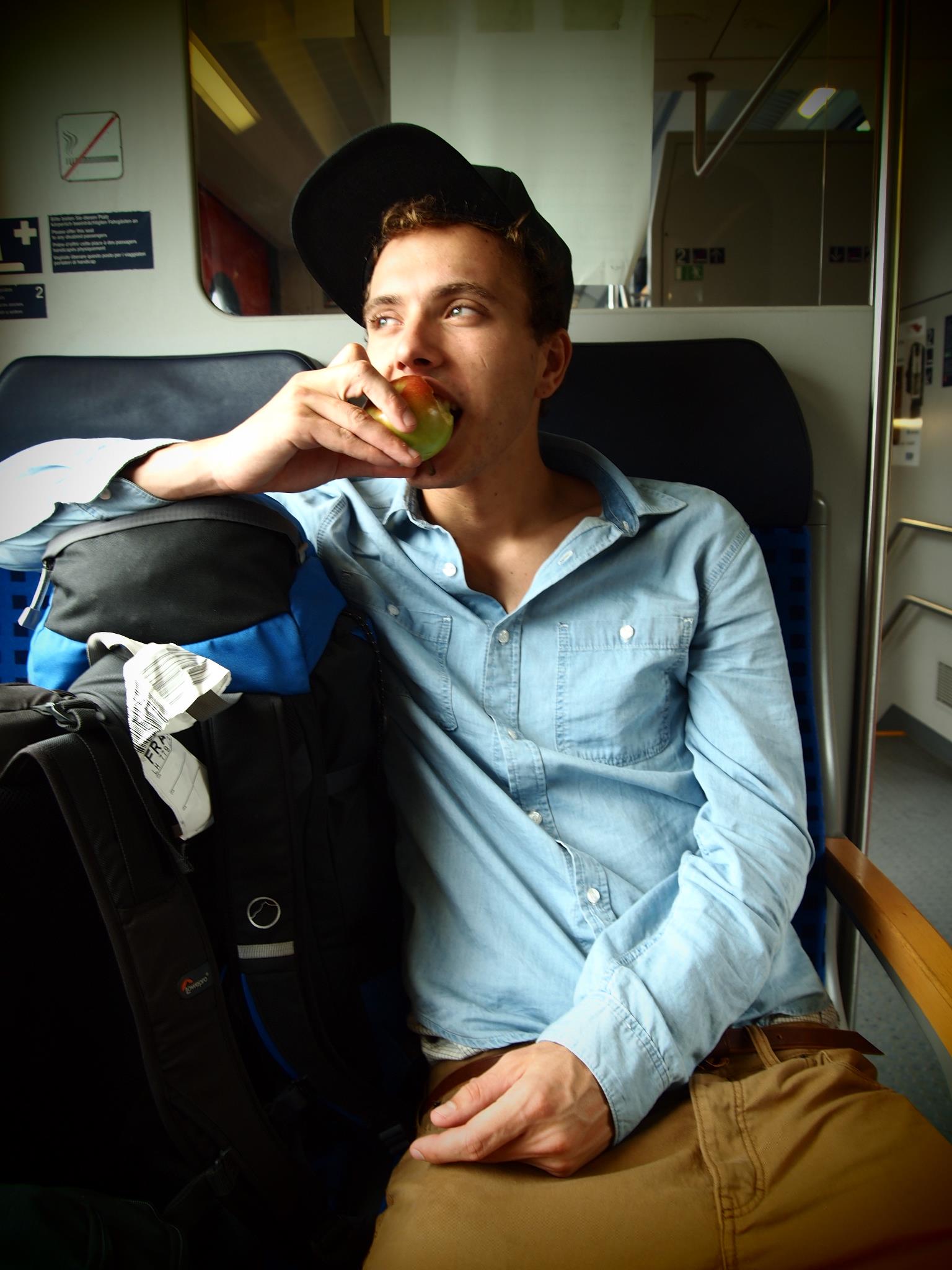 Some say this is the best time for artist and creative entrepreneurs. Others think the creative industries are coming to an end thanks to the negative impact of the Internet on industries like the music industry. Since I'm interested in writing my Master-thesis about the future of the cultural industries, I wanted to find out more about how today's young cultural entrepreneurs think about these developments.
For this blog post I interviewed one of my fellow students, and dear friend, Jerom Fischer. Jerom and I went to high school together, so we go way back. It was our high school time where Jerom developed a special interest in film. When we where in fifth grade we made our first short documentary for a school project. The film was based on a Dutch television programme called Spuiten & Slikken. After we showed our first documentary to our entire class we received the highest grade from our teachers. Since then Jerom never stopped making short movies.
Now, about five years later, Jerom is a student at the University of Amsterdam, studying Media & Cultuur. He still got his love for film and managed to build-up a little career as designer of short movies. Despite the fact that Jerom has never been to film school, a big part of his income is due to projects concerning film.
Jerom makes all sorts of short movies. One of his bigger projects this year is a series of shorts he made for Time Warp. Time Warp is an event that takes place in Germany, Italy and the Netherlands. This year they asked Jerom to make one movie for every event. This means he already traveled abroad to work his magic. Besides filming events Jerom works together with DJ's, musicians, fashion designers and graphical designers for his movies.
How it all started
Although Jerom made his first movie during high school, the start of his career as video-artist was even before he made his high school documentary. At the age of fifteen Jerom got interested in making his own skate-movie after seeing several of those movies at home. He and a group of friends where always skating around the neighbourhood and thought it would be fun to make their own movie. Luckily for them, Jerom's parents had a camera they could use. At the age of fifteen Jerom shot and edited his first movie on a computer at home.
"Back then, all the skate video's I saw had little montage tricks that appealed to. Those video's combined music with video. This was something I wanted to do myself. With the digital camera of my parents I shot my first Skate video."
Several years later, Jerom graduated from high school. As a present his parents gave him his first camera. This boosted his drive to make movies even more.
The ball starts to roll
When I asked Jerom if he was consciously working his way up becoming a young started in the creative industries, he told me that this wasn't the case:
"It happened all naturally. At the time I had two friends who where in a DJ-duo called Loops, and asked me if I wanted to film a couple of their shows. After shooting those movies and putting them on the net their booking agency came to me and asked if I wanted to make movies for some other artists as well."
Thanks to these first assignments the ball started to roll. With every new shoot his skills developed, and with the money he earned he could buy new stuff to improve his movies.
The Internet as home base
Transforming his hobby into a small business was a process that went naturally. But it can't be true all that this would be possible without the influence of the net. Most of his work wouldn't even exist without the presence of the Internet, since there's no place for his movies on television or in cinema.
"The internet is my home base. It helps me to find an audience for my work. There's no time for my work on television. The time available there is limited. So there is no opportunity for me to develop myself this fast via TV. The Internet on the other hand let's me do whatever I want. I don't have to compromise to an editorial office. Besides that, my clients can find me easily via the web."
Internet has been a catalyst to Jerom's career. He distributes his movies via the web, finds an audience on the Internet and his clients can easily get in contact with him via the net. It is easy to say that Jerom's career wouldn't be where it is today without the influence of the World Wide Web. And not only the web, but also modern technologies for cultural production are at play in the development of Jerom as video artist. If it weren't for his digital camera, iMac and film production software Jerom couldn't make those great movies.
The industry
As Jerom's example shows it is an incredible good time for artist. There's no hold on creativity and with modern-day technologies it is possible to create as much content as one likes. But since every creative artist now is competing with all of history and all of future, how do you make a work that will stand the test of time? How do you stand out against the world?
"Off course I know that nowadays it isn't enough to be the best of the city, or the best of the country you live in. Everyone wants to be the best of the world. But the cool thing about the Internet is that it enables you to be the best of the world. Thanks to the Internet I can easily make movies that can be watched by everyone that has access to a computer and Internet connection.

"Because we can watch and listen to almost everything on the Internet people get more critical about what they choose to see. They will judge a movie not on how good it looks, but how creative the creator of that movie was. Creativity becomes a much more important now everyone can make and see endless amounts of content.

"Another great thing about the Internet is that it can inspire me to develop new and creative concepts. I find it fun to know what's going on in the world. I learn a lot of the new things I discover on the net."
Empowerment
When looking at Jerom's video's we may see what's going on all over the creative industries. Filmmakers aren't just filmmakers anymore. Creative artist like Jerom have become multidisciplinary artist, working together with graphical designers, musicians, fashion designers and event organisers. And all this work is done with tiny budgets and flexible workplaces. So in a lot of ways, new media is empowering a cultural entrepreneur like Jerom.
If we have to believe what Jerom is saying, the cultural industries aren't dead at all. When looking at the current developments as new opportunities one sees that we have entered a time that can be great for everyone that wants to make it as an artist. But there's one crucial aspect of Jerom's success that I haven't mentioned yet. This is probably one of the most important things you need to survive as an artist. It is this thing called passion.
http://www.jeromfischer.nl/