Interview with Hein Wils: Stedelijk Museum and ARtours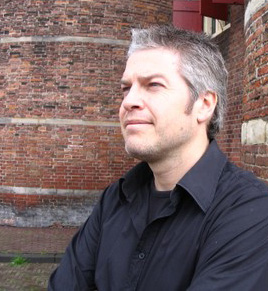 In January 2010 the Stedelijk Museum's ARtours project started. Hein Wils (43) leads this augmented reality project and is also involved in everything that works with mobility. The project will end by March 2012, but he remains employed as mobility expert. In the last years, the Stedelijk Museum has gained much expertise on mobile concepts combined with exhibiting art. I asked Hein a few questions about the ARtours project and what is coming up.
Why did the Stedelijk Museum decide to exhibit art in augmented reality?
The main reason is that the museum has been closed since 2003 for renovation purposes. We still wanted to keep our collection open to public. The reasons are now more extended. We found out that augmented reality is a perfect tool to add extra information to certain works. You can think of the little description sign under each work. Some people are also interested in the backside of a painting. Augmented reality allows us to show this information without moving anything. Besides, innovation is always good for museums!
Can you tell us something about ARtours?
ARtours is a project for innovation in cultural expressions, supported by several funds like the Ministry of Education, Culture and Science. It mainly focus on mobility research as well as finding possibilities to keep the city of Amsterdam in touch with the Stedelijk Museum. One of the first ideas was to work with Layar, but we decided also to look for more possibilities with other applications. We realized different prototypes with different partners. I will name some examples.
The first one was Ik op het Museumplein (Me on the Museum Square). You can still visit this one by going to the Museumplein and load the layer in Layar. We still use this exhibition to demonstrate some possibilities of AR.
We were also wondering what we could do with projection. We digitized 160 artworks and virtually loan them to festivals. By scanning a QRcode, users can pick up one of these works and hang it somewhere they like. Together with festival visitors, we created an augmented gallery on location out of the Stedelijk Museum's collection.
However, we wanted to do new things specially made for augmented reality as well. Jan Rothuizen used layer to play with the physical location of the Stedelijk. For instance, he put some speech bubbles on the wall and placed a ladder against the building. Imagining the things around and working them out was basically his idea.
Willem de Ridder, a storyteller, created a tour with things you normally won't see. It's about the secret details within the building, like cracks, holes, keys and so on. While he is telling you a story, you will be guided through things you normally won't notice. It is basically an audio tour, but audio is also a form of augmented reality.
Within the ARtours project, we also help other museums to create their own augmented tours by having workshops and congresses. Last summer we raffled two AR tours among participants. One of the winners was the Prison Museum in Veenhuizen. What makes this project very special, is that they physically rebuild the tour for the ones who do not have a smartphone. Thus it became an offline exhibition as well.
The last example I would like to mention is the Augmentizer by Sander Veenhof. It combines both old and new techniques. By photographing people they will be captured in augmented reality. We tried this at Lowlands and it was quite a success. Later we moved the captured people to the museum.

Putting it all together, the ARtours project is very much about experimenting en pioneering. We often attend to congresses and lectures and organize congresses ourselves too. In the future, we would like to do more with image recognition because that could be the killer app in our museum.
With which partners does the Stedelijk Museum work?
We have made the application for support together with Fabrique, which is still an important partner in concepts and interaction. 7scenes is realizing platforms. Of course there is a direct connection with Layar, even though we work separately. TAB World Media, Muzar and many other smaller enterprises often link up.
What feedback do you get from visitors?
The audience responds mixed, but mostly they are very enthusiastic! Sometimes it seems hard to admit to these kinds of new technologies.
Very often there is a lot of admiration, especially with people's first experience. On the other hand, there is a lot disappointment as well due to small screens, poor internet connections and objects that load very slowly. Fortunately people always understand the experimental aspects. By the way, augmented reality only makes sense when you put additional information in it. You have to think carefully what could be interesting for the audience. Why should they open your application for a second time? Those kind of questions are very interesting!
The museum has been closed since 2003. When will it be open again?
I have to give a diplomatic answer: we hope in 2012.
What has the ARtours project meant to the Stedelijk Museum this far?
We gained a lot of experience with AR. We've used techniques that were never been used before. Therefore, we will provide WiFi in the new building. Foreigners must also be able to view everything. Everyone within the Stedelijk Museum now sees the opportunities we can offer visitors with augmented reality. We now work more together and there are better substantive discussions than before. Each of us thinks of themselves about how we can present thinks. A year ago this was almost unthinkable.