Show, Give and Hack: A Call for Open Data
I've got a confession to make. When I'm watching the news and the newscaster starts talking about the national and global economy, I find it hard to maintain interest. Of course, this is due to the fact that it is complicated matter. As I'm certainly not the only one, Dutch news broadcaster NOS is also aware of this fact. At the fifth annual InfographICs conference economic reporter Gert-Jan Dennekamp showed the audience ways in which the NOS tries to visualize these abstract financial stories. They try to do so in an appealing and understandable manner, so viewers can grasp the difficult notions better. Moreover, they also want to give viewers (and online visitors) the ability to research their own stories and make their own connections.
Showing the data
Even though news media and critical journalism function as gate keepers of democracy, and these news facts concern us all as 'we the people', the average citizen is often not aware of what all this data actually means. If you're not paying attention, you get the feeling that all you hear are numbers. In 1989, real estate investor Seymour Durst realized a fairly simple idea: to create awareness for the rising national debt. He produced the National Debt Clock, a matrix display that shows the US debt in total, and the share per American family. The first time I heard of this sign, I was genuinely impressed by the simple yet exciting (and maybe even terrifying) notion of creating awareness. That said, what do these numbers still mean? How are they generated? What are the national debts of other countries? Looking at the National Debt Clock will not tell you that in its 23 years of existince, there were only two years in which the debt was actually decreasing. A lot of context is missing, and solely showing the data does not do the trick.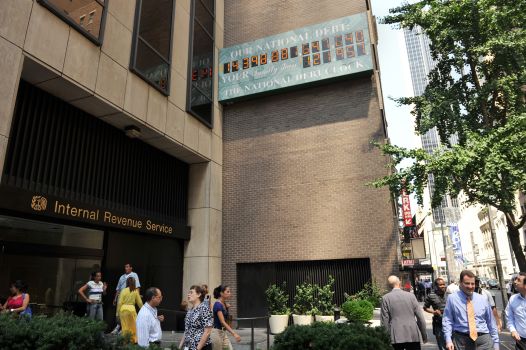 The National Debt Clock. Stan Honda/AFP/Getty Images
Until this point, I have only been talking about financial data. The ongoing global economic crisis validates this approach and shows the importance of transparency by governing authorities. Open data can be the vehicle that brings us towards this transparency. President Barack Obama gave insight into federal budget spending and provided the American citizens with Recovery.gov, a website on which citizens can see where their money is going. And even though it is a good initiative, it rather functions in a similar way to Durst's Debt Clock. Louis Garcia and Andrew Johnson probably had a sort like experience and created WhatWePayFor.com:
"Both political enthusiasts, we found it frustrating that there was no easy way to browse the federal budget, and even if you looked at the numbers it was hard to relate to spending because it's in "billions" and "trillions" of dollars.

We believe that the disconnect between the people and where their tax money is being spent has contributed to:
• Increased inefficiencies in government spending
• Increased influence of special interests
• Decreased political participation by citizens

Our website allows you to easily browse the federal budget and see where the amount of money you contribute through taxes is being spent. Our goal is to make government spending more understandable so that our citizens can be better informed."
Give me the data
In his article Government as a Platform, Tim O'Reilly makes the analogy of the government as a vending machine. We basically get what we pay for, and otherwise, we shake the machine by protesting. Citizen participation is limited this way. He then mentions Eric S. Raymond's idea of the cathedral and the bazaar. Raymond uses this analogy to expose the model of participation and collaboration in the development of open source software. As opposed to a cathedral in which the hierarchy is performed top-down, on a marketplace the community exchanges services and goods. O'Reilly envisions that this model should also be applied when it comes to governing and data.
How can this be done? By creating a open platform in which the authorities not only present us the data, but also give us tools and access to work with, dive in and research the data. APIs and mashups for example. According to O'Reilly, this open way of data management will lead to innovative ways of understanding and eventually creating policies.
The Netherlands are running behind in the respect of open data. The Dutch government launched data.overheid.nl at the beginning of last year. There's not really that much interesting to be found and what seems to be offered is lacking all forms of categorization. To generate some additional attention, the Apps for Netherlands contest was organized. Contestants had to make use of at least one dataset of data.overheid.nl. Organization Hack de Overheid (Hack the Government) applauds the contest, but stresses the fact that the Dutch are running behind compared to other countries like France or the UK. Lex Slaghuis of Hack de Overheid: "In one and a half year time 250 datasets have been put online, compared to 230.000 in a few months time in France."
No, the Dutch should take an example of Kenya, the first developing country to have an open government data portal. Not only do they provide the users with more data sets, these are also neatly categorized. Moreover, Kenya Open Data offers the ability to view the data in different ways and even visualize it. There are options to export, discuss and even embed. If you register for an account, you can even play around with it and save the data. And to top it off, the whole thing looks and feels pretty nifty. (Data, Kenya dig it?) Get a thirty second glimpse in the clip below, after that it's all code. And of course make sure to visit opendata.go.ke and see it for yourself.
An impression of Kenya Open Data Initiative.
Hack the data
So, if the data is not only shown, but also given, it's up to us as members of the community to hack the data. And by hack, I mean tweak, research, mix and find new narratives. Having open data to work with, can provide the tools to create an ongoing extensive awareness of policies and governance, that gets updated as soon as the data sets are updated. It might sound idealistic, but transparency in governance by means of open data could make for an better understanding of policing. Data visualization is a necessary part in all of this. Data vis enthusiasts like Gapminder's Hans Rosling show us the importance of data and the power visual representation can have. As Yuri Engelhardt makes clear in his essay Graphics with a Cause, Hans Rosling is strongly influenced by Otto Neurath, the creator of the Isotype. It is he who states that "words make division, pictures make connection." Following that saying, I would like to end with a call for open data, so future Seymour Dursts, Otto Neuraths and Hans Roslings will show us the current and actual state of the world. And in the line of their work, I'll leave you with an impressive visualization of demonocracy.info on US debt. Do check the website for other remarkable economic visualizations. They sure caught my attention.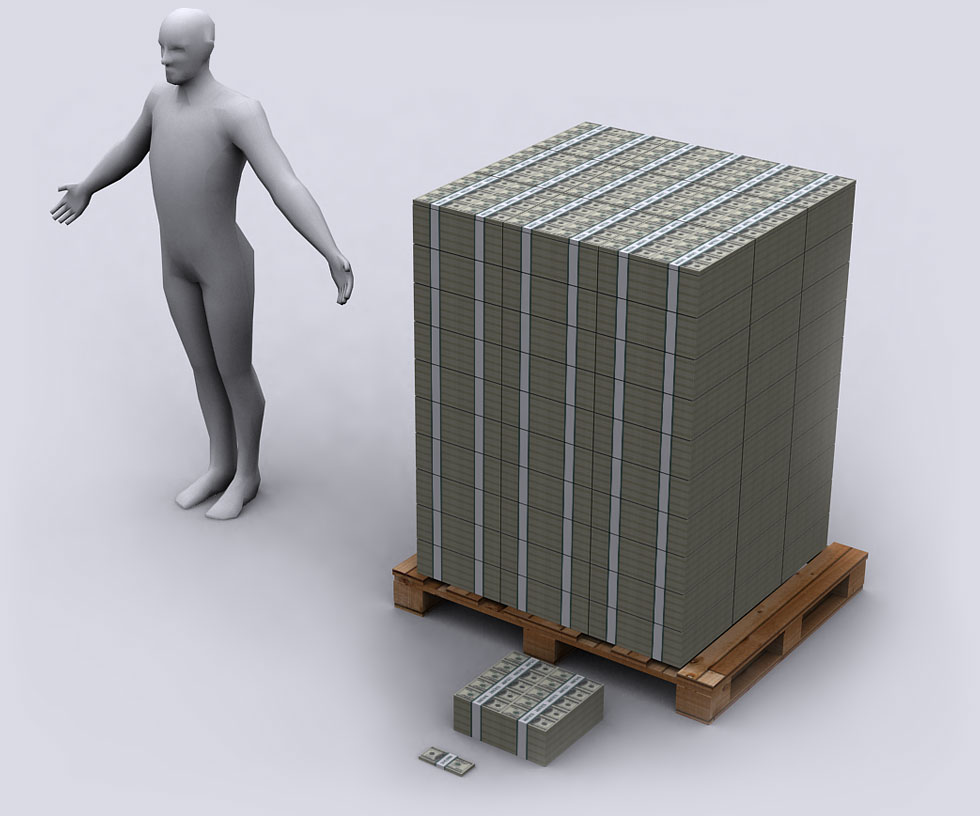 One 100 Million in dollar bills.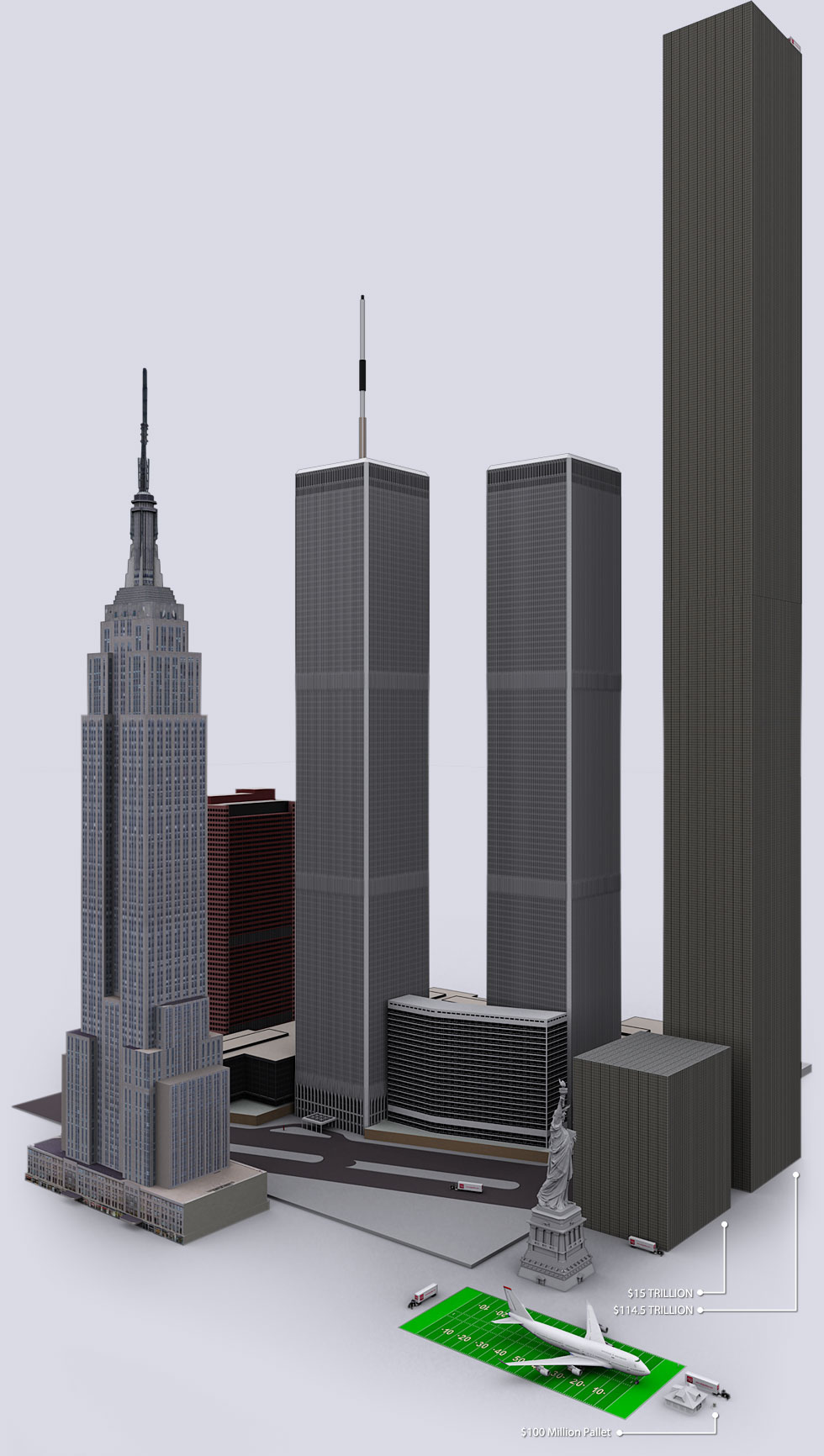 US Debt: $114,5 Trillion
Sources
Card, et al. (1999) Readings in Information Visualization: Using Vision to Think. Academic Press, Morgan Kaufman Publishers.
Curtin, Gregory C. (2010) Free the Data!: E-Governance for Megaregions. Public Works Management Policy. Sage Publications.
Engelhardt, Yuri. (In print, 2012) Graphics – Neurath, Rosling, and the Universal Principles of Visual Representations. On Information Design.
O'Reilly, Tim. (2011) Government as a Platform. Innovations: Technology, Governance, Globalization. O'Reilly Media Inc.
Robinson, et al. (2009) Government Data and the Invisible Hand. Yale Journal of Law & Technology. Vol. 11, p. 160. 2009.
"Er kan véél meer met open data dan naar de wc." NOS op 3, 2012. <http://nos.nl/op3/artikel/334474-er-kan-veel-meer-met-open-data-dan-naar-de-wc.html>