A New Media Advertising Solution for a Classic Brand: Mercedes-Benz Romania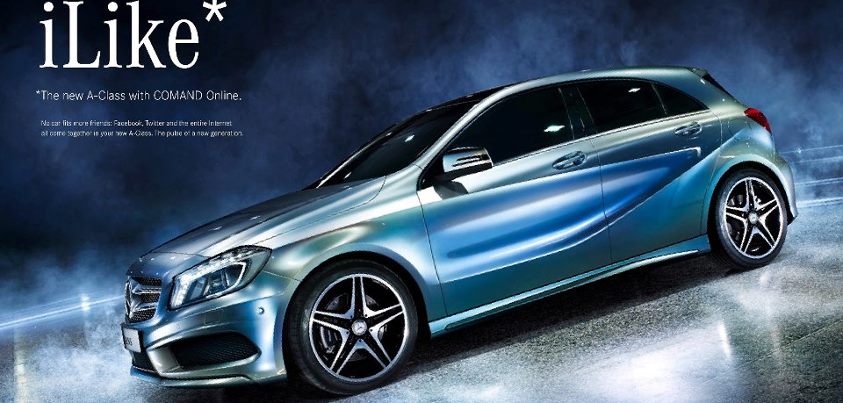 There's Mercedes-Benz and there are other cars. I've always been an admirer of the German super-brand, not only for its outstanding four-wheeled pieces of art, but also for having a spectacular history and the power to constantly re-invent itself. Mercedes-Benz is probably one of the most well-known brands throughout the world, having its name next to the word "quality" in anyone's dictionary. You would think that advertising a brand like that is as easy as putting a car in first gear, but that would be without taking into consideration a number of factors: competition, advertising clutter, financial crisis, the public it addresses and the specificity of each local market.
Without being subjective (after all, my passions lay close to New Media), it's quite a challenge to build a digital strategy for a brand that you would normally associate with a stiff CEO or well suited businessman that has read the same financial newspapers in the last decade. Not to mention the other big proportion of Mercedes-Benz buyers, the nouveaux-rich, passionate about luxury, using the internet only to find out new material meanings for their consistent accounts. Again, without being subjective, getting their attention on TV (huge general audience and impressive spots do the trick) might be a simple task, same with printed publications (the few business newspapers, luxury and automotive magazines left are quite easy to cover). But how can you digitally reach your desired audience? Can you improve sales by the help of new media and by this prove that this newly appeared environment is the said savor of advertising? This were the questions going through my head the day when (working for Zenith Communications media agency) we got invited to pitch Mercedes-Benz for their advertising business in Romania.
The Brief
Build and propose a strategy (on all media) that should take into account Mercedes-Benz traditional values, its four different divisions (Cars, Trucks, Vans and After Sales), the budget and, most importantly, innovate. In short, Mercedes-Benz wanted to be modern and adapt to the 21st century, but still remain the same tweed wearing old gentleman by the name of Hans. And the X Factor for doing the job was, evidently, digital media.
The Solution
First, you have to have a picture of how Mercedes-Benz was advertising in the Romanian online: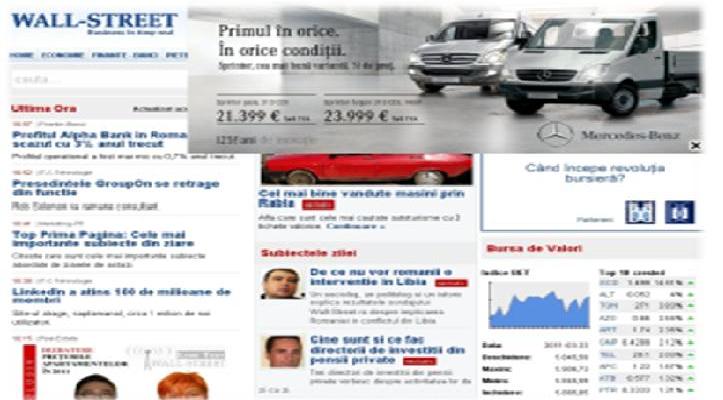 Yes, it was very similar to what online advertising looked like at the apparition of the first web banner in 1994.  Mercedes-Benz Romania wasn't very sociable either, having a little over 10,000 fans on Facebook. No wonder this called for innovation!
First, I got a sneak peak into what the international peers are doing. I was afraid that a too special project might frighten the client, after all, it's all black and white and chrome and not so much creativity for this company. I was proven wrong, as soon as I found the Tramp a Benz blogging project from Germany:

Then, I logged into Facebook and looked up the Mercedes-Benz international page: 7 million fans, really nice apps shining brightly all over the place. If the people from "the center" socialize so much and understand the role of a Facebook app, but are also playful and let bloggers do off the track viral advertising, this means that Mercedes-Benz Romania should have the same kind of openness, right? Speaking of viral, can you give such a spin to a campaign promoting a Sprinter or Viano van? Yes, you definitely can, watch this:
Enthusiastic, but with an eye on the Mercedes-Benz list of values, we started writing the presentation and building the strategy. It is said that "if it isn't broken, don't fix it" and that's exactly what happened with the conventional web banner display. The few quality business and financial websites available in Romania were kept in the media plan, but we proposed new formats, called rising stars (pushdown, sidekick, billboard banners) that offer higher visibility and interactivity. They allow the user to interact with the ad, having a comprehensive experience before going on the brand's website and taking a buying decision.
The boring stuff was also left into place. Google SEM campaigns are mandatory, our expertise will turn out in obtaining better costs and providing more consistent lists of keywords. It should also be combined with a SEO diagnosis and repairs where they're needed. This should make our very special friend Google show Mercedes-Benz website in the first page of search results, as high as possible on the list. It is also suited for people searching for information on trucks and vans, potential clients very hard to reach otherwise. A proposition that later became reality was the mobile version of the Mercedes-Benz website, a huge step for the company: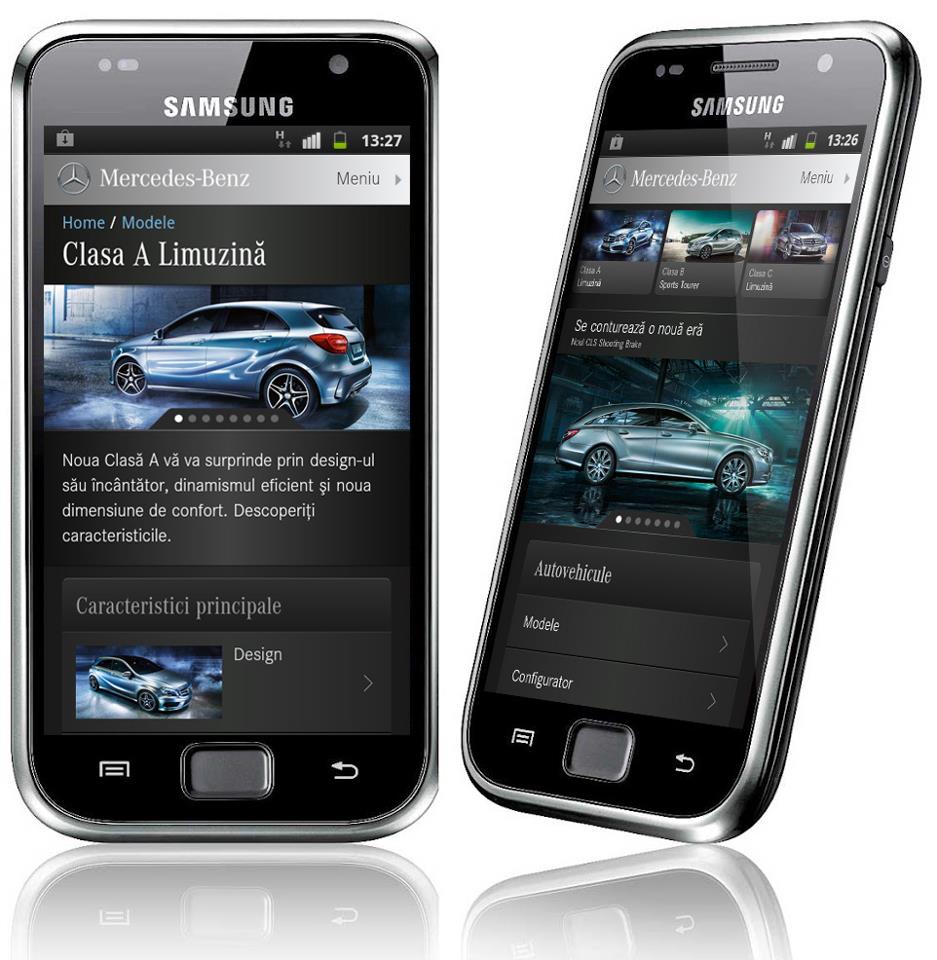 On Facebook, BMW, the main competitor, was far away in regards to numbers: 100,000 fans as opposed to the 10,000 fans Mercedes-Benz had at the moment. We made a commitment to win at least 50,000 new friends by the end of the year (we'd use social ads, direct likes, sponsored stories and premium ads), but, most importantly, turn this fan base into a loyal one. One solution would be the ARock Facebook app (promoting the A Classe). Placebo fans had the opportunity to win tickets for a concert that the band was going to have in Madrid.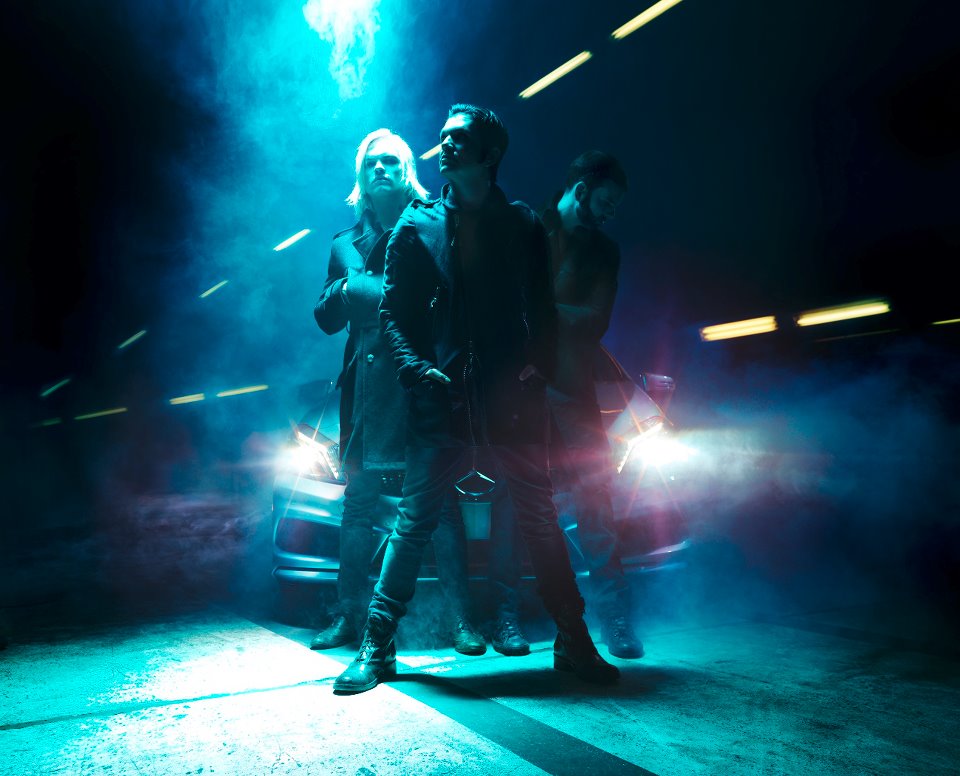 We also thought that going into augmented reality was an appropriate direction and proposed for the up-coming New SL campaign an application that allowed users to "look" in the car's interior by moving their tablet around. It was also possible to try out the supercar's new features and even hear the engine roar.
As for special projects we came up with nice and effective propositions. The very first Luxury Exchange in Romania (a platform dedicated to ritch people, interested in expensive purchases), branded by Mercedes-Benz. For younger audiences, we chose an online entertainment magazine called "Zile si Nopti" and re-interpreted the content of their going out recommendations. For example, the introduction to a travel article about Sweden was changed into: "Go on a magic trip to Sweden together with your loved ones on board the new Mercedes-Benz B Classe."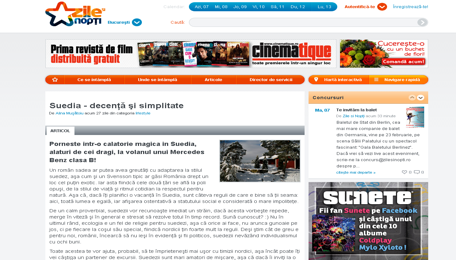 Yahoo! Mail was also taken into account, as it is positioned as a premium website (suitable for Mercedes-Benz campaigns) and it offers outstanding and out of the box advertising opportunities, such as the Login Page Take Over (only one brand is displayed on the page for 24 or 48 hours, you can't miss it when logging into your mailbox):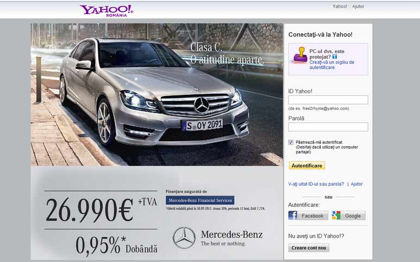 The two weeks of work on the presentation have materialized in an impressive number of PowerPoint slides, filled with graphs, numbers, but also special projects and innovative ideas, as requested. I have to mention that all of this happened during the winter holiday and the presentation was submitted shortly after Christmas. That's how winning a pitch got included in the wish list for Santa. And that's how we got one of the best Christmas gifts ever when we found out that we had won!
The Conclusion
We had the privilege of actually implementing most of the projects proposed in the pitch presentation and have been successful with most of our propositions (that's what the figures and the client are saying). Mercedes-Benz Romania has a strong online presence, using innovative channels and formats and speaks to its fans (about 31,000 now) in their own funky but still classy language. I would like to leave you with this outstanding example of how all media should work together in advertising (new media & classic media) for a 360 degree campaign: