Giglocker – Diary your Events.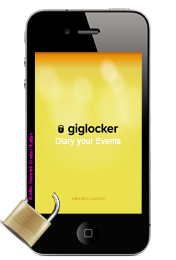 To be where the party is does not longer mean you might not like the music. The times of the silent disco are over! We can all again listen to music together in real life with people who appreciate the same genre via the use of multiple Apps. But we've found an app that combines the best features and comes from Dutch makers. Like your left and right ear plugs are always entangled, so are festivals and social Apps from this age on. So, for us living in Amsterdam: download Giglocker and start your own events diary.

Specifics
Giglocker is an iPhone app that creates your personal concert library. It gives you a nice overview of concerts you already visited and those you want to visit in the future in the form of a library. Thereby, it offers the opportunity to add pictures, comments and reviews. So you can make your own events diary. All this information you can share with your friends on Facebook and Twitter. Additionally, Giglocker provides information about the artists. So, you get the whole music package.
The How-to's on Giglocker 


The App is really easy to use as you can see on the infographic on the right. Events and concerts can be found under the Lock-button. There you also get a range of interesting information about the artist. It shows the artists' biographies and links to their Twitter-accounts, videos on YouTube and songs on iTunes and Spotify. To specify your search, you can type in the city of your choice. This is especially a nice feature when you're visiting a city and you want to know what gigs to go to.
 Friends
Giglocker connects you with your friends through Facebook, Twitter, Email or you can search for friends who already use Giglocker. This Friends function lets you find out if they might also go to the event that you will attend or you can invite them to do so. Giglocker is most fun, when you can share it with lots of your friends. Rate the event that you are at, so more people will know where the good gigs are. This is either possible via the friend-list in Giglocker or by sharing the event on Facebook or Twitter. Adding friends to your friend-list is rather simple, since you can either upload them from your Facebook-account or search them by their email-address. Of course, you can keep your event list private if you don't want other people to know about your plans. Just go to settings and change your visibility to private.
 Gigs
When you choose an event, you can add it to the my gigs section. This shows all the events and concerts that you attended and are about to attend in the form of a personal diary. For capturing your memories and sharing them with your friends, you can also add ratings, write comments or upload pictures. Another very useful feature is creating your own gig and locking it. You can either add a local gig that you are about to attend but Giglocker doesn't provide yet. Or you can use it for your personal marketing advantage, for instance if you have a local band and want to promote it.
Keeping up with the joneses

Giglocker differs from its predecessors, like Local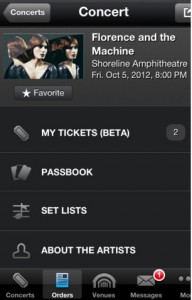 Concerts that is now replaced by Song Kick, in that it also works on IOS6. We believe in the potence of Giglocker but we did miss a couple of features as we used the app. For instance: You might need tickets for most of the gigs, a link to a ticket shop would be a nice additional feature. As you can see in the screenshot the Live Nation App already has this ability. Also, it would be practical, if the link to google maps did not only show the user's actual position, but the location of the gig and maybe even a route how to get there. As we found out by using Giglocker, there are actually some difficulties adding friends. Giglocker needs a minute to load otherwise you get an error. This should be improved quickly, to get the app running more smoothly. Since Giglocker needs a certain amount of users to make it useful we consider this should be one of the main goals of the makers a.k.a Team Giglocker as you can find them under Friends in the app. As Giglocker already has an integration with Facebook we suggest Team Giglocker tries to expand this and build in a function to import Facebook events that the users are going to in my gigs. So people do not have to add it manually.
To lock or not to lock
We believe that with a few twitches of some very handy programmers Giglocker can really grow to be great. It is a very nice and easy to use app to structure and plan your ongoing events and to share these gigs with your friends via multiple social integrations. We think it is unfortunate that Giglocker is only available for iPhone. To reach a broader audience, we would recommend to make Giglocker available for windows mobile and android as well. Users will add most of the events in the lock and as a result Giglocker could for instance grow to be as known as the Live Nation app in the Netherlands.
Written by Jolien Siemerink and Isabel Theißen