Mendo the shop built out of books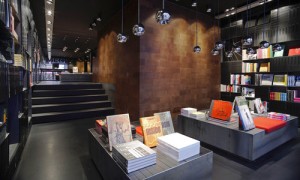 Who or what is Mendo!?
On an ordinary Thursday I'm walking in the well-known Amsterdam neighbourhood 'de negen straatjes' for an appointment with Joost Albronda, who is one of the owners of the [graphic] design agency and bookshop Mendo. Entering the shop I can't stop looking at the beautiful interior, the shop can be described as a candy shop for adults, which is designed by Concrete Architectural Associates. As told on the website from Mendo it really equals book porn, the shop is built out of more then two thousand books. And yes all of the two thousand black Mendo books are actually real. The philosophy behind Mendo is that buildings are made out of bricks, and Mendo is made out of books. Back in the days Roy Rietstap and Joost Albronda started an advertising agency in a small town near Amsterdam. But time passed by and the gentlemen both agreed to open a bookshop annex art gallery in the city center of sparkling Amsterdam. After a while they came to the conclusion that their hearts is in books instead of arts, whereas both have a background in graphic design. After playing with the interior at that time still bookshop annex art gallery, Roy and Joost came to the decision that they wanted to posses the most beautiful bookstore in the entire world, just because they really loved the idea. So this was the point where Concrete Architectural Associates was enabled, and where it all started with Mendo and for Joeri Worm as a third captain on board.
Open doors in critical times
Mendo opened the doors in times that other bookshops hardly could keep one's head above water. A large part of the book market collapsed, but not the part where the owners from Mendo were interested in. The books they sell can be described as coffee table books, big books with beautiful images including topics as photography, architecture, interior design, graphic design and fashion. In the period when they started with Mendo ten years ago, the first real expensive books came up on the market with a value of more then 5000 euro each. In 1999 the publisher from Benedikt Taschen took a massive job on his shoulder by producing the biggest and most expensive book in the entire world, which is serial produced. The result is the 30 kilo weighing book SUMO from Helmut Newton. Thinking of a massive book like that, who don't wants to have such an eye catcher on their coffee table? But is isn't just the interior nor the books that they sell, which provides a good book shop, the ones who really ensure the icing on the cake are the gentlemen themselves. Joost tells me that the three of them really enjoying the personal contact with their customers. The best thing is having best of two worlds. As Joost explains to me, the combination of a bookshop annex [graphic] design agency gives you the time and space for yourself but also for the customers. The two different disciplines together make one perfect world called Mendo.
London, giftwrap and a personal touch
Next to the bookshop in the Berenstraat in Amsterdam, Mendo also "dropped" a large black Mendo book, which is actually a shop, in the CitizenM hotel in London. The book can be described as a real life banner, where customer can browse through books and buy them at the hotel counter or use one of the build in ipads to place an order online. The feature to order online has only recently become possible. Joost explains that they at first thought that the books were too special, you should hold and feel them first. But after considering for a while they decided to choice for online orders but with a personal touch. The books shown on the website are displayed with big photo's and most of the imagery is made by the owners of Mendo self. When you are about to pay, this also happens in a nice atmosphere. After entering the pay button your work is done, Joost, Roy and Joeri will take over from there. You only have to sit and wait at home, while one of them will wrap up your gorgeous book in signature cheerful black wrapping paper. And this is still not all as Joost explains to me, if you are sending a book to someone as a gift you can make it personal by adding a note. Your personal words will be turned into a nice handwritten note, which will be added by the book.
Use of old and new media
I'm really curious about their new feature in terms of buying books online and what this means to the shop. Does it really reaps the fruits off using both online shopping and shopping in real time? Joost quickly answers my question by explaining that eBooks only provide even more publicity. Most of the time people have read or heard already about a specific book or author, buying the book means in many cases that they really love the book. It also means that you have something tangible in your hands, which makes it even more special. During the interview I found out that in some cases it even means that you really exist. For example the blogger Selby made a book about his online blog work. By putting a book in your bookcase means you really exist. But what else do they make more use of for attracting new customers to visited their bookshop and website? On their website you can ask Joost, Roy or Joeri for recommendations for specific genres where you are interested in. In a short time you receive an email containing a link to a special website, which includes a personal made "bookshelf" for you. This personal "bookshelf" also contains books which are not presented on their website. All three of them have an expertise in sorting out the best books on a personal level. Next to your own personal "bookshelf" you can check out "bookshelves" from leading people so you can get out of your comfort zone. For those who can't decide which book to choose, there is always the buy it al button. Another nice option to keep it fun and simple is that you can compare the size of any book with a post it or an ipad. Thus you will always know what to expect on your doormat. Next to these awesome features Mendo also makes use of Twitter, Facebook, Instagram and a newsletter every two weeks. And as Roy tells me masturbation communication is one of the best manners of advertising, which he explains to me as information about Mendo on other companies and peoples blogs. There is only one thing that is totally different for the [graphic] agency and the bookshop; they don't use any social media for the agency. They mainly use old-fashioned mouth-to-mouth advertising.
Future
Reading and hearing about all these awesome features I'm inquisitive about what they think the future will bring. At first Joost tells me they are open for new things and love to explore and try out new sorts of media. They especially try the things, which they think are nice and useful. Joost comes up with the example of the new Facebook want button; through this button you can purchase an item of choice directly. And last but definitely not least Joost, Roy and Joeri have in the planning to open a new bookshop in a hotel in New York. So why don't you start saving your money for a flight to New York for when the time comes?