[Interview] Juul Spee of Zesbaans: Digital Media Designer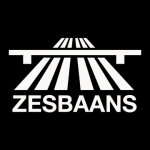 Zesbaans is a digital media and design collective that experiments with media and interactivity. Zesbaans (Dutch for a six-laned highway) has been based in Utrecht, the Netherlands, since its founding in 2007 where it has been involved with projects like video installations in nightclubs and art gallery exhibitions. Very recently, the collective has moved its office from Utrecht to Amsterdam in Het Veem, a workspace for entrepreneurs and designers near the Westerdokseiland. The five members of the collective – Eelke Feenstra, Max Italiaander, Juul Spee, Mitchel Tan and Harm van de Ven –  are nearly all graduates of the art academy in Utrecht, Hogeschool voor de Kunst (HKU), with concentrations in interaction design, digital media design, motion graphics, VJ-ing, and technology. In the following post, I will excerpt the major points of an interview I recently  had with Juul Spee, whose particular focus is interactive design.
JUUL SPEE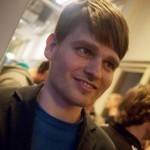 Profile at a Glance
Title: Digital Media Designer
Member, Zesbaans (2007-present)
Design Intern, VPRO, digital TV channels of 3voor12 (2005)
MA Digital Media Design, Art, Media, and Technology, HKU (2002-2006)
Juul Spee began his academic and design pursuits in a program with some similarities to the UvA Media Studies MA: a Cognitive Artificial Intelligence (AI) program at the University of Utrecht. This program was a mix of philosophy, information technology, and computer science, however, he quickly realized that this heavily philosophical and theoretical path was not for him, so he switched to the MA in Digital Media Design at HKU. In contrast, this program consists of a variety of technical and conceptual courses, such as programming, as well as taking an idea, developing it further conceptually, and finally producing this concept into a prototype. There was also theoretical analysis, such as an emphasis on semiotics and Barthes' work on the representation of the image, which helped "make messages clear…and figure out why a product or object is designed in its particular way by the designer."
For his HKU graduation show, Juul created Reflex: a video installation of a virtual city park that invites visitors to observe the created space and play with the ways in which they influence that space. Activity in the installation, initiated by motion or sound, is represented in the park by the number of people appearing or disappearing in the park, as well as the weather, daylight, and climate depending on the "mood" of the space, transforming the space into something beyond the physical confines of the installation. On a technical level, the work was achieved by panning a 360 degree panoramic view of a field and "slit-scanning" the video to create an image as wide as necessary to capture the same space at different times and conditions.
This installation was showcased at the Graduation Expo of the HKU (2006) and the Image & Sound Now Festival in Filmhuis Den Haag.
BUILDING A COLLECTIVE
It is difficult for any company to start from scratch, but perhaps it is even harder for young designers faced with the balance of artistic and commercial interests. For Zesbaans, their origins were supported by a office-scheme that encouraged young start-ups: their first studio space was in a shared office space (bedrijvencentrum) that offered discounted rates to such startups. I was interested in the way members in the collective have developed their work environment, and it seems having the same design education background, especially from the same year, meant that each designer was his own director and that the collective didn't necessarily fall into a logical mix. In this way, from the beginning they had to create new forms of hierarchy and an organizational structure in the way of creating roles for themselves based on what each person liked the most and what he was best at doing. Currently, the Het Veem studio is composed of five people and one intern, who collectively work on Zesbaans projects, while simultaneously working on their own freelance or external projects when they arise.
HOW DO PROJECTS ORIGINATE?
Projects at Zesbaans originate in a variety of ways. In the form of an entirely original concept, the collective will seek funds on their own. There is also the possibility for an applied project that are more commercial, such as making interactive design for a fair stand or booth. Most often they are approached as a commission project to make something for an event and given free rein in terms of creative control. I want to briefly address two projects by Zesbaans: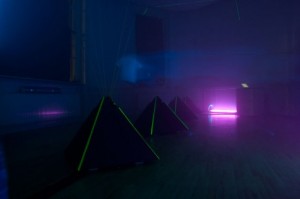 De Metronoom is an interactive laser musical instrument that turns visitors into musical collaborators. The piece is composed of six connected installations that point six laser beams into the room for visitors to play like instruments and compose a soundtrack – from samples of classical instruments, street artists, beats, to the machine room of a printing press. This instrument was presented at Trouw Amsterdam in the Verdieping room of 2008.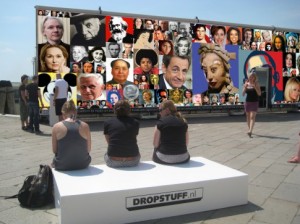 In this project, commissioned by DropStuff for the 54th Venice Biennale, Zesbaans applied the theme of controversial political figures to an interactive urban game. Facing Democrazy presents a mix of infamous people who are then ranked accordingly by the passing crowd – the public opinion then interacts with the screen to make portraits grow, shrink, and bounce around the screen.
THEORIES ON INTERACTIVE DESIGN
For Media Studies scholars, perhaps the most interesting insight from my conversation with this digital media designer is the conceptual thought-process and theoretical underpinnings that go into each interactive design project. Juul described such projects as "alive without interaction" to comment on the way projects rest in the grey area between having an audience, being interacted with, and perhaps being left alone or ignored. He goes on:
"The challenge for interactive pieces in public space is that you must take into account that people may not interact with the work. The purest form [of interactive design] is when the piece relies on interaction from a user to come into existence, this is an ideal. As an interaction artist you need to think like a designer and invite the audience, trigger them somehow to become active performers."
This particular design vision aligns with work on locative media from Marc Tuters and Matthew Fuller for its emphasis on exposing spaces of everyday life that are often looked over and unengaged with, as well as Myron W. Krueger's work on responsive environments that resonate with Zesbaans' projects with tactile screens in public spaces – spaces that the public is unaccustomed to touching, but that are becoming (through the ubiquity of touch screen devices and platforms) more and more expected.
CONCLUSION & REVIEW OF METHODOLOGY
This interview was conducted as part of a methodological exercise in the UvA New Media MA program. For the purposes of a reader, such as myself, with a background in University Humanities I feel it is important to talk with a designer whose background is not in theory, but in turning conceptual ideas into practical and tangible design objects. I have applied a few key theoretical concepts to what my subject has created in his professional career, as well as my own impressions which I hope has given more texture than a traditional Q&A interview.
Click through for more information at Zesbaans' website.
REFERENCES
Matthew Fuller, 'How This Becomes That', in Media Ecologies: Materialist Energies in Art and Technoculture (Cambridge, MA: MIT Press, 2005), pp. 85-107.
Myron W. Krueger, 'Responsive Environments' [1977], in The New Media Reader, ed. Noah Wardrip-Fruin and Nick Montfort (Cambridge, MA: MIT Press, 2003), pp. 377-389.
Kazys Varnelis and Marc Tuters, 'Beyond Locative Media: Giving Shape to the Internet of Things', Leonardo 39.4 (2006): 357–363.