[Event] Unlike Us #3 | Social Media: Design or Decline
This March, the Unlike Us conference is taking place in Amsterdam for a second consecutive year. Hosted by Amsterdam's Institute of Network Cultures, the event gathers academics, artists and activists to discuss 'social media monopolies and their alternatives'.
Unlike Us #3 | Social Media: Design or Decline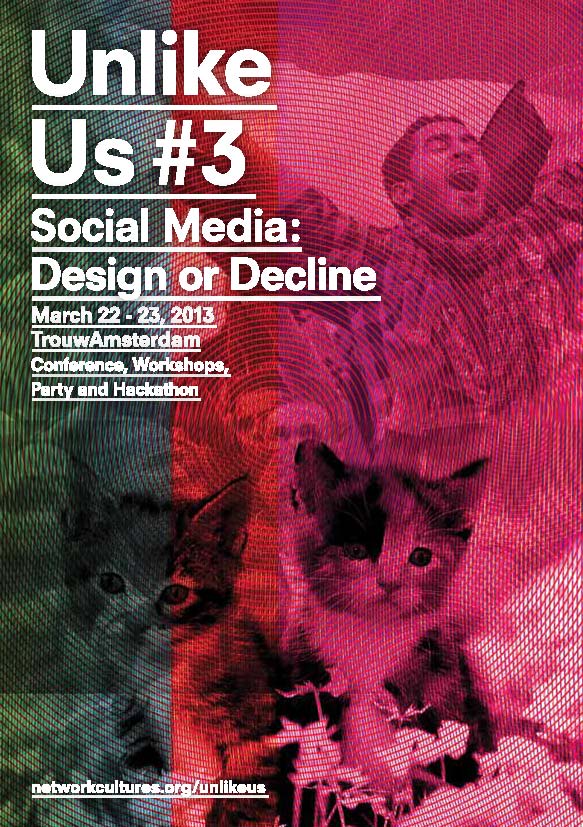 March 22-24, 2013
Conference, workshops and hackathon
Venue: TrouwAmsterdam & MediaLAB Amsterdam
Website: Click here
Description:
Is the word 'social' hollowed out, or does it still have some meaning? How to understand the thunderous growth of mobile uses in social media? Is there really something like a Facebook riot and how do we start one? Theorists, programmers and artists alike react to the monopolies that control social media – by designing decentralized networks, creating art that's criticizing and surprising at the same time or by trying to understand the big networks from within. Meet them at the third Unlike Us conference organized by the Institute of Network Cultures on 22-23 March 2013 in Amsterdam, The Netherlands.
Speakers include Bernard Stiegler (FR), George Danezis (UK), Reni Hofmüller (AT), Arvind Narayanan (US), Spideralex (ES), Benjamin Grosser (US), Tobias Leingruber (DE), Simona Lodi (IT), Hester Scheurwater (NL), Nathan Freitas (US), Marion Walton (ZA), Miriyam Aouragh (UK) and many more.
This year, speakers will be organized into the following sessions:
Theory and Critique of 'Social'
Are you Distributed? The Federated Web Show
Political Economy of Social Networks: Art & Practice
Mobile Use of Social Media
Facebook Riot: Join or Decline
TICKETS
Click here to purchase
Passes are €25/day or €40 for the full conference (+ €1.40 fee)
*Students get a 50% discount with student card
Ticket info: http://networkcultures.org/wpmu/unlikeus/3-amsterdam/tickets/
Read about last year's conference on MoM:
Unlike Us Conference – Understanding Social Media Monopolies and their Alternatives