The Issues of Winning The Ecosystem War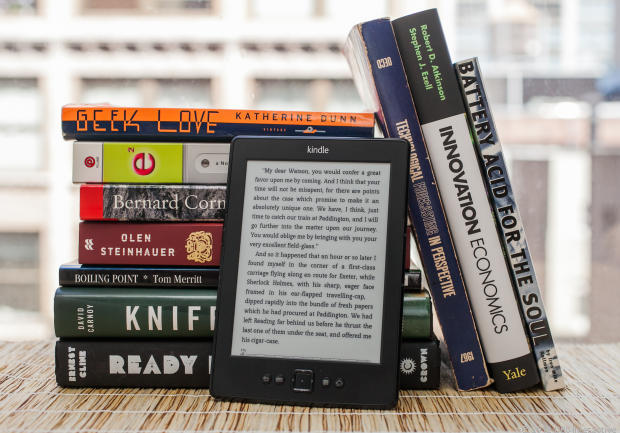 "WE ARE IN THE MIDST OF A COLD WAR BETWEEN THE LARGEST TECHNOLOGY COMPANIES IN THE INDUSTRY*", boldly states tech journalist Dieter Bohn in his overview of Apple's, Google's and Microsoft's battling ecosystems [1].
This "war" won't be won by whoever sells more phones, tablets or computers, though. The tech behemoths are wrestling each other for control (and eventual domination) of content distribution channels. The fight will be decided by the ones that impose their own file formats, standards and "ecosystems" on the industry. Domination of the market, be it apps, music, film, television or literature, then allows these companies to measure it with great precision, profile user's tastes and consumption practices, and even use this data to influence the production of content.
Winning the battle of the book
Literature and e-book distribution, is a heavily monopolized market. In fact, there is really only one company dominating the digital literature marketplace – Amazon, even if other big companies like Apple and Google are trying to compete. And this is not because the Kindle portable e-readers are universally widespread, but because Amazon has made its Kindle software available for installation on pretty much every modern computational device. Just like Apple in their quest to dominate music sales through iTunes, Amazon doesn't mind what device the content is being consumed on at the user's end.
Amazon is winning the battle of the book, because it was the first company to offer a reliable, usable and cheap device for reading digital literature. The other big reason for its hefty market share is the speed with which publishers embraced the idea of selling more books at virtually no added distribution cost. This allowed Amazon to develop the platform, or "ecosystem", that powers the Kindle and makes it what it is.
Right from the start, the company realized that it needs a strongly walled garden in order to maintain itself as the market leader. It achieved that by keeping its proprietary file formats closed, effectively preventing unintended distribution and piracy. This is where Kindle e-books take the upper hand against the competition of openly distributable formats like .pdf or .epub, naturally making Amazon's platform more attractive to publishers and content producers alike.
Tethered forever
Real power, however, lies elsewhere – in the ability to keep track and record reader's tastes, their reading practices and the frequency and speed of their content consumption [2]. Amazon is able to do all this because books never actually leave its grasp. A user's library is still stored in a controlled "cloud" environment on the company's servers, which maintains constant back-end communication with whatever device content is being viewed on.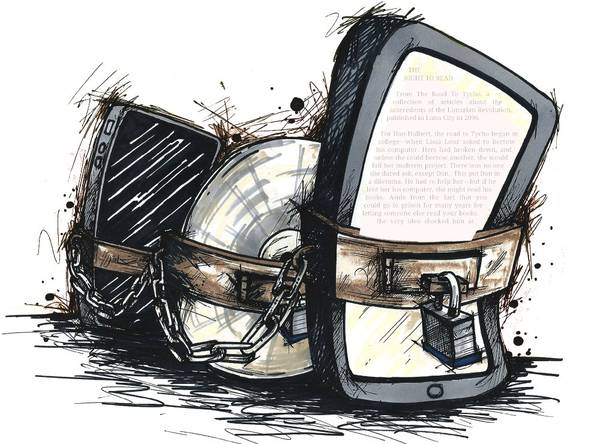 Illustration by Boing Boing
To take things even further, Amazon is able to control content even after it's been purchased – something that is unthinkable in print publishing. The company, for example, can censor certain passages of a book in a country after a request from the government. What is more, all purchased content can even be remotely deleted or made inaccessible [3]. Amazon's grip over its products is so tight that it even poses the question of the ownership of books – can users really call an e-book their own after they've bought it, if the content can still be altered and the book removed?
These practices exemplify Alexander Galloway's concept of power within protocols – the ubiquity of the Kindle service and its file formats, along with being both the pioneers of the market and its leaders, has put Amazon in the position to shape the future of e-book publishing standards [4].
A monopolized market is not suitable habitat for innovation [5]. A scenario in which one ecosystem conquers an entire market would leave its users exposed to all its flaws (in Amazon's case – privacy, ownership) and without the ability to choose an alternative.
*Original capitalization kept for emphasis.
References
[1] Dieter Bohn, "First strike: how tech's superpowers could start an ecosystem war", The Verge, November 20, 2012
[2] Ted Striphas, "The Abuses of Literacy: Amazon Kindle and the Right to Read", Communication and Critical/Cultural Studies 7.3 (2010)
[3] Jonathan Zittrain, "Tethered Devices, Software as Service, and Perfect Enforcement", The Future of the Internet – And How to Stop It, New Haven: Yale University Press, 2008
[4] Alexander Galloway, "Protocol vs. Institutionalization", New Media, Old Media: A History and Theory Reader, London: Routledge, 2006
[5] Justin Fox, "The Web's New Monopolists", The Atlantic, January/February 2013