The Digital Book: curating emails via the EPUB format
During the first block of the Spring semester, a group of MA New Media students took part in the elective The Digital Book. This course aims to contextualise the rise of digital publishing in theoretical terms, focussing on themes such as books as infrastructure, print aesthetics and the politics of distribution. In addition to this, the class also has a practical element, with the class dividing into groups for the final assignment to produce a series of EPUBs using Jutoh software.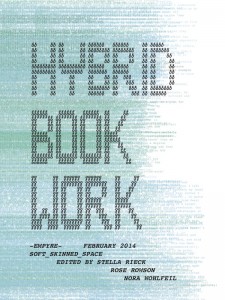 For this project, we worked with the long running -empyre- email discussion list, with the aim of organising an open conversation of many voices into a coherent publication, and in doing so create a digital artefact that can be appreciated by a future audience, viewing it outside of the context of the initial discussion.
The -empyre- email list was established in 2002 by Melinda Rackham as a means to assist her doctoral research. In the years since, -empyre- has expanded to incorporate monthly guest curation, allowing thinkers in different fields to invite guest posters as a means to generate discussions on various topics. For the month of February 2014, UvA New Media lecturer Michael Dieter curated the list on the topic of Hybrid Bookwork, with participants engaging with subjects such as defining the post-digital, design in art practice, and issues of post-colonialism in media studies.
With contributors including David Berry, Florian Cramer, Mercedes Bunz, Adam Hyde, Søren Pold, and Rita Raley, Hybrid Bookwork explores what it means to engage with printed text in the digital age. Acting as a meta narrative to the production of the EPUB itself, those involved in the email discussion provide a framework through which the EPUB can be viewed. Through demonstrating the collective thought processes needed to develop a new field of critical thinking, this publication gives a unique perspective to the ongoing debate surrounding the post-digital.
Download Hybrid Bookwork here.
(right click and choose: save link as)