Markets of Amsterdam. An e-book about the colourful and lively market scene of Amsterdam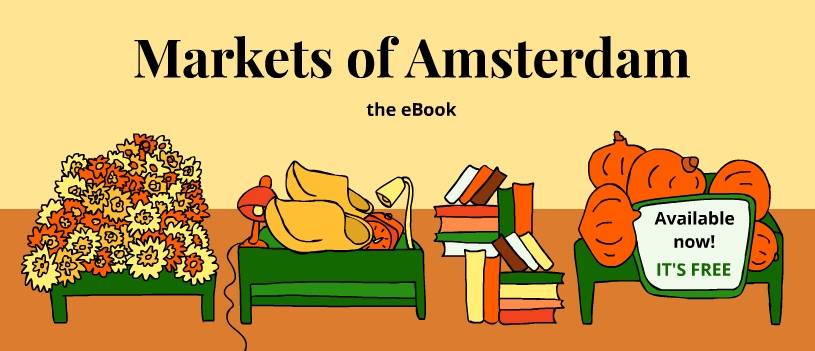 As a final project of the New Media Research Practices course, the New Media & Digital Culture MA students of the 2014 class were asked to develop free-form new media projects. The class was divided into 9 groups of 6 persons each. The present blog post focuses on the project
Markets of Amsterdam
, created and developed by
Richelle, Sameena, Agness, Max, Andreea and Giovanna
.
Tourist Scene in Amsterdam
Amsterdam is recognized as a vibrant, multicultural city, with lots of things to offer for international travelers and global citizens, such as its iconic canals, major museums, rich culture and history, among many other things. This might explain why in the first half-year of 2014 Amsterdam has welcomed 6,6 million tourists and, currently, more than 3,000 exchange students from over 90 countries are enrolled at the University of Amsterdam. During their stay, most of these tourists and international students visit at least one of the many markets Amsterdam hosts.
Market history
Mobile trading is the oldest type of commercial distribution existing throughout the countries of the European Union. First there were markets and from these markets, villages and town developed. In our contemporary society there are street markets all across Europe. More specifically, there are about 30,000 to 40,000 regular markets in Europe -that is, markets with fixed locations which take place at regular intervals. These markets, and the markets from the past, are part of the traditions, customs and landscape of the towns and cities (Fresno and Koops 7, 19).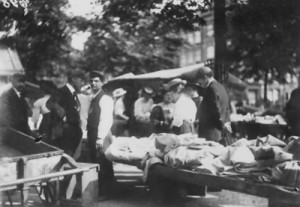 In Amsterdam, back in the early 1930s, peddling was one of the few trades open to individuals who had become unemployed due to the economic crisis that had begun in 1929. No particular skills were required, and little capital was needed to start-up. The number of stand holders grew from 419 in 1935, to 640 five years later. During the same period, the number of market vendors increased from 1,600 to 2,000. In 1940, market vendors were active at multiple markets, where all sorts of goods were sold: plants, clothing, toys, radios, books, watches, bicycles and musical instruments (Scheren 416). Nowadays, Amsterdam counts 33 fixed markets and a lot of annual fairs dedicated to food, vintage goods and annual flea markets.
How we came about our idea
As a group of mainly international students, who, except for one, had recently arrived to Amsterdam, we were interested in discovering alternative shopping places that Amsterdam has to offer. Therefore, we started looking into the materials that already exist on the topic, such as websites and blogs, and we noticed that the format tends to be really simple, with no detailed descriptions and a lack of exciting content (not to mention that sometimes the information is available only in Dutch).
From there on, our idea started taking shape: we wanted to create an e-book targeting everyone interested in shopping in Amsterdam's colourful and lively markets, clinch a bargain while picking up a few Dutch souvenirs for friends and family, stroll along the stalls, buy and try local and/or organic food and drinks, or picking up cool vintage finds.
We decided we would focus on six different categories of markets: flea, food, farmers, flowers, food halls, and occasional neighborhood initiatives, in each case we would enlist ways to get there and around, travelers and local secrets, sample itineraries, enticing photos, useful links and interesting interviews. Nevertheless, the timeframe got the best of us and we decided it was best if we stuck to one single category.
Since flea markets have a lot of tradition and background history in Amsterdam, we chose this category and name it the first series of several e-books that will help travelers, students and new residents of the city to get one-stop information about the market scene of Amsterdam. And decided to pair the project up with a website, in order to offer a complete overview of our findings.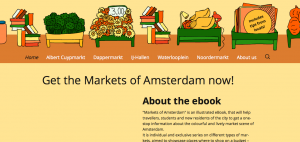 The front page of our website.
The e-book
The e-book consists of 14 pages and focuses on the 5 biggest and most popular and traditional flea markets of Amsterdam: IJ-Hallen, Dappermarkt, Albert Cuypmarkt, Waterlooplein and Noordermarkt. The e-book encourages its readers to explore and discover all the exciting things and experiences these markets have to offer. It does so by providing the readers practical information such as the locations of the markets, their opening times, entry fees, different ways on how to get there and around, tips and tricks from the vendors and people on the streets, along with useful links and apps to find cash machines, public toilets and even a Dutch dictionary. In between the information, the personal experiences of the editors are also included.

Accomplishments
The goal is to offer the reader the whole market experience in a glance, so each market has an exclusive page, framed with original illustrations and particular colors, with a friendly and relatable narrative style and pictures. The e-book is easy to navigate, interactive and downloadable, so there is no need for an internet connection in order to consult its content from diverse devices. It has already been reviewed by seven fellow travel bloggers, allowing the readers to obtain a second view on the matter, and in future series we will take into consideration the comments and suggestions received.
As part of our social media promotion, we will contact various travel websites and magazines such as TripAdvisor, Lonely Planet and I amsterdam to ask them for their distribution assistance.
As mentioned before, this is only the first series of a project that can and will be developed further; we are already thinking on working on series 2 about flower markets, and series 3 dedicated to food markets. In the meantime, come join our first journey on a budget!
Download the e-book and visit our website for more detailed information and updates.

Want to know more? Watch the video about the e-book here.

References
Fresno, José Manuel, and R. Koops. "Market trading in Europe."
Methodological guide for the analysis and enhancement of markets in public areas, Brussels: ECDE-UECA, European Commission
(2000).
Scheren, Jos. "Aryanization, Market Vendors, and Peddlers in Amsterdam." Holocaust and Genocide Studies 14.3 (2000): 415-429.