"Buy buttons": Is this the new shopping mecca?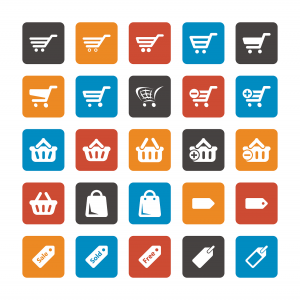 If you just rewind back to the past, freeze your memory in the '90s and try to recall the retail websites of this era, it will be obvious how boring and indifferent purchases could be. But it was time for the regular norms of the retail websites to change, when eBay and Amazon made their decisive appearances. The question now is, will the merge of social media and e-commerce change the nature of online purchases? Will the social e-commerce become the field that will prove us the undoubtable fact that history repeats its self?
Launching the "Buy button" in unison.
As the world of e-commerce moves towards a socially led "reality", social networks try to re-define their standpoint in this new field, by evolving their existant features, towards a combination of users' love for shopping, with their love for social networking.
Facebook made its first attempt in July 2014, when an official announcement was made for testing the option of importing new ad features with a CTA (Call to Action) button, to support businesses that want to drive sales through Facebook. Apparently, Facebook wasn't looking for just new ad formats but, the aim was to bring to the foreground features that would change the way users interact with the medium in general.
According to a Buzzfeed report, Facebooks' current effort is to construct mini e-commerce sections in order to provide businesses the chance to set up second product homes within its Facebook pages. More specifically, Facebook is in a testing mode for a new "Shop section" that will place itself bellow the "About section" of the product Page and this will allow users to fulfill the entire shopping experience – from product pursuit to product purchase – within the medium.
"With the shop section on the page, we're now providing businesses with the ability to showcase their products directly on the page," Facebook product marketing manager Emma Rodgers told BuzzFeed News.
Three months ago, Instagram made an announcement on the platforms' blog, claiming that the medium is in testing mode for some new formats such as, the availability of the CTA button "Shop Now".
Pinterest, on the other hand, introduces the "Buyable pins", particularly on mobile, as announced in June:
"Coming soon to iPhone and iPad in the U.S., Buyable Pins let people buy things without ever leaving the Pinterest app"
Twitter and Google are in the same boat as well. Twitter, as was announced in September 2014, is still in beta concerning the emergence of the "Buy Now" button and Google – based on a recent report by the Wall Street Journal – is considering placing "Buy" buttons next to mobile search results, to make it easier for consumers to buy products that they are searching for from major retailers.
Will the social media user becomes the buyer in the end?
The attempt of merging social media and e-commerce, raises remarkable points of view over two main sections. Primarily, concerning the way users interact with the medium (how the searcher or the pinner becomes a buyer) and secondly, how this new way of interaction through social media will, or will not, affect the retail websites as we know them so far.
On the one hand, brands and advertisers contemplate these new capabilities as an attractive and powerful tool in order to multiply their purchases and to turn the direct relationship they build with their followers into sales. On the other hand, consumers' behaviour is still a grey area. According to a BigCommerce survey upon a range of e-commerce sites, 4 out of 5 people say that posts from their social friends directly influence their buying decisions. So, is social media – where friends already share information – the best platform for online purchases? Social media will affect particularly the way people make purchases today. Until now, shopping within social media was promoted only through ads that used to redirect users away from the app or platform to fullfil their purchase at a traditional retailer or in the official brands' site. But as this intermediate level will now vanish, it seems like impulse shoppers – who at the same time are passionate social media users – will be able to combine their two big addictions without leaving the medium at all. Users will be able to make their purchases during their everyday News Feed checking, or when they just scroll down their Pages News and remember that they really need a new raincoat. Thus, will users start seeing their social networks as the new shopping paradise that opens a wide range of capabilities or will they just be gravitated once from these new features and then return to online shopping as currently exists? Last but not least, apart from the trust issues that will appear concerning the payment methods, the most remarkable barrier is the fact that users engage with their social networks just to be social, not to make purchases. Checking out brand pages or comparing prices of items through social media is common, but is way too far from fulfilling the purchase within the medium.
Another enquiry is if social networks can ever truly threaten the existence of retail websites such as Amazon and eBay. As sharing becomes more and more part of our everyday life, someone could say that the combination of social network and social purchase could become the new retail norm. According to others, social e-commerce is just another step initiated by social media that is condemned to fail.
Gideon Lask, Chief Executive of social commerce technology company Buyapowa, that works with brands including Tesco, O2 and Sony made his point clear on a speech during the R:evolution, the launch event for TrueStart.
"We now spend 80% of our non-work online time being social – we are connected to people. We are minded to share, so how does a retailer tap into that connectivity mindset? Simply putting a buy button on a Pinterest page or an Instagram feed doesn't do that remotely."
According to Lask, social commerce is the new acquisition channel that retailers really should appreciate, due to the tremendous use of social media. But this doesn't mean that just the presence of the "buy button" on a brands' page could diminish or even reform the way people use retail websites remotely.
It is about time to finally find out what social e-commerce is going to bring to the foreground both for retailers and users but, from my perspective, I can only see attempts blurring the line between social networks and e-commerce sites.
References