EveryArtoF It
Hutspot is a concept store in which upcoming designers share a space to present their work for a monthly fee. This store was not only the place of our first group meeting, but also triggered a discussion about the struggles artists of all kinds must be facing in order to get noticed. Although it may seem surprising at first, digital and technological changes don't automatically and necessarily come along with simplification and a somehow magical, complimentary career boost.

The public and academic background
Scanning through theories that try to frame patterns of the art market (Benhamou), we went through different debates concerning the "starving artists" and faced approaches that make an attempt to realise whether the phenomenon of the starving artists is just a prevailing myth or reality (Filer).
Accepting this phenomenon as part of the reality, we wanted to provide a solution for it. The aim of our project, Every Art Of It, is to facilitate the very first step towards a professional career for unknown, starting artists – such as art students – by creating a website which not only gives them an opportunity to present their art online but at the same time to be seen by, connect with and share their art works with local venues in Amsterdam.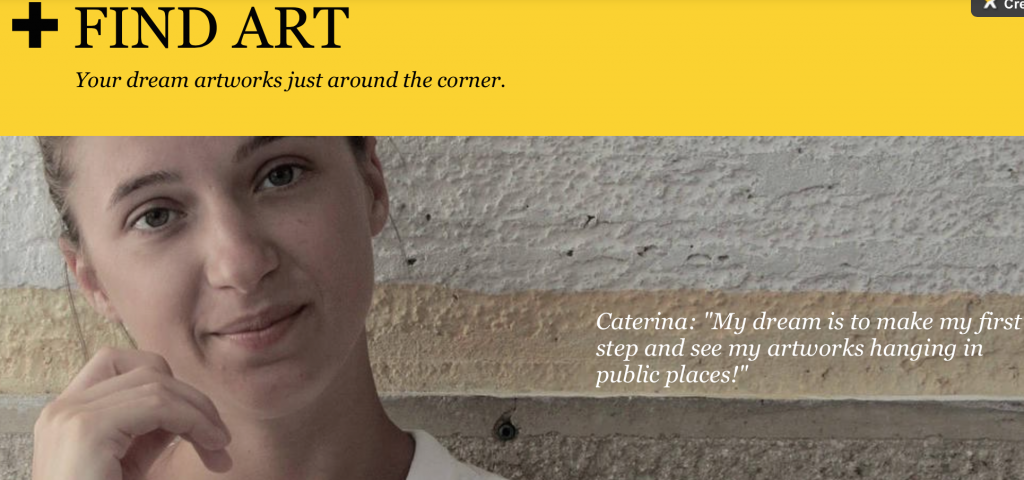 Apart from the public debate about the issues of unknown artists to "get a foot in the door", the word "sharing" brought us to another more academic debate referring to the sharing economy. Concerns within society about ecological, economical and societal issues have led to a change in people's sense of ownership and consumption. It has led to a demand for "collaborative consumption", a phenomenon better known as "sharing economy" – peer-to-peer-based activity of obtaining, giving, or sharing the access to goods and services, coordinated through community-based online services – (Belk).
In the sharing economy users are able to transact directly with one another which redefines the traditional market relationships and brings new business models to the foreground (Belk). After the industrial revolution the change towards the sharing economy has raised encouragement and optimism within society for introducing a more decentralised economy model (Aigrain).
"People's sense of ownership now is different than it used to be. You don't really want to own everything forever anymore." (Frey)
Over the past few years though, platforms and organisations based on the sharing economy model received a lot of criticism. The original definition of the word "sharing", which is "to use, participate in, enjoy [and] receive jointly", (dictionary.com) doesn't involve an exchange of money. However, those platforms are indeed making profit out of their shared services or products, and thus are being accused of rather being a "relentless co-optation of the gift economy by market capitalism" (Leonard) and "bringing more wage-earning opportunities to more people" (Wihbey). In that sense, the sharing economy is not about sharing in the first place.
The Research
"Art is not always and only about making money. And especially in the beginning it's often more about putting yourself out there and to be seen. We [artists] are used to paying our bills not (only) with our artworks." (Nair)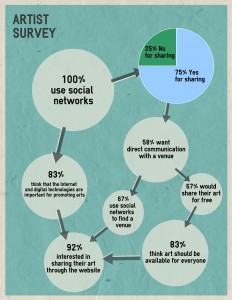 As our attempt of getting closer to the original meaning of sharing includes not making profit through our website and thus not taking money from either the artists or the venues, we created and conducted an online survey using Google Forms with art students to disclose if unknown artists would be willing to present their art online and share it with venues for free.
To clarify whether venues would be interested in taking part in this project, we talked to a few local venues in person. The possibility to lend/borrow art for free was intriguing for them as they are often dependent on donations. The majority of the venue owners embraced the idea of only engaging with and supporting unknown artists and never saw it as an issue.
"Especially when searching for a very particular kind of artist or medium, using an online website based on a keyword search can be very helpful and a true timesaver." (Dassaud)
Main functions

When visiting our website, the user has two options: Find Art or Find Venue. The website is based on a tagging system which has "the potential to improve search, spam detection, reputation and personal organisation" (Marlow et al, 31) and thus functions as an online catalogue that a venue or an artist can easily scroll through. The tags are chosen by the artists only, describing the artworks in a more precise way and by that making it easier for the venues to define their search. We don't interfere here or set any limits to words chosen for the tagging. When decided on an artwork the venue can directly contact the artist and vice versa.
For the login, users can choose either their Facebook profile, Instagram account or an email address. On their Every Art Of It profile both artists and venues can upload images and categorise them for their portfolios. Furthermore we use our own social media accounts as a promotion tool for the website and to introduce new artworks/artists or venues.
In order to reassure that the artwork will be returned safely and in whole pieces back to the artist after the "sharing-period" is over, the venues pay a certain deposit fee depending on the medium, size and number of art they chose.
Intervention
In the end, we want to minimise our interfering in the sharing process to as little as possible. Juliet Schor, professor of sociology at Boston College, claims that for the sharing economy to work by its definition, the governance of websites has to be democratised (Schor). That is why we do not set limits for the tagging and why our website uses a ranking not based on a standard/traditional popularity algorithm but one that randomises results every time a page is loaded.
With our project we'd like to try to bring the "sharing" back into the sharing economy. That is why the website is not based on making profit but centred around the exchange of a good (= the artwork) and a service (= presenting it publicly thus promoting it) without an exchange of money.
According to our research results, peer-to-peer communication, without any middleman, is of high importance to both parties. As the majority of the venues is afraid of possible negative public comments we didn't include a comment option. The communication flows only between the two of them.
Although we are aware of other websites that try to provide artists with the ability to share their work (e.g.: ArtMgt), Every Art Of It is an attempt especially devoted to young artists that are making their first steps in the art sector, providing them guidance and easy to use tools. With this website starting artists will have the opportunity to fulfil their first steps, to build a network, to be seen, to connect and to exchange knowledge and experiences.
Christina Giannouli-Kyrimi, Xeniya Kondrat, Lars Knitel, Radvile Dauksyte, Julia Wissel  
References
Aigrain, Philippe. Sharing: Culture and the Economy in the Internet Age. Amsterdam University Press, 2012. Print.
Belk, Russell. "You Are What You Can Access: Sharing and Collaborative Consumption Online." Journal of Business Research 67.8 (2014): 1595–1600. CrossRef. Web.
<http://www.sciencedirect.com/science/article/pii/S0148296313003366>
Benhamou, Françoise. "Artists' Labour Markets." A Handbook of Cultural Economics. Ed. Ruth Towse. Edward Elgar Publishing, 2011. 53–59. Print.
Filer, Randall K. The Starving Artist–Myth or Reality? Earnings of Artists in the United States. Journal of Political Economy 94.1 (1986): 5675. JSTOR. 17 Sept. 2015.
Leonard, Andrew. Sharing economy shams: Deception at the core of the Internets hottest businesses. SALON. 14 Mar 2014. Web. 17 Sep 2015.
<http://www.salon.com/2014/03/14/sharing_economy_shams_deception_at_the_core_of_the_internets_hottest_businesses/>
Marlow, Cameron et al. "HT06, Tagging Paper, Taxonomy, Flickr, Academic Article, to Read." Proceedings of the Seventeenth Conference on Hypertext and Hypermedia. New York, NY, USA: ACM, 2006. 31–40. ACM Digital Library. Web. 15 Oct. 2015. HYPERTEXT '06.
<http://www.danah.org/papers/Hypertext2006.pdf>
"Sharing | Define Sharing at Dictionary.com." Web. 16 Oct. 2015.
<http://dictionary.reference.com/browse/sharing?s=t>
Schor Juliet , "Debating the Sharing Economy," Great Transition Initiative. October 2014 <http://www.greattransition.org/publication/debating-the-sharing-economy>
Wihbey, John. "What Determines the Value of Art? | The Artists' Fine Art Gallery." The Artists' Fine Art Gallery. Web. 15 Oct. 2015. <http://artistsfineartgallery.com/what-determines-the-value-of-art/>