Medical applications, the brilliant health-care helper?
More and more Medical apps for smartphone and tablet users have been released in recent years. These applications transform traditional medical services into mobile and digital services which people can evaluate themselves with the apps and do not need to rush to the hospital or clinic when sick. As a result, the bond between doctors and patients might no longer exist only in the clinic session. Two weeks ago, Tim Cook, the CEO of Apple Inc., introduced the new function of Apple Watch, which allows doctors to monitor patients heartbeat censored by the watch. The boost of Medical apps not only brings doctors and healthcare workers into the digital loop, but also, patients. According to PwC's Health Research Institute's annual report "in 2016, 32% of U.S. consumers have at least one health app on their mobile devices (up 16% since 2013) (Holland,2016)."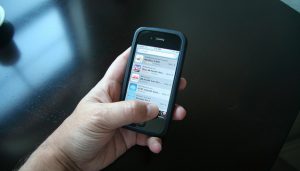 Heavy (heavy.com) indicated that the top five popular medical apps – Epocrates, Medscape, Zocdoc, Omnio and Medisafe – provide health data analysis and allow consumers to seek help from doctors in their neighborhood. Take Epocrates for instance, both doctors and patients can look up information about drug prescriptions and healthcare guidelines in the app; they could also send messages to each other and update each other on any changes (Epocrates, 2016). It seems that the benefits of using medical apps are not just to help people manage their physical statuses, but  also help people focus on each others' health conditions. For those who rely on the apps because of the time-efficient and self-manageable function, are they abusing these benefits and not considering the risks?
The risk of medical apps
The relation between doctors and patients should be professional and confidential. Most of the users start relying on the apps because of those immediate benefits; however do those apps actually enclose patients' information and are managed by experts? The lack of the actual evaluation is big problem; while doctors focus only on the records on the tablets and patients only care about what the apps show, there is no communication nor eye contact. As a result, people may stop trusting each other. Moreover, two recent studies revealed that only less than 35% of medical apps had medical expert involvements during their development (Buijink, Visser and Marshall, 2012), thus non-evidence-based information might be used by patients unknowingly; at the same time, those resources might not be the latest updated version. According to Eric Topol, a medical doctor and director of the Scripps Translational Science Institute, "these apps have no validated data compared with accepted reference standards and therefore are quite concerning (Mcmillan, 2014)."  As a result, the credibility could be strongly questioned. These media could thus confuse the patient.
In addition to transparency in development, information privacy should also be taken into account. Once the users fill in their personal information inside the apps, this data, including the physical status, blood  type, and family disease, could no longer be confidential. The user will be under the high risk of data exposure; other healthcare workers and even other people could also reach the source without users' approvals. In the worse situation, the users' identity might be used by other people to illegally obtain drugs for themselves or to make a profit. It is also possible that the users exaggerate their health condition in order to get specific remedy or powerful cure. The abuse of new media in this area could cause waste of medical resources. In the end who would be in charge of securing this data?
The wrong transmission of information could jeopardize the insurable interest of the users. Once the data goes into the wrong hands, or the wrong data is transmitted, there is no one who can take the responsibility of this so-called accident. When these incidents happen, is this "new media application " the scapegoat?
The future of health care apps—Useful tracker and recorder, but non-creditable diagnosis?
According to American EHR Partners, about 1,400 physicians, only 28% of smartphone users and 18% of tablet users described themselves as "very satisfied" with the quality of apps for their profession (Medical Economics, 2013). However, these apps are not mobile doctors for people to rely on. To some degree, medical apps should be regulated, and that they need to be thoroughly peer-reviewed in order to ensure validity (Buijink, Visser and Marshall, 2012). These apps are now ready for preliminary analysis. These apps can act as references for doctors on patients' physical training, but they are not replacements for healthcare workers.
Bibliography
Brandon Glenn, Physicians' top 5 most-used medical apps for smartphones and tablets,( June 13, 2013 ) <http://medicaleconomics.modernmedicine.com/medical-economics/content/tags/american-ehr-partners/physicians-top-5-most-used-medical-apps-smartph>
ROBERT MCMILLAN, These Medical Apps Have Doctors and the FDA Worried, (June.29.14) <https://www.wired.com/2014/07/medical_apps/>
Epocrates, ( 2016) <http://www.epocrates.com/>
Taylor Mallory Holland, Do Patients Rely on Mobile Healthcare Apps More Than Their Doctors? (24, Feb, 2016)  <https://insights.samsung.com/2016/02/24/do-patients-rely-on-mobile-healthcare-apps-more-than-their-doctors/>
Arthur Buijink,Benjamin Jelle Visser,Louise Marshall, Medical apps for smartphones: Lack of evidence undermines quality and safety,1-2 (Aug, 2012) <https://www.researchgate.net/publication/230742554>
Emily Schiola,Top 5 Best Free Medical Apps for iPhone & Android, (June 23, 2015), <http://heavy.com/tech/2015/06/top-5-best-free-medical-doctor-perscription-apps-for-iphone-android/>