#CopyPaste – The battle between Instagram and Snapchat
There is a battle going on between Instagram and Snapchat.. but who is on the winning hand?
A-team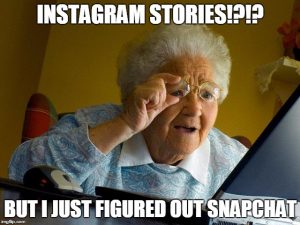 Instagram is a mobile phone photo-sharing, video-sharing and social network service. It enables users to take pictures and videos and then share them in the application (Sheldon 89). Instagram offers a number of filters that allows users to change the colours in the photograph before they post them online. An idea behind the application is to share photographs and videos by using a hashtag, so other users can find the hastaged photographs. Instagram is currently the fastest growing social network service worldwide (Sheldon 89). Some may see a limitation of Instagram, because it's a mobile-only service, but statistics show that mobile devices are now the most popular form of access to Social Network Sites (89). In 2012, Facebook founder and CEO Mark Zuckerberg announced that the social network giant has purchased Instagram for $1 billion (Stern n. pag.). The application has more than 400 million active users worldwide (Chaffey n. pag.). Last August, they launched a new feature called 'Instagram Stories'. It allows users to create slideshows separate from their main feed, which will fade after 24 hours (Koerber n. pag.). With this new feature, users can share more moments of their daily life. Does this sound familiar to you?
B-team
Launched in 2011, Snapchat is a mobile phone social media application where users can share 'Snaps' (pictures and short videos that can include text, drawings and filters) with friends that "disappeared forever in a matter of seconds" (Vaterlaus et al. 595). The sender can determine how many seconds the viewer can view the Snap. The mobile app has more than 200 million active users worldwide. The average monthly minutes per visitor of Snapchat is higher than Instagram (Chaffey n. pag.). In 2014, Snapchat launched their new feature 'Stories', where Snaps can be viewed in chronological order, and each story is accessible for 24 hours (Hamburger n. pag.).
False comeback?
The popular website Mashable, which posts articles about digital and mobile technologies, says that with the announcement of 'Instagram Stories' a "declaration of war" has been arise (Bell n. pag.). In 2013, Zuckerberg tried unsuccessfully to buy rival Snapchat for $3 billion. The Snapchat CEO, Evan Spiegel, declined (Kasteleijn n. pag.). It's not the first time that Facebook wants a part of Snapchat's market share (Newton n. pag.). In 2012, Facebook released 'Poke', an application for sending messages that disappeared after ten seconds. It never gained much attention and went offline in 2014. Later that year, Facebook released 'Slingshot', which required you to send a photo to a friend, before you could see the photo they had sent you. There was too little interest, so it could also not continue to exist (Newton n. pag.). The latest throw to market share was with 'Bolt', a messaging app where user could quickly send photos or videos to friends, which then disappeared once it had been read, and again this flopped as well (Hamburger n. pag.). All three inventions disappeared just as quickly as they arose: they were by far not as successful as Snapchat. So with the introduction of 'Instagram Stories', Instagram must have thought: it's better to steal something good then to invent something bad. Can Snapchat compete against the biggest new media player Facebook and their little sister Instagram?
A-show
Instagram, which is still owned by Facebook, wants to keep their mobile application relevant to users. To maintain market share, 'Instagram Stories' was introduced. According to Lovink social media expands and creates social spaces where people can interact. But we must see that the created social space is owned by companies that have extraordinary power to shape the architecture between these interactions (10). As Patelis noticed: "Microsoft monopolizes the consumer software market. Google monopolizes the 'search' market and the user content production market with YouTube and Blogger, while the content production tool market is increasingly monopolized by Adobe (120)". In my opinion, Facebook and Instagram are monopolizing the social media market. So in that case it's not strange that after numerous attempts to copycat Snapchat, Instagram is providing almost the exact same feature with 'Instagram Stories'. And after all, the more active users a Social Network Application has, the more attractive it is for potential users (Sevignani 335). In this light Instagram is still the winner. Hopefully for them the average monthly minutes per visitor will increase.
No-sell
So how can Snapchat fight back? It has to look at how it can still be relevant to users. For instance, they can add new features or expand their filters. But in the meantime, they can sit back and feel proud, because imitation is the sincerest form of flattery.
—
References
Bell, Karissa. "Facebook Experiment Suggests It's Trying to Copy Snapchat Again." Mashable. 21 July 2016. Web. 14 Sept. 2016.
Chaffey, Dave. "Global Social Media Statistics Summary 2016." Smart Insights. 08 Aug. 2016. Web. 13 Sept. 2016.
Hamburger, Ellis. "Surprise: Snapchat's Most Popular Feature Isn't
Snaps Anymore." The Verge. Vox Media, 20 June 2014. Web. 11 Sept. 2016.
Hamburger, Ellis. "This Is Bolt, Instagram's New Messaging App." The
Verge. Vox Media, 29 July 2014. Web. 14 Sept. 2016.
Kasteleijn, Nando. "Facebook En Instagram Blijven Zoeken Naar Eigen
Snapchat-succes." NOS. 13 Aug. 2016. Web. 14 Sept. 2016.
Koerber, Brian. "Instagram Is a Copycat and the Internet Is Not
Pleased." Mashable. 02 Aug. 2016. Web. 14 Sept. 2016.
Lovink, Geert. "A world beyond Facebook: introduction to the Unlike Us
Reader." Unlike Us: Social Media Monopolies and Their Alternatives (2013): 9-16.
Newton, Casey. "Instagram's New Stories Are a Near-perfect Copy of
Snapchat Stories." The Verge. Vox Media, 02 Aug. 2016. Web. 17 Sept. 2016.
Patelis, Korinna. "Political economy and Monopoly abstractions: What social media demand." Unlike us reader: Social media monopolies and their alternatives (2013): 117-136.
Sevignani, Sebastian. "Facebook vs. Diaspora: A critical study." Unlike us reader: Social media monopolies and their alternatives (2013): 323-337.
Sheldon, Pavica, and Katherine Bryant. "Instagram: Motives for its use and relationship to narcissism and contextual age." Computers in Human
Behavior 58 (2016): 89-97.
Stern, Joanna. "Facebook Buys Instagram for $1 Billion." ABC News.
ABC News Network, 09 Apr. 2012. Web. 16 Sept. 2016.
Vaterlaus, J. Mitchell, et al. ""Snapchat is more personal": An exploratory study on Snapchat behaviors and young adult interpersonal relationships." Computers in Human Behavior 62 (2016): 594-601.