The New Digital Mall: How Social Media is Changing the Way We Shop
E-Commerce and Web 2.0
        Before the Internet – if you wanted to buy something, you had to physically enter a store to purchase it: 'going shopping' was a social experience by nature because of the interactions with fellow shoppers and employees.
        With the advent of the World Wide Web, online shopping or 'E-Commerce' offered consumers an alternative to traditional 'Brick and Mortar' stores (Hassanein, Head 689). In the 1990s, E-Commerce became mainstream, allowing people to shop from the comfort of their own home. It was, however, less interactive than going to a physical store (Chu, Sung-Chi, et al 157). This all changed with Web 2.0 and the birth of Social Media – online shopping could now be a social experience too (Wang, Zhang 2).   
        Social Media innovations have allowed online retailers to curate more of a 'real life' shopping experience on the Internet. Online shoppers can now interact and be social with one click. This empowers users and allows brands to connect with their customers directly. Retailers can build personalized online shopping experiences for users based on their preferences (Constantinides et al 4).
Social Commerce
        The convergence of E-Commerce and Social Media brought about the notion of 'Social Commerce.' Popularized throughout the past decade, Social Commerce is E-Commerce affected by Social Media (Wang, Zhang 1). The idea is rooted in user interaction. A retail Social Commerce site, for example, must empower users to generate original content and react to products being sold (Hassanein, Head 690).
        Social Commerce aims at capturing the essence of the physical shopping experience. Instead of going to a local shop with a group of friends, users can log into a site and have an interactive shopping experience within the confines of their laptop or mobile phone.
Theresia Gouw From CareerGirls.Org 
Wanelo
        Deena Varshavaskaya saw market potential in the emergence of Social Commerce and founded the shopping app, Wanelo, in 2012 (short for Want Need Love).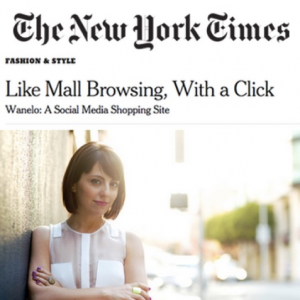 New York Times Article by Sheila Marikar May 7, 2014
What is Wanelo?
        The most important thing to know about Wanelo is that it's a mobile app that combines social interaction with online shopping. Users can discover items through search categories, what's trending, and what your friends like. As in most Social Network Sites, visitors can also scroll through a customized feed. Similar to Pinterest, Wanelo allows you to create lists of things you like and interact with other peoples' preferences. The only difference is that everything on Wanelo can be purchased.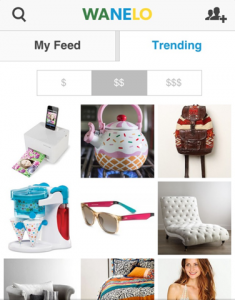 The Interface of Wanelo
        Targeted towards female Millennials, CEO Varshavskaya aimed at creating a seamless user experience that emphasizes social interaction. According to Varshavskaya – the social aspect of Wanelo is making commerce more democratic: "A platform like Wanelo enables any maker or retailer to reach the customer directly" (Wallace n. page).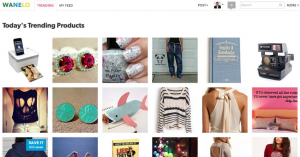 Interface of Wanelo
Wanelo – The Epitome of Social Commerce
        Wanelo is proving that Social Media and E-Commerce go hand in hand. According to the U.S. Commerce Department, online sales represent over one third of retail sales growth in 2015 (Zaraban n. page). Moreover, Social Commerce revenue has been growing exponentially, reaching $30 billion in 2015 (Walker n. page).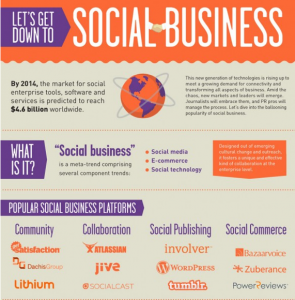 Infographic from http://www.witszen.com/social-business-growth-by-2014-infographic/
        It's no surprise that Wanelo has done so well in the few short years it's existed. People first found out about it through paid Facebook advertisements. Soon after, the site went viral (Wallace n. page). It grew from 1 million active members in 2013 to 11 million in 2014 (D'Onfro n. page). Today, the site holds over 200,000 brands with a wide variety of price ranges (Wallace n. page).
     At the end of 2014, Wanelo partnered with nearly 200 brands to let users make purchases within the app instead of the original brands' site. Urban Outfitters was one of those brands – it was the first time they partnered with a third party seller (Delray n. page). Urban Outfitters is even including a 'Save to Wanelo' button within their own native site – allowing for even more social engagement (Maheshwari n. page).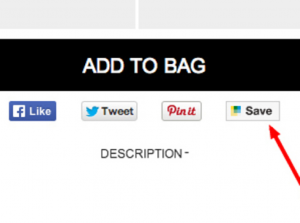 From the Urban Outfitters Interface
     These kind of innovations in E-Commerce put Wanelo at the forefront of Social Commerce.
        As technology and the web continue to transform, so do the ways in which users interact with it. Nowadays, the idea of 'Social Shopping' means more than just going to the local mall with your friends. In today's world, Social Media influences how we define Social Capital and act as consumers.
        Richard Florida put it bluntly in his piece for The Atlantic: "If any technology promised to shatter the constraint of geography, overcome distance, and flatten the world, social media would be it" (Florida n. page). Web 2.0 technologies are changing how we shop online. The digital 'malls of the future' are here, and Wanelo is one that is definitely here to stay.
Bibliography
Constantinides, Efthymios, Carlota Lorenzo Romero, and Miguel A. Gómez Boria. "Social media: a new frontier for retailers?." European Retail Research. Gabler Verlag, 2008. 1-28.
Chu, Sung-Chi, et al. "Evolution of e-commerce Web sites: A conceptual framework and a longitudinal study." Information & Management 44.2 2007: 154-164.
Delray, Jason. "Urban Outfitters and 200 Others Start Selling Directly in Shopping App Wanelo." Recode. 2014. Vox Media. 10. Sept 2016.<http://www.recode.net/2014/11/23/11633194/urban-outfitters-and-200-others-start-selling-directly-in-shopping>.
D'Onfro, Jillian. "Why the CEO of an ecommerce site with 11+ million users designs for 'drunk toddlers.'" Business Insider UK. 2015. Axel Springer SE. 10 Sept. 2016. <http://uk.businessinsider.com/wanelo-ceo-deena-varshavskaya-interview-2015-3?r=US&IR=T>.
Florida, Richard. "Is Social Media Driving the economy?" The Atlantic. 2010. Atlantic Media.    10 Sept. 2016. <http://www.theatlantic.com/technology/archive/2010/10/is-social-media-driving-the-economy/64780/>.
Hassanein, Khaled, and Milena Head. "Manipulating perceived social presence through the web interface and its impact on attitude towards online shopping." International Journal of Human-Computer Studies 65.8 (2007): 689-708.
Maheshwari, Sapna. "Forget Facebook and Pinterest, Wanelo Is The Hottest Social Network for Urban Outfitters." Buzzfeed. 2013. Buzzfeed Inc. 10 Sept. 2016. <https://www.buzzfeed.com/sapna/urban-outfitters-is-hottest-on-wanelo?utm_term=.upO92ZE46#.qlVERJBWx>.
Wallace, Tracy. "Wanelo Takes the Search Out of Online Shopping." Mashable. 2013.  Mashable Inc. 10 Sept. 2016 <http://mashable.com/2013/11/05/wanelo-social-shopping/#w.oy7Jr_NZq8>.
Walker, Tommy. "The Future of Advertising Is Native Social Commerce." Hubspot. 2016. 10 Sept. 2016 <http://blog.hubspot.com/marketing/future-of-advertising-native-social-commerce#sm.00006e73tw80vcrkvrp2gwufkl95e>.
Wang, Chingning, and Ping Zhang. "The evolution of social commerce: The people, management, technology, and information dimensions."Communications of the Association for Information Systems 31.5 2012: 1-23.