New Digital Ink: The Terms and Conditions of Tech Tats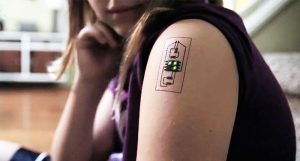 A future with chips implanted under your skin which track your health and makes bankcards and keys unnecessary might seem distant, but with the development of the newest generation of wearables – the so called Tech Tat – it is getting closer. The Tech Tat is a temporary tattoo, that has the ability to collect, store, send and receive data from the human body (Chaotic Moon n. pag.). It can track
bodily functions – from blood sugar levels to heart rate. An introduction video about the Tech Tat can been seen in Appendix 1. However, since the Tech Tat is not on the market yet – it is important that users know what it means to self-track and the implications it has on their privacy.
Editors: Arabella Memdouh, Caroline Nisenson, Odiel van de Nobelen
Oct. 21, 2016
New Digital Ink
According to the developer Chaotic Moon, these Tech Tats fall under the heading of 'bio wearables'. These are wearable technologies that are not strapped to the users' wrist, but will interact with signals from the body. With the advent of the Tech Tattoo, there is no need to wear a bracelet as a health tracker anymore – because the user's skin is becoming the interface (Nguyen n. pag.). The Tech Tat contains a microcontroller, which stores and receives data from temperature sensors via electro conductive paint with an ambient light sensor that illuminates LED in the dark. Besides user health data, the Tech Tats could also be used to authorize payments (Ibid.). Therefore, there will be many other possibilities for the financial sector.
          The practice of regularly capturing data about oneself and then recording and analysing it to produce statistics is called self-surveillance or self-tracking (Lupton 1). According to Kingsley Dennis: "Digital technologies have given rise to increased occurrences of self-surveillance" (1). Surveillance is described by Gary Marx as "scrutiny of groups, individuals and contexts through the use of technical means to extract or create information" (20). This definition excludes the routine, non-technological surveillance that is part of everyday life and can therefore be seen as new surveillance (Ibid.). In 2015 Mark Deuze, professor at the University of Amsterdam, spoke in his lecture about the concept of surveillance. According to Deuze, there is a shift going on in the field of surveillance from 'being watched' to 'being watched by oneself.' There is a process of constantly transmitting information about oneself with all sorts of devices. The development of wearables, and specifically the Tech Tat, fits perfectly in this shift described by Deuze.
Tech Tat Concerns
Through our research, we've determined that there are a myriad of concerns surrounding surveillance and Tech Tats. In this blog post, there will be a mock Terms and Conditions for potential users in order to present our findings regarding the Tech Tat in relation to privacy concerns. While the product has not been taken to market yet, we are imagining it has with these Terms and Conditions.
          According to Evgeny Morozov, self-tracking is part of the idea of 'solutionism.' This is the notion that technology can eventually solve all of our problems, a concept that Morozov critiques (16). And while self-tracking is about improving one's life through the collection of data, there are concerns about whether or not this data is being surveilled (White n. pag.). These privacy concerns must be examined.
          The most prominent concerns surrounding Tech Tats are ethical ones. Dataveillance is among the chief concerns. According to Rob Kitchin, Dataveillance is: "Surveillance enacted through the processing and analysing of data records." (Kitchin n. pag.) Kitchin goes on to state that dataveillance could derail one's privacy and affect human rights (Ibid.). Moreover, it could impact individuals' controls and freedoms without their knowledge (Yohko 5).
          It is crucial that consumers are aware of these 'risks' before they purchase a Tech Tat. Our research aim is to demystify this product and understand the effects it could have on one's privacy. This temporary tattoo could enhance the quality of one's life and has a lot of other possibilities. But is it worth it if 'Big Brother' is watching?
Do You Have Something to Hide?
Many of the functionalities the Tech Tat has to offer can be helpful to people. For example, it can be a needleless solution for diabetics to check blood sugar levels. According to Chaotic Moon, the tattoo has the potential to revolutionize the health and wellness sector (Nguyen n. pag.). They see the idea of integrating the wearable with the wearer as a solution – for example, with diabetics: "It's completely automatic, completely easy, and it's a wearable that experts believe those that suffer from diabetes will welcome into their lives with open arms" (Ibid.).
          This notion that technology – self-tracking technologies specifically – can eventually solve our problems is what Evgeny Morozov critiques. Problems can be addressed on different levels, and Morozov states that approaching them through [self-tracking] apps might not be the best move: "Silicon Valley is good at producing micro-solutions to macro- problems." (Winograd n. pag.). He pleads for an approach on a more structural level. Regulating the food industry for diabetics and obesity, for example. Morozov: "Very often self-tracking solutions are marketed as ways to address a problem. You can monitor how many calories you consume; monitor how much electricity you are consuming. The people who start self-tracking are successful and have nothing to lose. If you can self-track and prove you are better than the average person – when you are healthier or drive more safely – you can get a better deal and claim some benefits" (Ibid.).
……….This scenario that Morozov is illustrating, is something that we need to take into account regarding privacy and Tech Tats. Eventually, we will reach the point where people who are not willing to self-track their body functions are assumed to be people who have something to hide: "Then they have no choice but to start self-tracking" (Ibid.). In the US some insurance companies already give discounts to customers who self-track their health, a form of control that can easily change into self- tracking without a choice.
Self-Knowledge Through Numbers
According to Deborah Lupton, software, hardware devices, digital data and algorithms are a major key in constituting and exploiting knowledge (102). That is why all these wearable technologies pop-up to track oneself. Self-tracking, also referred to as 'lifelogging,' is personal analytics and personal information tracking. Nowadays, the 'Quantified Self' has become a common term to describe the concept of self-tracking, and has become the establishment of the Quantified Self movement (Ibid.).
          The Quantified Self is a movement that deals with the phenomenon that humans increasingly integrate technology in life, with the aim of gathering information to learn about oneself and others. The term emerged in 2007 in the United States of America by Gary Wolf and Kevin Kelly, who were both involved through Wired Magazine. Wolf and Kelly noticed that people quantify all kinds of personal things and share this information via the Internet and social media. Because of this trend in progress, they decided to organize meetings on this subject (Quantified Self, n. pag.).
          Self-tracking will determine how data can offer insights for the user's life. With wearable trackers like the Tech Tat, the user's life can be better collected, analysed, searched, visualized, aggregated and compared with data of others' than ever before (Lupton 102). Different than 'traditional' surveillance, self-tracking involves subjects confronting themselves with their own tracked information as part of improving and optimizing their lives (Ibid.). Self-tracking will provide the user with the 'illusion of control,' but it will not automatically solve all of your health problems (Bosworth n. pag.). 
          Also, the technique of quantifying oneself has the potential risk of obscuring nuance. The bodily functions that the Tech Tat can measure is almost a simplification of something that is very complex: "It is hard to measure the things that matter and what you can measure is almost always a simplification of the world (Winograd n. pag.). The reduction of health to numbers, has a possibility of neglecting other aspects of one's well-being.
The Tech Tat and Dataveillance
While examining self-tracking technologies like the Tech Tattoo – one must consider the benefits and dangers of dataveillance. While this is not a new phenomenon – there has been a resurgence of public concern surrounding surveillance throughout the past decade. Specifically, after the Snowden leaks of 2013 (Guo n. pag.).
          One of the main arguments for surveillance is security. Government surveillance could help protect people's physical well-being as well as their property. Moreover, there could be financial benefits too, as surveillance may protect against identity theft and other forms of bank fraud (Clarke 505). Proponents of surveillance believe that it can make society a safer place and help hold criminals more accountable (Bilton n. pag.).
          Surveillance could keep society safer, but it also poses a threat to individuals: "Privacy advocates have argued that widespread government surveillance has had a 'chilling effect' – it encourages meekness and conformity" (Guo n. pag.). Dataveillance – specifically in relation to the Tech Tat, could allow the government to gain access to an individual's most personal biometric information. This could allow for more profiling and unfair judgement for those who choose to wear the Tech Tat.
          Law enforcement has long utilized people's permanent tattoos as a way to identify suspects (Maass et al. n. pag.). These typical ink tattoos are of course, not linked to any digital data – but this changes with the Tech Tat. As the Tech Tat is linked to a mobile app with corresponding personal data, tracking will be made easier: "Profiling is not restricted to retrospective investigation. It purports to offer the possibility of detecting undesirable classes of people before they commit offense" (Clarke 507).
Terms and Conditions Recommendations
Our goal for this project is to shed light on these concerns for consumers. Ultimately what is at risk here is privacy, and self-tracking devices like the Tech Tat could deplete one's privacy. In order to present our findings regarding the Tech Tat in relation to privacy concerns, there is a Terms and Conditions mock up for potential users. Further reading about our methodology can been seen in Appendix 2. While Tech Tat has not been taken to market yet, in our Terms and Conditions mock (see Appendix 3) we are imagining that it has. Because, after all.. before you put one on your body, you need to know what is at stake.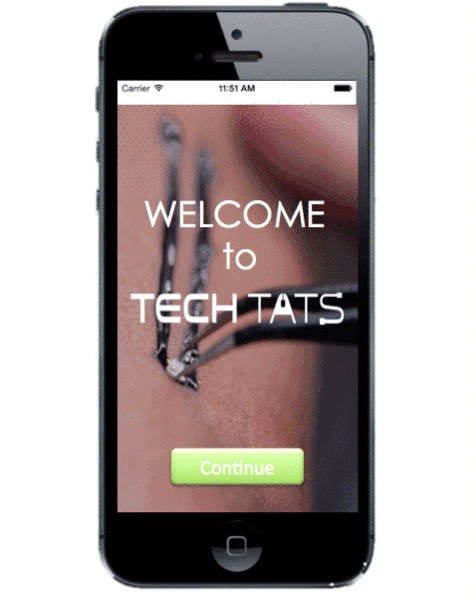 Terms and Conditions recommendation mock
Bibliography
Bilton, Nick. "The Pros and Cons of a Surveillance Society." New York Times. 2016. Web. 11 Oct. 2016. <http://bits.blogs.nytimes.com/2013/07/16/the-pros-and-cons- of-a-surveillance- society/?_r=0>.
Bosworth, Adam. "The Un-quantified Self: Reaching True Health Is About Habits, Not Gadgets." The Huffington Post. TheHuffingtonPost.com, 14 Feb. 2013. Web. 15 Oct. 2016. <http://www.huffingtonpost.com/adam-bosworth/weight-loss-gadgets_b_ 2689509.html>.
Chaotic Moon. "Tech Tats: Vice Geeks Out Over Chaotic Moon's Coolest Biowearables." Chaotic Moon Studios. Chaotic Moon LLC., 23 Nov. 2015. Web. 1 Oct. 2016. <http://www.chaoticmoon.com/chaos-theory/tech-tats>.
Clarke, Roger. "Information technology and dataveillance." Communications of the ACM 31.5 (1988): 498-512.
Guo, Jeff. "New Study: Snowden'S Disclosures About NSA Spying Had A Scary Effect On Free Speech". Washington Post. N.p., 2016. Web. 11 Oct. 2016. <https://www. washingtonpost.com/news/wonk/wp/2016/04/27/new-study-snowdens-disclosures -about-nsa-spying-had-a-scary-effect-on-free-speech/>.
Kitchin, Rob. 2014. The Data Revolution: Big Data, Open Data, Data Infrastructures and Their Consequences. Thousand Oaks, CA: SAGE Publications Ltd. Chapter 1: Conceptualising Data.
Lupton, Deborah. "The diverse domains of quantified selves: self-tracking modes and dataveillance." Economy and Society 45.1 (2016): 101-122.
Mann, Steve, Jason Nolan, and Barry Wellman. "Sousveillance: Inventing and Using Wearable Computing Devices for Data Collection in Surveillance Environments." Surveillance & Society 1.3 (2002): 331-355.
Maass Dave, Mackey Aaron and Okuda Soraya. "5 Ways Law Enforcement Will Use Tattoo Recognition Technology." EFF. N.p., 2016. Web. 11 Oct. 2016. <https://www.eff.org /deeplinks/2016/05/5-ways-law-enforcement-will-use-tattoo-recognition-technology>.
Morozov, Evgeny. To save everything, click here: The folly of technological solutionism. PublicAffairs, 2014.
Nguyen, Clinton. "'Tech Tats' Are Temporary Tattoos for the Casual Biohacker." Vice Motherboard. Vice Media LLC, 23 Nov. 2015. Web. 5 Oct. 2016. <http://motherboard. vice.com/ read/tech-tats-are-temporary-tattoos-for-the-casual- biohacker>.
Swan, Melanie. "Sensor mania! the internet of things, wearable computing, objective metrics, and the quantified self 2.0." Journal of Sensor and Actuator Networks 1.3 (2012): 217-253.
White, Greg. "New Temporary 'tech Tattoos' Transmit Sensitive Medical and Banking Info from the Surface of Your Skin." Glitch News. GLITCH, 2 June 2016. Web. 23 Sept. 2016. 
Yohko Orito, "The counter‐control revolution: "silent control" of individuals through dataveillance systems", Journal of Information, Communication and Ethics in Society 9.1 (2011): 5-19.
Yeung, Karen. "'Hypernudge': Big Data as a mode of regulation by design."Information, Communication & Society (2016): 1-19.
Appendix
1. Video
For the introduction video of Tech Tat click here. 
2. Methodology
The research outlined above allowed us to formulate the visualization of this project: the mock Terms & Conditions within a simulated interface. Our 'imaginary users' need to agree with the Terms & Conditions on the application itself, before they can go ahead and start using it. These Terms & Conditions represent a suggestion to Chaotic Moon on how they should be presented to prospective users upon product launch.
          There is overwhelming evidence that most people neither read nor understand privacy policies which users 'accept' before accessing digital services (Yeung 8). There is even one study which estimated that if an individual read them this would consume 244 hours per year (Ibid.). Because we all know how easy it is to scroll through terms and conditions and accept them at the bottom of the page, or even ignore the link to the Terms & Conditions, we came up with the idea of an interactive terms and conditions form.
          People struggle to make informed decisions about their privacy due to problems of bounded rationality and aggregation (Ibid.). The right to informational privacy requires data collectors like the Tech Tat to state clearly the explicit purpose of collecting and processing the data: "Many information law scholars doubt that individual acceptance of the 'terms and conditions' offered by digital service providers, typically indicated by clicking on a web page link, constitutes meaningful waiver of one's underlying rights to informational privacy"
3. Terms and Conditions Mock
For the Terms and Conditions recommendation mock click here.