VIA- A New On Demand Luxury Shuttle Service Expands to Europe
The ride-sharing phenomena has di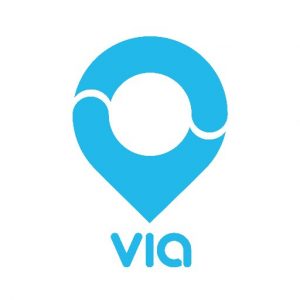 srupted the way people commute and get around as popular apps such as Uber and Lyft continue to launch and grow in major cities around the world. By using these platforms, riders have the ability to access on-demand car services at the click of a button- the passenger first enters in their current location and desired destination through their smart-phone app, then is given an expected price point and almost instantly matched with a driver. Unlike a taxi service, the drivers typically use their personal vehicles. During off-peak times, on-demand ridesharing can be more affordable and efficient than a traditional taxi.
While Uber and Lyft popularized the concept of ridesharing, and are by far the most utilized apps in their category, other competitors are emerging within the sector- one of which is called Via. While Uber and Lyft both offer more affordable carpooling options through their apps in cities with dense populations, they are both more focused on connecting individual passenger to their drivers. Via on the other hand is solely focused on carpooling.
Via, which was founded in 2012 and launched in 2013 by Daniel Ramot, is based on a concept of shared vans that operate in Tel Aviv. These vans parallel the bus routes and passengers are able to hop on and hop off as they please, however in Tel Aviv there is no app to book them. Ramot came up with the idea to create an app that would provide a more technology based, premium experience. The vast majority of the vehicles are large SUV's; Ramot describes this concept as a "luxury micro-bus." Via is currently only available in New York City, Washington D.C. and Chicago, and works like an on-demand shuttle. It uses advanced algorithms and technology to find passengers headed in a similar direction- it then books them into a single-shared vehicle for little more than the cost of a bus or metro ticket.
Starting at a flat rate of under $5 depending on the distance travelled, Via has become a more affordable option to both Uber Pool and Lyft Line (Uber and Lyft's lower cost group ride sharing.) Both Uber and Lyft often have surge pricing while Via does not. Users have also complained that Uber Pool and Lyft Line tend to take their riders too far out of the way of their destination in order to pick up other passengers. Via has managed to route their vehicles in a more intelligent way by investing a tremendous amount in its backend routing technology. Statistics show that Via is 3x more efficient than its competition.
Earlier this month, Via announced exciting news that it would be expanding its services to Europe, thanks to a $250 million investment from Daimler, the German automaker and parent company to Mercedes-Benz. Via, which will be available in London by the end of the year, shortly followed by Paris, will use Mercedes Benz Vans to shuttle around passengers. In addition to Europe, Via also has plans to expand to more markets in the US – Austin, TX and Orange County, CA being two likely targets.
The funding comes at a time when there is ongoing demand in the transportation industry for more tech-based solutions that cater to our needs as an on-demand culture. Via has essentially created a model that has the convenience of an on-demand taxi with the cost of bus ticket, which could prove to be the most sustainable ridesharing app yet.
The Rise of the Sharing Economy
Ridesharing apps such as Uber, Lyft and Via are all part of a larger cultural and economic phenomena that is referred to as the "sharing economy." The Oxford dictionary defines the sharing economy as "an economic system in which assets or services are shared between private individuals, either for free or for a fee, typically by means of Internet."
With the popularization of ridesharing apps, many individuals no longer feel the need to own a car since they so easily have access to a ride at the click of a button. In her article titled "Ridesharing in the Sharing Economy: Should Regulators Impose Uber Regulations on Uber?" published in the Iowa Law Review, Hannah Posen states, "Essential to the new sharing economy, is the idea that the consumer does not need everything rather, 'we can access these resources when we need them, and only pay for what we use.' Technology is at the root of the sharing economy because it focuses on accessing goods and services quickly and easily. As a result, most of the firms that constitute the sharing economy are all driven by technology as their services are accessed either through the Internet or a smart phone app.
Ridesharing is only a small (but very important) part of the sharing economy. Through technology, people are now able to make money off of providing a variety of their own things, services or shared spaces. Other major players in the sharing economy include Airbnb- a service where people can make money off of renting out their rooms, apartments or houses- WeWork, where people and companies can rent shared office spaces, and Poshmark, where people can sell or trade their clothes and buy other people's clothes. While these are only a few examples, the list of existing and emerging tech-based companies that fall into the category of the sharing economy could go on-and-on.
Benefits of Ridesharing in a Sharing Economy
Taking part in ridesharing provides many benefits- it makes life more efficient for both the riders and the drivers, and is also proven to have many economic, environmental and social benefits.
Ridesharing apps provide an easy, low-cost, flexible and convenient way of getting around. Users simply enter in their location and destination through an app and depending on the type of ride requested (carpool or individual rideshare) the car will arrive in the exact location or no more than a block or two away. Often times the driver will arrive in 5 minutes or less from the time the ride was requested. While individual rideshares are more convenient and efficient than sharing a car with other passengers, carpooling costs little more than public transit and provides a more convenient alternative. Even payment methods are more efficient; as passengers don't spend extra time paying for a ride like they would have to do in a taxi- payment is automatically charged to the rider's credit card when the ride is over.
With the growth and increasing popularity of ridesharing, its economic benefits are clear. Ridesharing has created an endless amount of employment opportunities, especially in large metropolitan areas. The amount of drivers and users partaking in ridesharing continue to grow more and more each year. Platforms such as Uber, Lyft and Via attract drivers in large because of the flexibility they offer- drivers are able to choose when they want to work as well as how many hours they work, allowing them to give rides as either a full time or second source of income. A study called "An Analysis of the Labor Market for Uber's Driver-Partners in the United States," shows that Uber went from a base of 0 drivers in 2012 to more than 160,000 drivers by the end of 2014 in the United States. Uber drivers in the United States collectively received $658.8 million in payments from Uber in just the last three months of 2014. Since this study was conducted, Uber has continued to expand and provide job opportunities to drivers worldwide. While not yet as large as Uber, Via has also experienced exponential growth- its given over 12 million shared rides since its launch in 2013, has over 700,000 members across NYC, DC and Chicago and gives an average of 250,000 rides per week . These numbers show that ridesharing is becoming a more and more important part of the economy.
Ridesharing (especially carpooling) can also help reduce traffic congestion and emissions. As ridesharing becomes more popular, less individuals feel the need to purchase their own cars in favor of only having access to a car when they need it. Carpooling goes a step further by encouraging riders going a similar route to share a car while even further reducing the amount of cars on the road. Because of its focus on carpooling, Via could prove to be a more sustainable model than Uber or Lyft. Via's mission states:
We're public transportation visionaries. As the world becomes more urban, it's increasingly vital to reduce traffic congestion, mitigate carbon emissions, and connect people with economic opportunities. But we know that fiscal restraints make it difficult to mobilize the resources- and generate the political will- necessary to build physical systems. Via's virtual infrastructure strengthens your sustainability and magnifies your relevance without the kind of capital expenditures associated with traditional transit investment.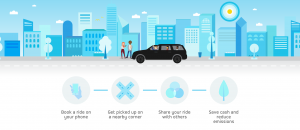 Ridesharing is revolutionizing the communal transportation industry as it continues to grow and enter new markets around the world. More and more benefits to ridesharing have emerged, as drivers are able to have the flexibility to work when they want and riders are able to commute quickly and cost effectively. There have also been many economic and environmental advantages as a result of ridesharing. Innovative apps such as Via will continue to make ridesharing a more efficient yet still affordable alternative to public transportation.
References:
Lunden, Ingrid. "Via raises $250M led by Daimler to bring its carpooling technology to Europe." TechCrunch, https://techcrunch.com/2017/09/04/via-raises-250m-led-by-daimler-to-bring-its-carpooling-technology-to-europe/.
Hahn, Robert and Robert Metcalf. "The Ridesharing Revolution: Economic Survey and Synthesis." More Equal by Design: Economic Design Responses to Inequality, vol. IV. January 2017, pp. 1-20.
Posen, Hannah. "Ridesharing in the Sharing Economy: Should Regulators Impose Uber Regulations on Uber?" Iowa Law Review, vol. 101, Issue 1, 2016, pp. 1-29.
Hall , Jonathan V. , and Alan B. Krueger. "An Analysis of the Labor Market for Uber's Driver-Partners in the United States ." Princeton University , 22 Jan. 2015, pp. 1–28.
Nash, Andrew. "On The Sharing Economy ." Contexts , vol. 14, no. 1, 2015, pp. 12–19.
Erera, Alan, and Martin Savelsbergh. "Optimization for dynamic ride-Sharing: A review." European Journal of Operational Research , Dec. 2012, pp. 1–17.
Via Platform Mission Statement. https://platform.ridewithvia.com/#mission. Accessed Sept. 24, 2017.
TechCrunch. "Via's Daniel Ramot on Pooled Ride Sharing." Online Video Clip. Youtube. 10 May 2016.
Data Driven NYC. "Reengineering Urban Transit // Daniel Ramot and Saar Gold, Via (FirstMark's Data Driven). Online Video Clip. Youtube. April 6, 2017.