For artists, or for itself? How Spotify's artist app enhances the platform's growth
Spotify now gives artists access to information about their listeners. This has been hailed as empowering by artists who use these insights to forge careers in an ever-changing industry. But why would Spotify want to share its data?
Spotify launched in 2008, and is now one of the largest music streaming services with around 170 million users worldwide[1]. Listeners can access Spotify's catalogue of millions of songs for free, interrupted occasionally by advertisements, or with no adverts for $9.99 a month. Any artist can share their music on Spotify and, once their music is uploaded, any Spotify listener in the world can discover and stream their songs.
In 2017, Spotify released Spotify for Artists, an app that provides artists with the tools and insights to utilise their Spotify profile and streaming data. Spotify for Artists is an emergent technology because it allows artists to interact with Spotify in novel ways. Through the app, artists can now easily update their profile and can track live streaming stats. Most vitally, they are granted access to information about their listeners that was previously withheld from them, such as generalised age, gender and location statistics.
The Power of Insights
These insights are important and empowering, particularly for independent artists[2]. For instance, knowing which cities hold a large amount of listeners means artists can plot tours strategically, visiting areas with large fan bases in the hope of selling out venues and maximising possible tour profit[3]. They can also use streaming stats to pitch songs to national radio, in the hope of gaining exposure and new fans.
However, it is important to ask why Spotify have decided to grant artists access to a portion of its data. As Peters says, "the Internet casts light onto many things, but rarely on itself"[4], and critics such as Vonderau claim that Spotify create an aura of public benefit to hide their true motivations[5]. So, in order to critically assess Spotify for Artists, we must examine the wider digital landscape that Spotify are operating in. This is  a landscape which is saturated with platforms.
Platforms, Interactions and Profit
A platform is a digital infrastructure that enables two or more groups to interact[6]. By positioning itself as an intermediary between these groups, it brings them together, collects data about them, and in turn creates a profit from their interaction[5]. Take Facebook: it positions itself between users and advertisers, analyses their interactions, and uses these findings to sell more ad space[6].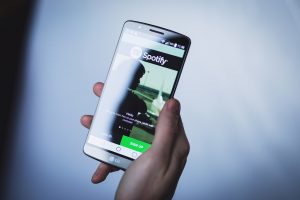 At the centre of a platform business model is the collection of a vast amount of data about the groups who use it to interact[6]. This data can be used to attract and sustain users' interest, encouraging more users to join the platform. As the platform grows in users, it collects even more data. The more data a platform can harness, the bigger its competitive advantage over smaller players in the market.
Platformization is everywhere: it is becoming the dominant business model of the social web[7]. However, platforms are still a relatively new feature of the internet[8], meaning that we are still learning how they operate, how they create markets, and end up controlling entire economies[9]. The wealth of discussion and questions raised by platforms has even led the European Commission to form a panel of experts to monitor platforms and safeguard commercial relations.
Data, Users, and More Data
Nick Srnicek, author of the influential Platform Capitalism, suggests that the best way to learn about major tech companies is to view them as economic actors working to seek out profits and fend off competition[6].
As explained above, an ever-expanding dataset is a vital element for platform growth. With this in mind, we can cast a light back on to Spotify, and look at how Spotify for Artists offers new insights into their strategy to become the dominant music streaming platform. Seeing as Spotify is currently battling with Apple Music for this title[10], every move by the company is vital.
As a platform, Spotify has placed itself as an intermediary between artists and listeners; both of which count as user bases. (On its free, ad-supported platform, Spotify also places itself between listeners and advertisers)[5]. Spotify collects massive amounts of data about the interactions between these user bases, and uses this data to enhance its offerings: which in turn leads to more users, and therefore more data.
Spotify is continually using its data to improve the service for listeners: releasing features such as personalised playlists and the ability to hide unwanted songs [11]. Good features lead to an engaged user base of listeners, as well as enticing new ones: both of which are key to platform growth.
Offering Value Beyond Streaming Revenues
Spotify has previously had a fraught relationship with artists, mostly over its low streaming revenues – the average pay per stream is reported as between $0.006 to $0.0084 [12]. This has caused prominent artists such as David Byrne and Radiohead to criticise and disengage with the platform [13]. If artists take their music off platform, their listeners may follow suit: resulting in a decrease in data collection that will damage Spotify's growth.
To keep artists on platform, Spotify must act strategically here; it must find a way to serve the needs of the artists, as well as its own financial interests[8]. If Spotify cannot offer value in the form of higher streaming revenues, it must offer value via different means if it wants to keep artists on its side.
This is where Spotify for Artists comes in. By using the platform's data to engage and empower artists, countering its poor streaming revenue offering, Spotify can enhance artists' loyalty to the platform. As artists become more engaged with the platform, they will use it more to connect with their fans: resulting in more data for Spotify to harness.
Examining Spotify for Artists within the landscape of platformization highlights how platforms can grant partial access to their data to important user groups and, in return, facilitate their own growth through further data collection. Being able to critically analyse a platform, its technology and its motivations, is essential in order to make sense of how platformization is transforming the digital landscape.
Image credit: Gavin Whitner, musicoomph.com.