"Hidden Cost": Social Commerce Practices and the Collaboration between Snapchat and Amazon
In an era when S-commerce (social commerce) is dominating digital environments, social media platforms use more and more tools to achieve this combination of commercial and social activities. Like Instagram and Pinterest, now Snapchat jumped onto this trend and established a partnership with Amazon to open Shoppable Tags to every single user by creating the experience of "tagging" items in real-time.
This commercial business model has prompted us to think about how the purchases on Amazon are "vanishing" the infrastructures and how its phenomenon is leading to a deep reshape of the whole marketing format; all the new marketing tools are usually aiming to a more targeted advertising fostered by a faster purchase-process. Taken this fact, our goal is to spread awareness about "invisible" infrastructures through Amazon itself. We are creating a third-party application, called 'Hidden Cost' which introduces the hidden human and environmental costs veiled behind the clean interface of Amazon and Snapchat. 
But what is Social Commerce?
As Web 2.0 technology kept evolving and Social Media rose in popularity among larger demographics, commerce evolved with them. Social networking sites attracted an audience that became increasingly keen on communicating and sharing information online, cultivating social relationships as part of this virtual life in the process (Bucci 3). Thus, consumers took on the role of social consumers and their commercial habits changed. 'Click-to-buy' did not suffice anymore. If brands wanted to attract a customer base online, they had to innovate yet again. They had to understand "how" relationships "are activated" online; "by whom, for what purpose, and according to which mechanisms." (Bucher 480) And as they moved towards a better understanding of these principles, e-commerce took on the form of social commerce. Social-commerce, originally coined in 2005 by Steve Rubel in a blog article ("Social Commerce"), leverages "social media and Web 2.0 technologies which support social interaction and user-generated content in order to assist consumers in their decision making and acquisition of products and services within online marketplaces and communities" (Huang and Benyoucef 247). As a result, retailers can more or less "sell where customers spend their time," capturing "traffic and market reach" (Marsden) and, on their part, consumers can make better-informed choices. Last but not least, social psychology research findings suggest that efficient use of "social shopping tools," can "improve propensity to purchase" (Marsden) by reaping the benefits of social influence.
 The collaboration with Snapchat was not Amazon's first attempt to expand their social commerce venture via a social media network. In early 2017, Amazon launched 'Spark,' a social media application aimed at promoting social sharing within the virtual ecosystem of the website and boosting product discovery. (Masters) But why did Amazon attempt to launch such an application in the first place? Well, among others Zhang and Benyoucef have identified two distinct types of social commerce: On one hand, there are "traditional e-commerce websites that add social tools to facilitate social interaction and sharing." (Zhang and Benyoucef 96) This description befits Amazon well — even before Spark — as they foster large amounts of User Generated Content (UGC) and user interaction through their review system and wishlist functions. On the other hand, social commerce can take the form of "social networking sites that incorporate commercial features to allow transactions and advertisements." (96) This is where Amazon fell short and where Spark could have bridged this gap.
 This is where Snapchat comes in. Snapchat jumped onto this s-commerce train to counter plummeting stocks and a dwindling fan-base (Gayde). Their e-commerce initiatives were three-fold. First, they introduced Snappables, games built into the platform which use facial expression recognition technology (Constine). Secondly, they launched "Nico and Veronica," two new styles of AR sunglasses ("Meet Nico and Veronica"). Last but not least, Snapchat established a partnership with Amazon to open Shoppable Tags to every single user through a visual search tool. In fact, with this move, Snapchat has reinvented the tag-system, by creating the experience of "tagging" items in real-time (Constine). How does it work? Once you press your finger on the camera screen, Snapchat scans the barcode or the item itself for an exact Amazon match. If the item is on Amazon, the user is redirected to the Amazon basket or application to purchase it. Snapchat boasts: "Snapchat has always been the fastest way to communicate, and now it's the fastest way to shop!" ("Introducing Visual Search").
 The collaboration between Snapchat and Amazon has two main outcomes. On the one hand, the businesses can maximize their outreach and influence by appealing to both sides of the social commerce market. On the other hand, Amazon, an online marketplace, looks to profit from the trust established through social interaction on the Snapchat platform, thus increasing the propensity of users to make purchases. Therefore, in order to question the trust established between Snapchat and Amazon as social commerce domains and their customers, we propose that we ought to interrupt the purchasing process and 'nudge' the customers to question their choice by exposing them to existing counter-narratives.
Why do we care?
 The here presented plug-in aims to show that this trust cultivated by Amazon through social technologies is misplaced. How would the customers behave if they were conscious of the human and environmental costs behind the seeming trustworthy and user-friendly social commerce constructs? Would they make the same purchase decisions, once that the applications themselves spread awareness about the invisible infrastructures which allow Amazon products to be transferred from Snapchat's augmented reality camera to their doorstep?
 With the term invisible infrastructures, we refer to the human and environmental costs caused by Amazon. These have to be respectively understood as the Amazon workers conditions of exploitation and Amazon's breaches of the environmental regulations, in order to cut costs and to achieve a greater service efficiency. Amazon warehouse staff members are subjected to exhausting working hours, during which they don't have proper breaks for eating, drinking or even urinate, in order to meet the high productivity targets imposed by the company. Those productivity targets are not achievable without breaking the rules about health and safety: warehouse workers reported cases of stomach cramps caused by overexertion, lack of access to water, sprains, backaches and other musculoskeletal injuries and swollen feet from having to run around a warehouse at high speed (Ghosh). As previously mentioned, there's much to be concerned about the environmental impact of Amazon deliveries. In this respect, unlike some of its biggest rivals, the company is not transparent and refuses to release any kind of information about energy consumption at its data centre, for instance (Kaufman).
 The questions at issue in the present instance have been undertaken by numerous newspapers, by reporting eyewitness testimonies of former Amazon workers and of incognito people currently working in the warehouses. Press sources have well documented the stories of warehouse working conditions around the globe, pushing Amazon into the eye of the storm. In this perspective, also Amazon's recent minimum wage increase for warehouse employees clearly appears as an attempt to ease this wave of media attention. However, if the issues regarding Amazon's human and environmental costs have been widely addressed by the media press, on the other hand, those questions have been almost completely ignored by the academic debate, if not involved in the broader context of gig economy. Therefore, one of the objectives of this project is that of drawing the attention of the academic world to these significant issues of our time.
 Amazon's human and environmental costs, those "invisible infrastructures", and their related conditions could be better understood within the wider concept of digital labour since they are phenomena involved into a collective workforce that allows the existence, usage and application of digital media. In this perspective, what defines amazon workers is not their type of occupation but rather the industry they contribute to and in which capital exploits them (Fuchs). A key feature of digital labour is time and so every second of it costs money. For this reason, Amazon has the interest to make its workers work for as long as possible for as little wages as possible and to make them work in the most efficient way possible so that the highest profit is achieved. This approach offered by Christian Fuchs provides only one of the numerous academic assumption that could be led about Amazon's hidden infrastructures.
Taking Action: The creation of our plug-in
 The aim of this work is to highlight aspects behind the obvious image of Amazon that will make users more conscientious. To accomplish this we have set to design a third-party application through SnapKit, following the terms of service for third-party applications on Snapchat. Snapkit is a set of developer tools that can bring Snapchat and your app together. Through Snapkit, our group could legally and officially integrate a plug-in -if Snapchat approves the collaboration – across the platform.
"Hidden Cost," the name of our plug-in establishes its identity and its purpose of our group directly from the title; presents the cost of Amazon's "deals" through this collaboration with Snapchat. As we enter even more deeply into the world of social commerce, we ignore the real structures behind the platforms. Structures relating to the treatment of Amazon workers, the company's position in the face of climate change and the environment. Aspects and information for Amazon that – our team assumed – many users might not know.  Our intervention comes at the point when the user takes a photo of a product through the Snapchat camera. Right then, before they can find out whether this product is available in Amazon, our application is activated and a window appears in front of the viewer. The reason why we decided to make a plug-in for our intervention to the collaboration between Snapchat and Amazon is the very existence of social media network. Α user-friendly tool, which will be publicly available and for free which includes cases and reports concerning the invisible infrastructures of Amazon in plain and comprehensible language for every user.
 The first part of our methodology is collecting data for our plug-in concerning Amazon infrastructures and their function. Narrowing down the context we focused on the human and the environmental costs as we came across research that these are the two main categories of the hidden Amazon's aspects. The data were collected through an online survey using keywords like Amazon, environmental cost, human cost, warehouse, workers. To choose the relevant articles, we examined manually the title, the context and the website themselves for validity and relevance. Moreover, we used snowball and systematic search to identify relevant sources that connected to the academic topic of social commerce and the hidden aspects of Amazon through articles on Google Scholar, WorldCat. In many articles, Amazon's workers describe their stories inside the company and sites themselves verified their accounts through employment documents and interviews (Business Insider, 2018).  In addition, we have placed as a limitation that articles have been published in the year 2017-2018 to be up-to-date information.
 As we collected more and more data, our idea of dividing costs into human and environmental was verified, since most of the economic and environmental articles and websites have referred to the two above. Αt the end of the examination of our data we created a database which includes invisible infrastructure or a hidden aspect of Amazon, the category to which it belongs and its source and we end up with sixteen cases concerning human cause and seven for environmental cost. These cases were edited, formatted for the use of our application and were divided into these two categories according to their cost.
 The interface of our plug-in consists of five pages. When the user clicks "Find More" in the Amazon pop-up window on the Snapchat application is transferred directly to the main page of our plug-in. In this page, the user can find the features and the two main categories of invisible infrastructures. By clicking on the "Human Cost" icon, the user is able to get information about many cases/reports concerning workers and conditions in Amazon whereas the "Environmental cost" icon redirects the user to the data collection concerning Amazon's environmental impact. As more and more facts are coming in the surface, we will be able to update the information in our application with all "new" hidden costs. The feature "About us" contains some information about our team and our goal. Finally, in the section "Contact us," users, researchers or even former or current Amazon employees could share with us their experience, thoughts and reports via email or phone.
Well, what is the outcome?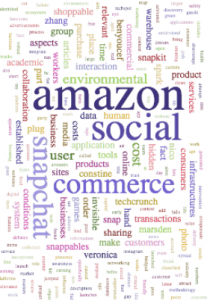 In this scenario marked by an on-going growth of social-commerce features and transactions, by an increasing consumers' trust in big-scale e-commerce and by the suppression of workers' rights in the name of efficiency, we decided to intervene with our plug-in: Hidden Cost. We identified in the Snapchat–Amazon collaboration the appropriate field to base our work on since it gave us the opportunity to design a visual intervention; visual meditation is, after all, the core feature of social-commerce.
The main aim of Hidden Cost is to question users' trust in social-commerce through the promotion of transparency especially spreading awareness about what concerns the hidden infrastructures: ideally, this should end up discouraging environmental and human rights abuses within the social-commerce.
 We focused mostly on shedding light on Amazon working conditions that need to be framed in a more general trend of uberisation of work. Since the advent of the gig economy, workers have been increasingly considered independent entities, detached from the company and often not protected by an employment contract. This results in a massive surveillance of workers' behaviours who receive performance-related pay: for example, food delivery women and men, as Amazon warehouse workers, are tracked during their movements to assess their efficiency. If their performances don't match with the employer's expectations, the consequences may vary from a decrease in their income to layoff. It is not in our intentions to assess in this circumstance the trade-off between higher efficiency and lower workers-rights: even though this seems a fertile field for further research we decided just to focus on the direct consequences of users' clicks enabling purchases in social networks.
 Alongside the 'human cost' of a social-commerce purchase, there is another crucial downside: what in our plug-in we defined as the 'environmental cost'. As stressed out by Sanjayan, visiting researcher at UCLA, the 2-days shipping are having a massive impact on carbon footprint: unladen trucks are sent in the streets while the few boxes they carry are half empty as well, due to the fact that companies have not enough time to manage the deliveries in the most efficient way. At the same time, the fast and free-of-charge return option enables a huge amount of packaging waste and a lot of boxes travelling back and forth without any accomplishment.
 The design process of the plug-in was affected by the difficulties in gathering the data we needed since Amazon treat this kind of information with extreme discretion. We had to refer mostly to journalistic inquiries based on direct interviews with Amazon workers and environmental specialists. The fact that the collaboration between the two digital companies was announced a few weeks ago made the process even more difficult due to a considerable lack of information. Nonetheless, the biggest limitation to this project is the fact that any Snapchat plug-in needs to be released on SnapKit after being approved by Snapchat itself. Each year Snapchat accepts just three plug-ins and considering the content of our work collides with the view they seem to share in Snapchat headquarters, Hidden Cost is very unlikely to be released. In addition, we need to take into consideration that our plug-in is limited to the Snapchat platform. Thus, to gain access to our plug-in, one must first be an active Snapchat user. Furthermore, our plug-in runs the risk of repetitive exposure fatigue. By that, we mean that our alerts can become tiresome the more a user becomes exposed to them. Consequently, we may have to programme into our plug-in a function, which ensures that the plug-in does not appear every time someone scans an item, but randomly.
What next?
Hidden Cost has to be framed in a general trend that involves an increasing awareness of s-commerce hidden infrastructures. By offering this plug-in we hope to inspire and encourage users to be more aware of the purchasing process through social media platforms. This collaboration between Amazon and Snapchat writes its own page in the history of the s-commerce. Taking the fact that this collaboration took place earlier this year, still, there is not much data and information about it. Future studies and practices could achieve more complete understandings regarding how we can restore accountability within the social commerce industry.
Because if Snapchat wants you to shop quicker, we want you to shop smarter!
References
Asnawati, Wahyuni S.

The Influence of Hedonic Shopping Motivation to the Impulse Buying of Online-Shopping Consumer on Instagram

. 1 Feb. 2018

Bianchi, Constanza, et al. "Consumer Intentions to Engage in S-Commerce: A Cross-National Study."

Journal of Marketing Management

, vol. 33, no. 5–6, Mar. 2017, pp. 464–94.

Taylor and Francis+NEJM

, doi:10.1080/0267257X.2017.1319406.

Bucher, Taina. "The friendship assemblage: Investigating programmed sociality on Facebook." Television & New Media, 14.6 (2013): 479-493.

Constine, Josh.

Snapchat + Amazon Visual Search Demo – TechCrunch

.

YouTube

, https://www.youtube.com/watch?v=cTUS_tr1_iU&feature=youtu.be. 

 "Snapchat Lets You Take a Photo of an Object to Buy It on Amazon."

TechCrunch

, 27 Sept. 2018, http://social.techcrunch.com/2018/09/24/snapchat-amazon-visual-search/.

Consumer Behavior in Social Commerce: A Literature Review – ScienceDirect

. https://www-sciencedirect-com.proxy.uba.uva.nl:2443/science/article/pii/S0167923616300458.

Evans, Nathaniel J., et al. "Disclosing Instagram Influencer Advertising: The Effects of Disclosure Language on Advertising Recognition, Attitudes, and Behavioral Intent."

Journal of Interactive Advertising

, vol. 17, no. 2, July 2017, pp. 138–49.

Taylor and Francis+NEJM

, doi:10.1080/15252019.2017.1366885.

Fuchs, Christian. "The Digital Labour Theory of Value and Karl Marx in the Age of Facebook, YouTube, Twitter, and Weibo."

Reconsidering Value and Labour in the Digital Age

, London: Palgrave Macmillan, 2015, pp. 26-41.

Goldsman, Aj. "Real Estate, The Economy, and News: Amazon-Snapchat Partnership Expected to Substantially Impact Snap Inc.'s Future Business Prospects."

Real Estate, The Economy, and News

, 28 Sept. 2018, https://sepulvedaescrownewsreport.blogspot.com/2018/09/amazon-snapchat-partnership-expected-to.html.

Guan, S., and Y. Tay. "Interactive Personalized Catalogue for M-Commerce."

Handbook of Research on Public Information Technology.

Hajli, Nick, et al. "A Social Commerce Investigation of the Role of Trust in a Social Networking Site on Purchase Intentions."

Journal of Business Research

, vol. 71, Feb. 2017, pp. 133–41.

ScienceDirect

, doi:10.1016/j.jbusres.2016.10.004.

 "Social Commerce Constructs and Consumer's Intention to Buy."

International Journal of Information Management

, vol. 35, no. 2, Apr. 2015, pp. 183–91.

ScienceDirect

, doi:10.1016/j.ijinfomgt.2014.12.005.

Heinemann, Gerrit. "App-based Social Commerce."

Die Neuausrichtung des App- und Smartphone-Shopping: Mobile Commerce, Mobile Payment, LBS, Social Apps und Chatbots im Handel

, edited by Gerrit Heinemann, Springer Fachmedien Wiesbaden, 2018, pp. 143–92.

Springer Link

, doi:10.1007/978-3-658-19135-1_4.

"How Social Commerce Works: The Social Psychology of Social Shopping."

Social Commerce Today

, 24 Sept. 2018, https://socialcommercetoday.com/how-social-commerce-works-the-social-psychology-of-social-shopping/.

Huang, Zhao, and Morad Benyoucef. "From E-Commerce to Social Commerce: A Close Look at Design Features."

Electronic Commerce Research and Applications

, vol. 12, no. 4, July 2013, pp. 246–59.

ScienceDirect

, doi:10.1016/j.elerap.2012.12.003.

Pookulangara, Sanjukta, et al. "Insta-Shopping: Examining Use of Instagram for Shopping Online Using Theory of Reasoned Action."

International Textile and Apparel Association (ITAA) Annual Conference Proceedings

, Jan. 2017, https://lib.dr.iastate.edu/itaa_proceedings/2017/posters/77.

Schmidt, Florian A.

Digital Labour Markets in the Platform Economy: Mapping the Political Challenges of Crowd Work and Gig Work

. Friedrich-Ebert-Stiftung, 2017.

Scholz, Trebor.

Uberworked and Underpaid: How Workers Are Disrupting the Digital Economy

. John Wiley & Sons, 2017.

"Snapchat Daily Active Users 2018 | Statistic."

Statista

, https://www.statista.com/statistics/545967/snapchat-app-dau/. Accessed 3 Oct. 2018.

Swant, Marty. "Snapchat Is Partnering With Amazon to Test a Visual Search Tool."

Adweek.Com

, 24 Sept. 2018, https://www.adweek.com/digital/snapchat-is-partnering-with-amazon-to-test-a-visual-search-tool/.

"Top U.S. Mobile Social Apps by Users 2018 | Statistic."

Statista

, https://www.statista.com/statistics/248074/most-popular-us-social-networking-apps-ranked-by-audience/. Accessed 6 Oct. 2018.

Turban, Efraim, et al.

Social Commerce: Marketing, Technology and Management

. Springer, 2016.

Wallace, Tracey. "The Complete Omni-Channel Retail Report: What Brands Need to Know About Modern Consumer Shopping Habits."

The BigCommerce Blog

, 1 Sept. 2017, https://www.bigcommerce.com/blog/complete-omni-channel-retail-report-brands-need-know-modern-consumer-shopping-habits/.

Why Snapchat Is Teaming Up With Amazon

.

www.bloomberg.com

, https://www.bloomberg.com/news/videos/2018-09-24/why-snapchat-is-teaming-up-with-amazon-video.

Constine, Josh. "Instagram Tests Shoppable Photo Tags."

TechCrunch

, TechCrunch, 1 Nov. 2016, techcrunch.com/2016/11/01/instagram-shoppable-photos/.

Constine, Josh. "Snapchat Launches AR Selfie Games Called

Snappables."

TechCrunch

, TechCrunch, 25 Apr. 2018, techcrunch.com/2018/04/25/snappables-snapchat-games/

Constine, Josh. "Snapchat Lets You Take a Photo of an Object to Buy It on Amazon."

TechCrunch

, TechCrunch, 24 Sept. 2018, techcrunch.com/2018/09/24/snapchat-amazon-visual-search/. A

Gayde, William. "Snap Stock Plummets Following Poor Earning Numbers, User Unhappiness."

TechSpot

, TechSpot, 2 May 2018,

www.techspot.com/news/74415-snap-stock-plummets-following-poor-earning-numbers-user.html

.

"Meet Nico and Veronica."

Snap Inc.

,

www.snap.com/en-US/news/post/meet-nico-and-veronica

"Shop the Look Pins."

Pinterest Business

, business.pinterest.com/en/shop-the-look-pins

"Introducing SnapKit" Snapkit,

https://kit.snapchat.com/

.