Instant Apps – The Future of Mobile Applications?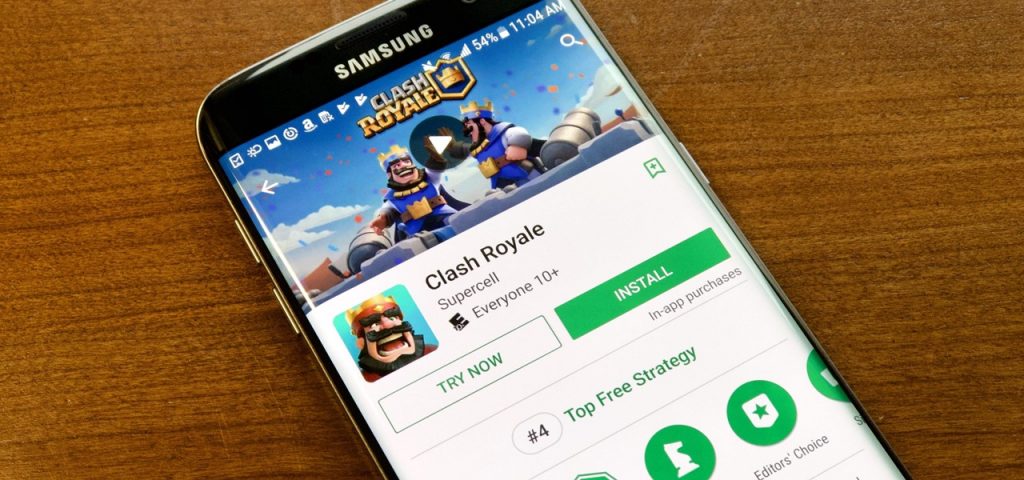 Eleven years after the introduction of the Apple App Store and the Google Play Store, mobile application development is a multibillion-dollar industry. As of Aug 1st, 2019, there are 2.46 million apps on the Play Store and 1.96 million apps available for download on the Apple App Store, culminating in 462 million dollars in revenue worldwide (Clement). This number is slated to rise as smart phone usership continues to grow worldwide. According to Pew Research, 5 billion people have access to mobile phones, and about half of these are smart phones. Percentages are scattered, developed countries such as South Korea have mart phone access over 90 percent,this rate is under 50 percent in many emerging economies (Silver). With these continued increases in mind and the sheer saturation of app stores it has become increasingly difficult for developers to promote, receive downloads and retain users. One possible innovation in the app market could be the continued penetration of 'instant apps.'
App Retention Rate and Dominance of the Big 5
 App retention is hard. In fact, apps only have around a 21 percent retention rate. Within 30 days this number is 7.5 percent and by 90 days it is a lowly 1.89 percent (Fleit). All this while 84 percent of app usage is dominated by the 5 largest, WhatsApp, Facebook Messenger, Facebook, Snapchat and Instagram (Markaskyy). Issues such as varying memory on phones, reluctance to download an app, app size and language limitations could contribute to this trend. Looking at the Apple App Store specifically, Picoto, Duarte and Pinto find that an apps user rating is not positively associated with a mobile app's success. Instead "…the app's category popularity, supported languages, package size, and app age have a positive influence on its success" (Picoto, Duarte and Pinto, p. 672). With continued integration of platforms such as Facebook across other domains like websites and other apps. Instant apps could be the next evolution of the mobile application market and help to expose users to new applications in a much less intrusive way.
Instant Apps – Try before you buy
In the most basic sense, an instant app is one that does not need to be downloaded from an app store. This could be through a web browser, social media platform or in the case of Android users, through the Google Play Store's 'Try Now' feature. The apps are run on the cloud, highlighting a potential shift in app design and distribution away from downloadable programs to fully cloud based.
Of the two largest smart phone operating systems Apple IOS and Googles Android, only Android allows for this feature through 'Google Play Instant.' With this platform it allows developers to create instant apps that are up to 5mb (a 10mb beta program is available) or augment existing applications to fit within this criterion, allowing users to try a portion of the app's features.
There are clear advantages to this approach to app distribution from a consumer and business standpoint. To many smart phone users having to download an app, especially a large one onto a finite amount of phone memory can be a hassle, especially with a new or unfamiliar app. Instant apps allow the user to simply try out a portion of the app without downloading. In many cases users can experience the basics of an app from signing up to the platform to simply trying out the new game with little commitment. From the developer standpoint this can open new avenues of engagement as instant apps can even be run through a Google search.
There are some disadvantages to this platform as it currently stands, especially for app developers. As Becky Doles puts it, instant apps could decrease the 'stickiness' of an application (Doles). With the rates of new app downloads relatively low to begin with, instant apps could deter downloads of apps, especially since the notifications associated with installed apps would not occur. Take for example an instant app for an online retail chain. The user clicks on a product through a Google Search, this opens up the retailer's instant app, after this, the interaction is complete, and the user is finished with the app whether to return or not.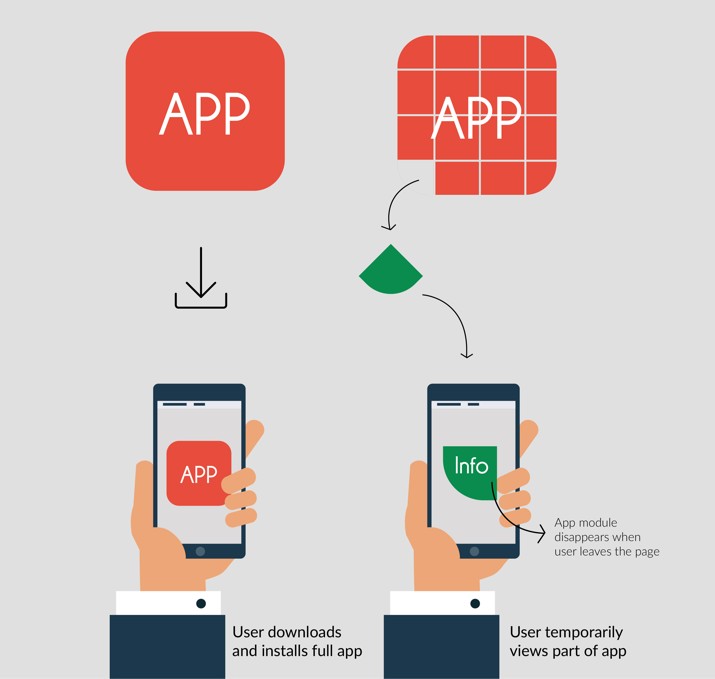 Small logistical disadvantages currently are the file size limitation. This restricts the quality of media allowed at the moment, especially for gaming. And of course, as mentioned, only Android users have access to this feature, limiting iPhone users and developers.
The integration of the web and apps
Smart phones, "…combines the benefits of a personal communicator and receiver for mass media. Where digital technology has pervaded almost every part of daily life, the smartphone has become our closest companion…" (Beckhusen, p. 5). I believe the emergence of instant apps could further this integration of technology and human user, as we see the web and the app converging into a more singular unit.
Google Play Instant has already begun to blur the line. We've discussed trying games as the basic example, but it goes much further. The online retailer Hollar for example, has an instant app that can be accessed via a web search, twitter posts as well as messenger discussions. This blurs the line between these three platforms, while also improving user experience as all links lead to the same uniform UI, as opposed to a business's website, which are often not formatted for mobile screens.
The future could hold a total integration of apps and the web through cloud computing. Restaurants, especially large chains could create instant apps which are activated when users enter building, assisted by the phones GPS. The user could in turn order on the app and pay with integrated OS apps such as Google Pay or Apple Pay. Allowing for a one stop integrated experience.
Instant apps have yet to come to dominate the mobile media market, yet they represent a shift towards web/app integration and the continued move towards cloud computing.
Sources:
Beckhusen, Benedict. "Mobile Apps and the Ultimate Addiction to the Smartphone." Jönköping University International Business School (2016).
Clement, J. "Mobile app usage – Statistics & Facts." 1 August 2019. Statista. <https://www.statista.com/topics/1002/mobile-app-usage/>.
Doles, Becky. Android Instant Apps: Pros and Cons for Mobile Marketers. 2 April 2018.
Fleit, Brittany. "App retention is hard. Here's how to improve it." n.d. Appcues Blog. <https://www.appcues.com/blog/app-retention-is-hard-heres-how-to-improve-it>.
Makarskyy, Viktor. n.d. "WeChat's Mini Programs, Google's Instant Apps, and the Future of Applications." 5 November 2017. Medium.
Silver, Laura. "Smartphone Ownership Is Growing Rapidly Around the World, but Not Always Equally." 5 February 2019. Pew Research. <https://www.pewresearch.org/global/2019/02/05/smartphone-ownership-is-growing-rapidly-around-the-world-but-not-always-equally/>.
Winnie Ng Picoto, Ricardo Duarte, Inês Pinto. "Uncovering top-ranking factors for mobile apps through a multimethod approach." Journal of Business Research (2019): 672.