Responsible Tagging: Trampled Flowers and the Commodification of Your Footprint
Location sharing or 'Geotagging' has become a popular way for social media users to share their experiences and it has enabled new forms of communication. However, is it worth damaging fragile ecosystems and sacrificing personal location data?
We've all done it.
You see a photo online of a stunning mountain vista or the bluest water imaginable, and think:
'Wow, that's beautiful! Where is that?'
Across social media platforms, GPS photo tagging, commonly known as 'geotagging,' has become a trendy way to embed a photo or video with metadata that links it to a particular physical location (longitude, latitude, and altitude). Although not an entirely new phenomenon, this feature has recently sparked much debate with many arguing that geotagging has led to over-tourism and the destruction of fragile ecosystems (Coleman).
However, in addition to changing how individuals come to understand and interact with their environment, this growing trend also illustrates how geospatial data collection is being normalized and increasingly commodified. Amidst recent data scandals such as Cambridge Analytica, Google's data breach, and the leak of confidential biometric information at Aadhaar, it is clear that data is a valuable commodity – and data is never neutral (Grothaus).
#Instafamous #Nature
Launched in 2010, Instagram is now one of the most used social media platforms in the world. Recent estimates indicate that the platform has over one billion users (Clement). As a platform grows, so does its influence. According to Expedia, nearly 90% of Gen Z travelers said their decisions are influenced by social media. Social media is changing how individuals travel and many are pointing to geotagging as one of the main proprietors.
In an attempt to preserve natural resources and prevent overcrowding and destruction, the wildlife destination Jackson Hole, located in Wyoming, USA, has started asking visitors not to tag their specific locations when sharing photos on Instagram (Coleman). This 'responsible geotagging' appeal is one that has been echoed by destinations around the world.
Just last year, a sunflower farm in Hamilton, Canada, was forced to close when the small family-owned property was swarmed with an estimated 7,000 cars after images of their fields went viral. In California, a rare super bloom of poppies was trampled (Reyes-Velarde). Meanwhile, across Southern Africa, poachers are looking at tourists' photos to track down animals of value and safaris are now asking visitors not to tag specific locations (Leasca).
New Dimensions of Communication
To understand the influence of social media platforms such as Facebook, Instagram, and Twitter, it is important to analyze the relationship between technology and users. A way to recognize this relationship is to look at what James Gibson calls 'Affordances'. Originating in the field of ecological psychology and later re-invented in the field of design, the concept of affordance is used to describe "what material artifacts such as media technologies allow people to do" (Bucher and Helmond 3). Through this lens, it is not important to look at particular buttons or technologies. Instead, it is necessary to look at the "new dynamics or types of communicative practices and social interactions that various features afford" (Bucher and Helmond 11).
Looking specifically at location sharing, not only do platforms such as Instagram allow users to share location data, but in many cases, it is incentivized. While uploading photos to the platform, users are given the option to add location data and popular destinations are suggested. Users are also able to search posts based on general (cities, regions) or more specific (parks, restaurants, neighbourhoods) location data. In doing so, users are rewarded by the platform's algorithms. Digital marketing agency Omnicore found that adding a location to a post increases engagement by 79%. Meanwhile there are countless websites and blogs who tout the feature as a great way to grow your following or boost interactions (Myhrman).
However, geotagging does not merely allow users to show off the places they have vacationed. Instead, location-sharing opens new avenues of communication and connection. In his research looking at location-sharing within Google's Places platform, Carlos Barreneche contests that as people have the power to document their memories and reactions to places, there has evolved a "new 'synergistic relationship' between people, places and information flows" (332). With this added layer of communication, location sharing adds new dimensions or meaning to connections (Humphreys and Liao). Complex eco-systems and environments are converted into metadata and technical functions, ultimately influencing how users interact with and navigate the physical world.
Data and Capital Interests
While these platforms enable users to socialize and participate, researcher Tarleton Gillespie argues that unlike the metaphor would suggest, 'platforms' are not flat – they are intricate and multi-layered landscapes (Gillespie). They are often the arena between conflicting ideals and objectives. While geotagging allows users to connect in nuanced ways, this exchange is being mediated on a platform that also works to facilitate developers and advertisers.
Geotag data is commodified because it "facilitates in the manipulation of people's inclination to engage in the consumption of particular goods and services" (Barreneche 340). It is extracted and used as a way to segment and target particular groups for marketing purposes. For example, geotagged data has been used by private corporations for forecasting, planning, and to determine popular points of interest – resulting to the commodification of spaces (Maeda et al.; Barreneche).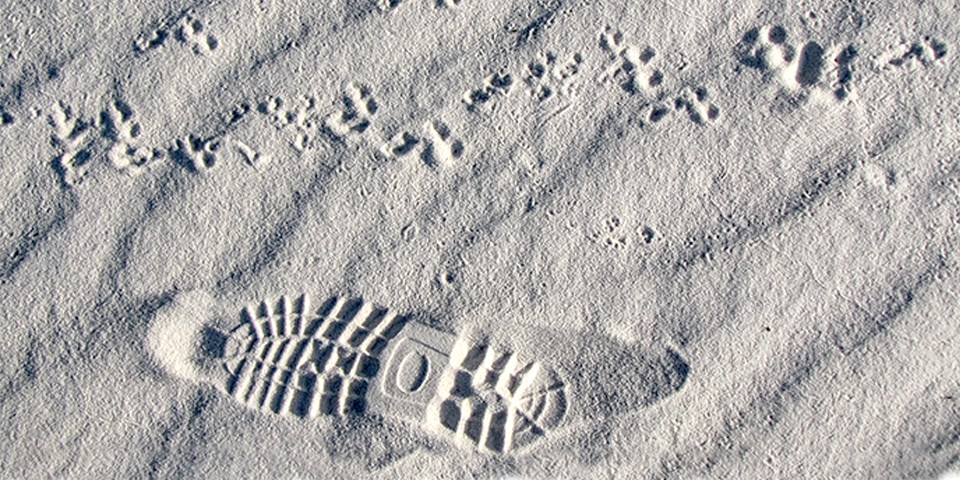 This is not to say that all uses of this technology are negative. For example, in Botswana's Okavango Delta, researchers are using tagged photos from tour groups to estimate large carnivore densities within the protected area (Rafiq et al.). Additionally, others argue that the use of geotagged photos makes experiencing the outdoors 'less exclusive' and is encouraging a whole new wave of nature enthusiasts (Gregory). In response, non-profit organization, Leave No Trace, suggests that visitors stop and think about the consequences before posting geospatial information on social media.
Beyond the Platform
Platforms, through their affordances, are commercializing fragile ecosystems. What is sold as a 'fun way to share and connect with others' exists on a platform whose purpose is to ultimately make money. In his book, The Data Revolution, geographer Rob Kitchen argues that data is an economic resource that is re-shaping the mode of production – a resource used to design new commodities, identify and target new markets, and gain competitive advantages (Kitchin). Beyond debates about whether certain areas should or should not be geotagged, with millions and millions of users uploading geospatial information daily, we should be increasingly aware of how and why our information is being taken and used.
As our digital footprint becomes increasingly more valuable, should we perhaps think more carefully about where we step?
References
Barreneche, Carlos. "Governing the Geocoded World: Environmentality and the Politics of Location Platforms." Convergence: The International Journal of Research into New Media Technologies, vol. 18, no. 3, Aug. 2012, pp. 331–51. DOI.org (Crossref), doi:10.1177/1354856512442764.
Bucher, Taina, and Anne Helmond. "The Affordances of Social Media Platforms." The SAGE Handbook of Social Media, SAGE Publications Ltd, 2018, pp. 233–53. DOI.org (Crossref), doi:10.4135/9781473984066.n14.
Clement, J. "Number of Monthly Active Instagram Users 2013-2018." Statista, 2 Sept. 2019, https://www.statista.com/statistics/253577/number-of-monthly-active-instagram-users/.
Clementson, Laura. A Hamilton Wild Bird Seed Farm Was Forced to Close after Thousands of Visitors Created "Utter Chaos." 3 Aug. 2018, https://www.cbc.ca/news/canada/hamilton/hamilton-sunflower-farm-closes-1.4772294.
Coleman, Alex. "Are Geotags Destroying Nature? The Growing Movement Against Geotags." Fstoppers, 6 Jan. 2019, https://fstoppers.com/originals/are-geotags-destroying-nature-growing-movement-against-geotags-325775.
Gillespie, Tarleton. "The Platform Metaphor, Revisited – Culture Digitally." Culture Digitally, 2017, http://culturedigitally.org/2017/08/platform-metaphor/.
Gregory, Madeleine. "Stop Blaming Instagram for Ruining the Great Outdoors." Vice, 26 July 2019, https://www.vice.com/en_us/article/neaagg/stop-blaming-instagram-for-ruining-the-great-outdoors.
Grothaus, Michael. "How Our Data Got Hacked, Scandalized, and Abused in 2018." Fast Company, 2018, https://www.fastcompany.com/90272858/how-our-data-got-hacked-scandalized-and-abused-in-2018.
Humphreys, Lee, and Tony Liao. "Mobile Geotagging: Reexamining Our Interactions with Urban Space." Journal of Computer-Mediated Communication, vol. 16, no. 3, Apr. 2011, pp. 407–23. DOI.org (Crossref), doi:10.1111/j.1083-6101.2011.01548.x.
Kitchin, Rob. "The Data Revolution." The Data Revolution, 1st ed., SAGE Publications Ltd, 2014, p. 240.
Leasca, Stacey. "How Your Instagram Geotag Might Be Putting Wild Animals and Natural Areas at Risk Around the World." Travel + Leisure, 22 Mar. 2019, https://www.travelandleisure.com/travel-news/geotagging-bad-for-safari.
Maeda, Takashi, et al. "Extraction of Tourist Destinations and Comparative Analysis of Preferences Between Foreign Tourists and Domestic Tourists on the Basis of Geotagged Social Media Data." ISPRS International Journal of Geo-Information, vol. 7, no. 3, Mar. 2018, p. 99. DOI.org (Crossref), doi:10.3390/ijgi7030099.
Myhrman, Helena. "5 Effective Tips on How to Increase Your Reach on Instagram with Geotags." Medium, 13 Mar. 2019, https://medium.com/getflowboxblog/how-to-use-instagram-geotags-to-grow-your-following-aef1abb8fb24.
Rafiq, Kasim, et al. "Tourist Photographs as a Scalable Framework for Wildlife Monitoring in Protected Areas." Current Biology, vol. 29, no. 14, July 2019, pp. R681–82. DOI.org (Crossref), doi:10.1016/j.cub.2019.05.056.
Reyes-Velarde, Alejandra. "Instagram-Hungry Crowds Are Destroying the Super Bloom." Los Angeles Times, 14 Mar. 2019, https://www.latimes.com/local/lanow/la-me-ln-superbloom-lake-elsinore-20190314-story.html.