Ceci n'est pas une Influencer; the rise of 'Virtual Influencers' a fad or the future of online interaction?
Virtual influencer Lil Miquela and real influencer Bella Hadid in a commercial for Calvin Klein. This sparked some commotion because of its sexualizing nature. Source: Allwood, E. Dazed and Digital (2019)
Not everything we see on the internet exists outside of our computers and in 2019 we're not that easily fooled anymore, or so we think… Instagram influencer Lil Miquela truly seems like any other influencer these days; she has endless amounts of stylized pictures on Instagram showcasing expensive brands and has shared multiple autotuned pop songs on Soundcloud. Yet, she technically is a virtual influencer; created by LA based tech startup Brud. Virtual influencers are described by MediaKix as 'fictive computer-generated images, that are built on artificial intelligence and inspire followers on Instagram with content on e.g., fashion and experiences'. Lil Miquela was named as one of the most influential people of the Internet by the Time and has over 1.6 million followers. Recently she gained a lot of attention firstly due to her founding company Brud's supposed 'hack stunt' that turned out to be a commercial strategy and second due to her participation in a campaign for Calvin Klein making out with human influencer Bella Hadid and second . And she's not alone; there is an increasing amount of accounts like Lil Miquela's on Instagram, ranging from very humanlike like Lil Miquela, to more cartoonesque virtual influencers such as Noonoouri; all promoting products or propagating certain political views. Some describe the rise of virtual influencers merely as a disappointing development in advertising, while not denying the possibilities these virtual influencers will be everywhere in the future. So are these virtual influencers solely a fad, a radical move to online interaction with artificial intelligence/computers, or is it just a clever new way to cover up advertisements as 'people' surpassing ways of doing so through human influencers?
Lil Miquela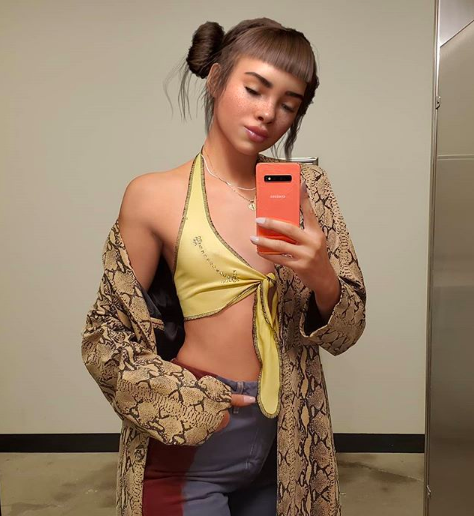 It-girl Lil Miquela-who goes by Miquela Sousa, is your regular fashionable 19 year old from Los Angeles. She sometimes refers to her Brazilian heritage in her posts, shares cute pictures with her boyfriend. She is moreove strikingly liberal on the political spectrum, openly supporting DACA and Black Lives Matter and clashing with her Brud-colleague Trumpfan Bermuda.. All of her online presence seems an attempt to reinforce her realism, while also openly acknowledging that she is not a human being. Already in her Instagram bio she describes herself as 'Musician, change-seeker, and robot with the drip💧💖' and makes no secret of her supposed lack of humanlike authenticity. Still her Instagram profile consists of pictures, stories, videos and added personal quotes like any other oversharing celebrity would have; ranging from moments of sadness to intimate confessions to her fans.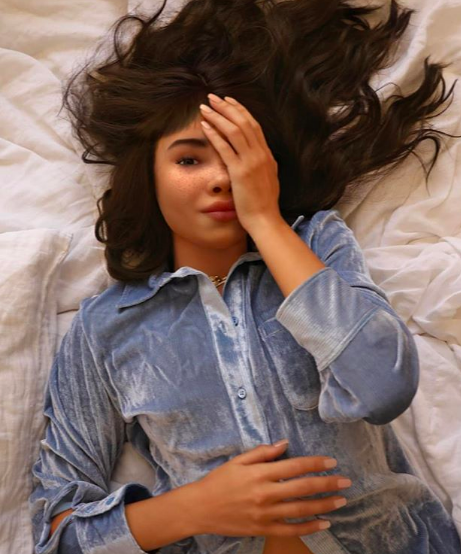 "Mornings with him 🤖💕👼🏽 I feel kinda bad that he doesn't know I'm posting about us but 😕 I'm just so used to sharing everything with y'all. Idk"

Lil Miquela. Source: Instagram. August 23d, 2019.
Lil Miquela quite successfully resembles the typical Instagram Influencer, with a humanlike appearance and communication style, and there are more influencers like her. But who is behind these political productpromoting virtual influencers and what is their goal?
The company behind Lil Miquela, Brud, describes itself as a 'transmedia studio that creates digital character driven story worlds.' The company is quite mysterious about its process and intentions; their former website has been replaced with a Google Docs containing two pages. One the things missing is an explanation of the supposed level of artificial intelligence that virtual influencers are 'meant to contain' sccording to Molin and Nordgren. The only question answered regarding the -lack of- authenticity of the character is that Lil Miquela can be considered 'just as real as Rihanna', which comes off as a clever way to push the conversation to one about authenticity of celebrity images. Combined with their lack of transparency in their use of artificial intelligence and the absence of a business model makes it difficult to truly form an understanding what it is they are trying to do.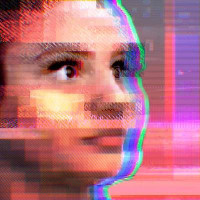 So.. what does the future hold?
Lil Miquela is not the first non-human avatar people could have interactions with on a social platform. But the rapid increase in popularity and investments by Silicon Valley companies do make us question what there is to gain and how it will affect our online interaction.
Despite the possibility of virtual influencers only being created as means of fake advertisements it is important to Wittels criticism on creating a dichotomy between the real versus the unreal; and implicitly equating it to the online versus the offline. Social interaction between human beings can be felt as real and in that logic should be considered as real. From that perspective virtual influencers are only an extension of that real experience, perhaps particularly if they will evolve looking even more realistic.
At the same time we do need to keep in mind that our social interactions are continuously commodified on platforms like Instagram as emphasized by Harju and Lillqvist. Moreover, we should be aware there is in fact a million dollar company and a team behind this innocent looking 19 year old Instagram account. Sure, she also focuses on minority issues, but many companies do this too.
Since Instagram forced influencers to list their posts as ads recently, it will be interesting to see how policy will need to be created for these virtual influencer accounts as well. Because as Darner and Arvidsson point out the pressing questions of responsibility and user-formats need to be reconsidered if these account will indeed pop up everywhere.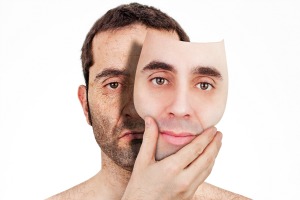 Conclusion
Virtual influencers show not only the the current stage of digital human-passing avatars -almost passing-, but also the human response to such an emerging development in new media. Virtual influencers like Lil Miquela are reaching more and more users and there is serious money to be made for companies through subtle and innovative advertising. Creating virtual profiles is therefore reaching a point where it should be examined both for its possibilities and its possible harms.
Since the company responsible for creating Lil Miquela and two other virtual influencers lacks transparency, the intentions of this new development on this scale are unclear. Regardless of the intentions of the makers of this technology, or how it might be used, it is important for us both users and creators to be aware of not treating any technological advancement like Frankenstein while also not falling hopelessly in love and getting our heart broken by the ever more subtle grip of commodification.
Bibliography
"25 Most Influential People on the Internet in 2018." Time, Time, 28 June 2018, https://time.com/5324130/most-influential-internet/.
Allwood, Emma. "Bella Hadid and Lil Miquela Kissing Is… Not Cool!" Dazed and digital, 17 May 2019, https://www.dazeddigital.com/fashion/article/44516/1/bella-hadid-lil-miquela-lesbian-kiss-calvin-klein-my-truth-campaign-opinion.
"Bermuda (@Bermudaisbae) • Instagram Photos and Videos." Instagram, www.instagram.com/bermudaisbae/?hl=en.
"Brud (@Brud.fyi) • Instagram Photos and Videos." Instagram, https://www.instagram.com/brud.fyi/?hl=en.
Darner, Anna, and Nickie Arvidsson. "Virtual Influencers: Anonymous Celebrities on Social Media." N.p., 2019.
Google Search, Google, https://www.google.com/search?safe=off&sxsrf=ACYBGNSP8V1ZZiszWQwMTWk8s_k9hI6-1w:1569195955838&q=2+face&tbm=isch&tbs=simg:CAQSmQEJeZ6gSgLm5fgajQELEKjU2AQaBggXCD0IQgwLELCMpwgaYgpgCAMSKJAH5xLmEpUHkQeEENMa5BKDEOUS-ST4JPUltC6xLuklmjrxMbIusy4aMCITvOEZRnM3x4_1rw68XWxXFgqG_1gifdwJCzjaqhktaq7hHgelDRTn9WrwsJ5a0ByCAEDAsQjq7-CBoKCggIARIE4VodDQw&sa=X&ved=0ahUKEwirhp-8zuXkAhVMZVAKHX_7D8cQwg4ILygA&biw=1200&bih=623.
Kaitlyn, Tiffany. "Virtual Influencers Have Got to Be a Fad – Right?" Vox, Vox, 3 June 2019, https://www.vox.com/the-goods/2019/6/3/18647626/instagram-virtual-influencers-lil-miquela-ai-startups.
Karpinski, Jessica, and Melanie Manipula. "Brud – Wiki." Golden, https://golden.com/wiki/Brud.
Koh, Yoree, and Georgia Wells. "The Making of a Computer-Generated Influencer." The Wall Street Journal, Dow Jones & Company, 13 Dec. 2018, https://www.wsj.com/articles/the-making-of-a-computer-generated-influencer-11544702401.
Lillqvist Ella, and Anu A. Harju. "Manipulating Meaning: Language and Ideology in the Commodification of Online Sociality." Open cultural studies 2. 2018 :249-261
McFadden, Christopher. "9 Digital Celebrities and Virtual Influencers Taking over the Internet." Interesting Engineering, Interesting Engineering, June 2019,interestingengineering.com/9-virtual-influencers-taking-over-the-internet.
Mediakix team. 'What are "micro-influencers"? Definition & examples', Mediakix, Jan 2019, mediakix.com/2017/07/what-are-micro-influencers/#gs.k4aV0UfL
"Miquela (@Lilmiquela) • Instagram Photos and Videos." Instagram, www.instagram.com/lilmiquela/?hl=en.
Molin, Victoria and Sofia Nordgren. "Robot or Human? – The Marketing Phenomenon of Virtual Influencers.", 2019: 1-35
"Noonoouri (@Noonoouri) • Instagram Photos and Videos." Instagram, www.instagram.com/noonoouri/?hl=en.
"Sara DeCou." Forbes, Forbes Magazine, Aug. 2018, www.forbes.com/profile/sara-decou/#7494153f7a32.
Sauers, Jenna. Life after Fiction: The Future of Lil Miquela, April 2019, www.culturedmag.com/lil-miquela/.
Shieber, Jonathan. "Update: Virtual Instagram Celebrity 'Lil Miquela' Has Had Her Account Hacked." TechCrunch, TechCrunch, Apr. 2018, techcrunch.com/2018/04/17/virtual-instagram-celebrity-lil-miquela-has-had-her-account-hacked/.
Shieber, Jonathan. "The Makers of the Virtual Influencer, Lil Miquela, Snag Real Money from Silicon Valley." TechCrunch, TechCrunch, Apr. 2018, techcrunch.com/2018/04/23/the-makers-of-the-virtual-influencer-lil-miquela-snag-real-money-from-silicon-valley/.
Tait, Amelia. "Forcing Social-Media Influencers to Be Clear about #Ads? Good Luck with That | Amelia Tait." The Guardian, Guardian News and Media, Jan. 2019, www.theguardian.com/commentisfree/2019/jan/25/social-media-influencers-clear-ads-celebrities-authorities.
"Trevor McFedries & Sara Decouis One of the 500 People Shaping the Global Fashion Industry in 2018." The Business of Fashion, Sept. 2019, www.businessoffashion.com/community/people/trevor-mcfedries-sara-decou.
Vincent, James. "Twitter Taught Microsoft's Friendly AI Chatbot to Be a Racist Asshole in Less than a Day." The Verge, The Verge, ]Mar. 2016, www.theverge.com/2016/3/24/11297050/tay-microsoft-chatbot-racist.
"website_copy_wip_for_all_my_qtz ." Google Docs, Google, docs.google.com/document/d/1V5N5tcfm7wBuUshgrmIOz9ijAO-VRqvkUbGRu0uKdI8/edit.
Widdoes, Adriana. "Is Virtual Instagram Star Lil Miquela Magic, Or Just Marketing?" BuzzFeed News, BuzzFeed News, 27 Apr. 2018, www.buzzfeednews.com/article/adrianawiddoes/lil-miquela-instagram-hack-brud.
Wittel, Andreas. "Toward a Network Sociality." Theory, Culture & Society,18.6, 2001: 51–76.