The digital "gig economy": empowering or constricting freelancers?

In the last decade sharing economy led to the blossoming of digital platforms that facilitate connections between clients and service providers. New companies managed to enter established industries and they didn't do it quietly. Their approach is redefining actors, services, infrastructures and pre-existing balances: this has caused controversy, criticism, riots and legal actions.
Uber and Airbnb, two examples of sharing economy platforms


Uber, founded in 2009, is offering a vast choice of services with the most prominent being its cab service which connects people willing to pay for a lift and people willing to share their vehicle. Uber is present in 63 countries, and is completing 14 million trips a day.
Airbnb, founded in 2008, is connecting people looking for hospitality to people able to offer shelter in exchange of a payment: 7 million unique places are offered right now in over 100.000 cities.
On May 2019 Uber has gone public; even if it's not profitable yet and it has just closed its worst ever quarter with a $5.2 billion loss, it is still attracting investors. Uber has been at the center of scandals and criticism, one of the most resonating was the protest of taxi drivers happening in many countries; taxi drivers accused Uber of engaging in unfair practices for profit making resulting in taxi drivers not being able to compete with Uber's non regulated cab service. Now Uber is banned in a few countries.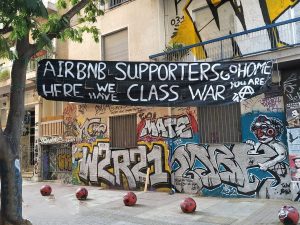 Airbnb has not gone public yet, maybe it will next year, despite the fact that it is one of the few big sharing economy platforms that is already making profit. Airbnb has also faced a lot criticism, especially regarding the price of houses rising for long term residents in areas when Airbnb is heavily present. It has led to protests in San Francisco and violent riots in the anarchist's neighborhood of Exarchia in Athens.
Uber and Airbnb are two well-known platforms that had shaken pre-existing industries (transportation and hospitality) and their infrastructures through the use of sharing-economy and the exploitation of grey areas in regulation in order to be more competitive.
Let's talk about Fiverr and e-lancers


Fiverr (founded in 2010) is a Digital Platform based on the sharing economy, more precisely on the gig-economy. Fiverr is an e-lance, a platform dedicated to connect freelancers working in the field of digital services with clients. It has recently entered the public market joining two of its competitors, Freelance.com and Upwork, and, in the same fashion as Uber, is not profitable yet.
As Uber and Airbnb, also Fiverr has been victim of criticism, especially for the role it is tailoring on freelancers, infamous became the advertisement campaign used in the New York's Subway.
Fiverr is carrying some differences when compared to Uber, Lyft or AirBnb; all of the interaction happen without the need for the two parts to meet physically and without the need to share any kind of physical good or possession. This is possible because the services you can buy on Fiverr are exclusively digital: some of them are services that have been digitalized but many are natively digital.
Another huge difference is that e-lance platforms don't have a pre-existing, non-digital, infrastructure to deal or compete with; or at least the network of freelancers is not so evident, structured and organized. This gives e-lance platforms much more freedom in how they decide to structure themselves but at the same time is a challenge to overcome. This is how Fiverr stated its goal now that it went public: Our mission is to change how the world works together. We started with the simple idea that people should be able to buy and sell digital services in the same fashion as physical goods on an e-commerce platform. On that basis, we set out to design a digital marketplace that is built with a comprehensive SKU-like services catalog and an efficient search, find and order process that mirrors a typical e-commerce transaction.
Fiverr aims to be an "Ebay for digital services" and glorifies what they call the Doers, the ones who feed on coffee and deprive themselves of sleep in order to keep up with the work schedule.
Where are we going?


"These platforms are getting the maximum advantages and service providers are at the losing end" (Bae & Koo, 2018; Ganapati & Reddick, 2018). Nonetheless the number of freelancers is increasing worldwide, and while digitalization increases competitiveness within freelancers, since they are all centralized on few known platforms and it doesn't matter where they are based since all products are digital: someone may be from a cheaper country where they can afford to sell they services for less.
If freelancers are becoming the workforce of the future, since they are growing in numbers and so is the demand of the services they are providing, should the relation between freelancers and e-lance platforms be discussed?
"Freelancers are not considered as employees of the platform. They are considered as independent contractors who provide their services for specific task and time. Freelancers remain deprived of provident fund, holidays, insurance and pension which are perks of corporate employees. Freelancing platforms have to think about these gig workers" (Kuhn 2016)
How should we address the problems inherent with this working force? How the job of the freelancer has changed due to e-lancers?
What are the new issues the freelancer has to deal with?
Freelancer Value Proposition (FVP)


"There are more than hundred freelancing platforms competing to gain attention of clients as well as freelancers. Platforms have to offer higher value to freelancers in order to attract, develop and retain them" (Zubair Nawaz, Jing Zhang, Rafiq Mansoor and Aboobucker Ilmudeen 2019)
In this paper by Zubair Nawaz et al. the authors define the concept of Freelancer Value Proposition (FVP) as the "Sum of values which freelancer gains from freelancing platform in return of services". They have identified six dimensions to define FVP: Economic Value (EV), Social Value (SV), Developmental Value (DV), Autonomy value (AV), Emotional Value (EV) and Work Life Balance Value (WLBV).
The FVP is a good starting point to understand what freelancers need from e-lancers and what direction e-lancers should take in order to make the whole process smoother and creating the best digital environment for freelancers to sell their services.
Bibliography & Sources:

AirBnb. "About Us." Airbnb Newsroom, press.airbnb.com/about-us/. Accessed 22 September 2019
Bae, J., & Koo, D.-M. (2018). "Lemons problem in collaborative consumption platforms: Different decision heuristics chosen by consumers with different cognitive styles. Internet Research,"
Bivens. "The Economic Costs and Benefits of Airbnb: No Reason for Local Policymakers to Let Airbnb Bypass Tax or Regulatory Obligations." Economic Policy Institute, www.epi.org/publication/the-economic-costs-and-benefits-of-airbnb-no-reason-for-local-policymakers-to-let-airbnb-bypass-tax-or-regulatory-obligations/. Accessed 22 September 2019
Clark, Kate. "Uber's First Day as a Public Company Didn't Go so Well." TechCrunch, TechCrunch, 10 May 2019, techcrunch.com/2019/05/10/ubers-first-day-as-a-public-company-didnt-go-so-well/. Accessed 22 September 2019
Kuhn, K. M. (2016). "The Rise of the "Gig Economy" and Implications for Understanding Work and Workers. Industrial and Organizational Psychology"
Deirdre Bosa, Sara Salinas. "Airbnb Says It's Been Profitable for Two Years Straight as It Heads for IPO." CNBC, CNBC, 15 Jan. 2019, www.cnbc.com/2019/01/15/airbnb-sustains-profit-as-it-heads-toward-ipo.html. Accessed 22 September 2019
Dickinson, Greg. "How the World Is Going to War with Uber." The Telegraph, Telegraph Media Group, 26 June 2018, www.telegraph.co.uk/travel/news/where-is-uber-banned/. Accessed 22 September 2019
Durbin. "Airbnb Says It Will Go Public in 2020." ABC News, ABC News Network, 19 Sept. 2019, abcnews.go.com/Technology/wireStory/airbnb-public-2020-65726691. Accessed 22 September 2019
Ganapati, S., & Reddick, C. G. (2018). "Prospects and challenges of sharing economy for the public sector." Government Information Quarterly.
Ha, Anthony. "Fiverr Files to Go Public, Reports Revenue of $75.5M and a Net Loss of $36.1M for 2018." TechCrunch, TechCrunch, 16 May 2019, techcrunch.com/2019/05/16/fiverr-files-to-go-public/. Accessed 22 September 2019
Nawaz, Zubair & Zhang, Jing & Mansoor, Rafiq & Ilmudeen, Aboobucker. (2019). "Gig workers in sharing economy: Conceptualizing Freelancer Value Proposition (FVP) in e-lancing platforms. "
Pofeldt, Elaine. "Are We Ready For A Workforce That Is 50% Freelance?" Forbes, Forbes Magazine, 31 Oct. 2017, www.forbes.com/sites/elainepofeldt/2017/10/17/are-we-ready-for-a-workforce-that-is-50-freelance/#51f0b6a53f82. Accessed 22 September 2019
Rapier. "Uber Just Reported Massive Losses That Were Larger than Wall Street Expected – and the Stock Is Sinking." Business Insider Nederland, 8 Aug. 2019, www.businessinsider.nl/uber-stock-price-falls-q2-2019-earnings-losses-worse-expected-2019-8?international=true&r=US. Accessed 22 September 2019
Taylor, Goggim. "49 Of the Biggest Scandals in Uber's History." Business Insider Nederland, 10 May 2019, www.businessinsider.nl/uber-company-scandals-and-controversies-2017-11?international=true&r=US. Accessed 22 September 2019
Watson, Bruce. "Airbnb's Legal Troubles: the Tip of the Iceberg for the Sharing Economy?" The Guardian, Guardian News and Media, 20 Nov. 2013, www.theguardian.com/sustainable-business/airbnb-legal-trouble-sharing-economy. Accessed 22 September 2019
Uber Newsroom United Kingdom. Uber Newsroom, www.uber.com/en-GB/newsroom/company-info/. Accessed 22 September 2019