Did a Human Write this Blog Post?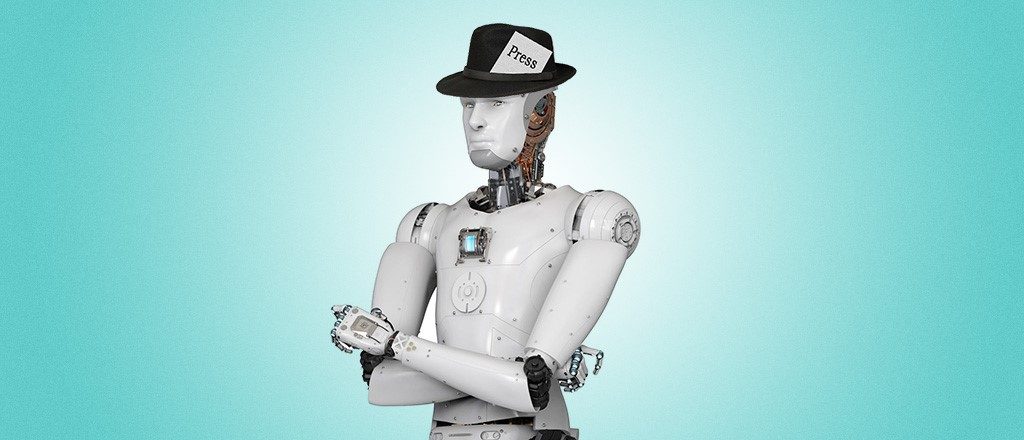 At the end of June 2020, Microsoft laid off 50 contract news producers for its MSN website. Until then, journalists curated headlines and articles paid for by Microsoft from news organizations and decided which content to promote. These contract workers have since been replaced by Artificial intelligence which will perform these tasks. "It's demoralising to think machines can replace us but there you go," said one of these laid off employees ("Microsoft 'to Replace Journalists with Robots'"). The rise of automization and artificial intelligence is quite known to many industries such as manufacturing and the fast food industry as a threat to employment. While this threat exists, the possibilities of AI augmenting the work load of journalists freeing up precious time to perform real journalistic tasks can be seen as a positive advancement; not withstanding obvious ethical questions.

The Future is Now
According to Sarbjit Nahal, Managing Director at Bank of America Merrill Lynch, "AI is set to be the largest driver of tech spend over the next decade" (Hall 2018). AI is increasingly becoming more proficient in tasks thought to be only capable by humans. This is no different in journalism. In fact, an extensive 2019 survey conducted by the London School of Economics and think tank Polis, questioned 71 news agencies from 32 countries about their use of AI. About half of those surveyed said they used AI for newsgathering. Despite this, only about a third said their agency had an active AI strategy (Mayhew 2020). This lack of strategy is a major hurdle for news agencies. With seemingly endless supplies of new stories and data, Journalists may need to adapt to these technological innovations or face redundancy, or irrelevance to competition. Despite fears being widespread amongst journalists that AI could replace their jobs, there is optimism that AI could in fact liberate journalists to focus on 'real' journalism and not the mundane.
"Artificial intelligence is not there to replace journalists or eliminate jobs," states White, noting that AI is expected to take over eight to 12% of reporters current tasks. Editors and journalists will reorient to long-form journalism, feature interviews, analysis, data-driven journalism and investigative journalism that the machines so far have not been able to generate"
Patrick White, professor of journalism, University of Quebec
Why Automate?
Current uses of AI Journalism can be split into three broad categories; newsgathering, news productions and news distribution (Beckett 20). In this era of mass proliferation of news stories, and second to second information dissemination from the likes of social media, AI is, and will increasingly play a role in gathering and separating this information. This can greatly assist the journalist by allowing better allocation of time in actually writing stories, and creating long form interviews. AI can assist in finding trends that could otherwise be missed by the human eyes. "AI has the ability to instantaneously react to real-time data with the outlines of a story. Quarterly reports, such as performance and attribution reports released by large mutual funds, used to take weeks of effort by a small team of portfolio managers to draft. These reports can now be prepared by AI in a matter of seconds" (Hall 2018).
Mitt Media and United Robots
A real world example of the use of AI in journalism comes from Swedish media company Mitt Media and its use of United Robots. United Robots, a Sweden based company has developed its own Natural Language Generation (NLG) system and has been producing news reports on most sports teams in Sweden (Linden et al. 15). Relying on Everysport Media Group, these employees call team leaders and referees by phone after each game or collect data online about games. This is a labor intensive and slow way of producing data. However, recently (as of 2018) Mitt Media and United Robots introduced a chat bot which collects quotes from teams, constantly scanning for new data to present, greatly cutting down on time collecting such data (Linden et al. 15).

"We have 480 football teams in 59 leagues playing every week. And that is just soccer. Now we cover them all. We publish 3000 automated texts a month."
-Robin Govik, Chief Digital Officer at Mitt Media (Linden et al. 15)

Algorithms and Ethics
Perhaps the greatest consideration of the adoption of AI in journalism, arguably more than potential job loss, is the impact on journalistic ethics caused by AI, and especially its relationship with data. Harkening to Lisa Gitelman's "Raw Data" Is an Oxymoron, data is ever present. They inform public policy, public health, investments and so on (Gitelman 1). Add to this the massive data collection of organisations like Facebook and Google data is more prevalent than ever. To understand that data is never 'raw,' as it is always situated in some context, bias and interpretation, is especially important now that non human actors are involved. It is important to remember that these algorithms are written by humans, and as such must be subject to scrutiny as a journalist would.

Regarding these dilemmas, Hansen et al, outlets questions around transparency that could be asked of the use of AI. "As AI can play many roles in journalism, care should be given to explain exactly when, how, and where it is used" (Hansen et al. 14) Was the story authored by an algorithm,? How much do readers need to know about how the story was built? Who is held accountable for facts and errors when AI is involved? (Hansen et al. 14). These are some of the important questions revolving around transparency. Journalists are held to a standard of accountability to present their work and explain its validity. Researchers explain their methodology. Should the media consumers expect this same level of transparency and disclosure from AI?

The Future of Journalism

"This is a marathon, not a sprint – but they've got to start running now…
…You've got two years to start running and at least working out your route and if you're not active within five years, you're going to lose the window of opportunity. If you miss that, you'll be too late." (Granger 2019).
Ultimately, AI in journalism will continue to become an ever increasing tool in the field. Although ethically and the issue of job replacement is a real debate, within this lies an optimistic view that AI can augment the mundane and allow journalists to devote more time to the craft. With endless supplies of data and breaking stories AI can assist the journalist in invaluable ways. ""They are losing the very idea of being local, which is going out into the streets, to meet people and to interact with your community. This is to augment and to power-up journalism, it's not about journalism turning into a bland robotic product, it's about getting back to distinctive journalism" (Granger 2019).
Works Cited:
Beckett, C. "New powers, new responsibilities: A global survey of journalism and artificial intelligence." Polis, London School of Economics and Political Science. https://blogs. lse. ac. uk/polis/2019/11/18/new-powers-new-responsibilities (2019).
Gitelman, Lisa. Raw data is an oxymoron. MIT press, 2013.
Granger, Jacob. "Newsrooms Have Five Years to Embrace Artificial Intelligence or They Risk Becoming Irrelevant | Media News." www.Journalism.Co.Uk, 19 Nov. 2019, https://www.journalism.co.uk/news/google-funded-report-warns-that-newsrooms-have-five-years-to-embrace-artificial-intelligence-or-risk-becoming-irrelevant/s2/a747620/.
Hall, Stefan. "Can You Tell If This Was Written by a Robot? 7 Challenges for AI in the Media." World Economic Forum, https://www.weforum.org/agenda/2018/01/can-you-tell-if-this-article-was-written-by-a-robot-7-challenges-for-ai-in-journalism/..
Hansen, Mark, et al. "Artificial intelligence: Practice and implications for journalism." Tow Center for Digital Journalism – Columbia Journalism School (2017).

Lindén, Carl-Gustav, et al. "News Automation: The rewards, risks and realities of 'machine journalism'." WAN-IFRA Report. (2019).

Mayhew, Freddy. "AI Journalism: What Is It and Should Journalists See It as a Threat?" Press Gazette, 26 June 2020, https://www.pressgazette.co.uk/ai-journalism/.
"Microsoft 'to Replace Journalists with Robots' – BBC News." Bbc.Com, https://www.bbc.com/news/world-us-canada-52860247. Accessed 27 Sept. 2020.