The switch from live to digital during COVID-19
The whole world is changing due to COVID-19. 'The pandemic emerges a stressful and even traumatic event that requires individuals to make sense of the new situation and choose appropriate coping actions' (Yanjun, Hong and Xinyi, 2020 p.1). It has become a global crisis that hits economies, people's daily life but also the cultural sector. During the lockdown in the Netherlands, there were several initiatives that encouraged the cultural sector economically and socially.
One of these initiatives came from Tim Hofman, a Dutch journalist. He posted a tweet in which he encouraged developers to create a platform where you could livestream concerts or other cultural events in exchange for money. Terence Huigen responded to this tweet with a new platform: Hometour.events. In this blog, I will explain what this platform is. Thereafter I will elaborate on the importance of interaction and support for artists and the role of visuals in this. Lastly, I will explain the benefits of online cultural events.
What is Hometour.events?
Hometour.events is a platform where you can discover and support your favorite artist and stream their concerts and shows – all in the luxury of your own living room' (Hometour, 2020). For a small price you can buy online tickets to watch livestreams of music performances, cabaret shows, and even theater shows (AD, 20-04-20)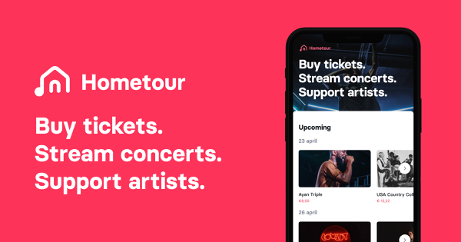 The importance of interaction
During the quarantine, everybody was in social isolation. You couldn't see your friends and there wasn't a single event that people could attend. Courtet, Olié, Debien and Vaiva (2020) state that during this pandemic the possibility of psychological and mental problems increased. In addition, they explain that social distancing caused a lot of people 'fear, boredom and frustration, and a sense of isolation from the rest of the world' and that this is mainly due to not being able to take part in otherwise normal activities such as concerts (p.2).
The statement of Courtet, Olié, Debien and Vaiva (2020) shows the impact of being isolated and not able to physically interact with other people. The initiative of hometour.events could be an outcome for this since it creates events that you can attend while being self-isolated. It might be a solution for being less bored and it creates something 'special' during your everyday quarantine life.
Interaction between performer and fan
Another important form of interaction according to this platform is the interaction between artist and fan. Celebrities are playing an important role in society. Alexander (2010) describes them as celebrity-icons. For celebrity-icons it is important to get as much attention as possible from their fans. This attention is mostly generated by appearance (p.324).
Turner (2004) emphasizes that celebrities are their own business cards. What he means to point out with this phrase is the importance of self-presentation. 'They are building their own identity through the use of written and visual communication' (Turner, 2004 p.4). In addition, he claims that being able to perform and to show yourself is really important to artists. Until the launch of hometour.events it was not possible for artist to give concerts or shows (in high quality). Hometour.events makes it possible for artists to communicate and perform for their fans, additionally the platform supports artists financially.
Essence of sight with sound
Berryman and Kavka (2017) state the importance of intimacy for the connection between performer and audience. Due to visuals and being able to look at your idol there is a feeling of proximity and connectedness (p.310). Due to using a livestream where you can listen and look at a concert or show, the audio gets connected with the visual elements. Tsay (2013) emphasis how important it is to make use of visuals. She states that the visual information we obtain during our everyday life has a large effect on our perception of people and the way that we judge things (p.1). Moreover, she emphasis that sound obviously is the most important aspect within the music industry, but we can't deny that visuals are very important as well.
Benefits of online concerts
For a musician it is important to perform because this gives the opportunity to connect with their audience. On hometour.events the concerts will be recorded and people will listen to them in their own homes. If the artist 'plays' with the camera and for instance looks directly in it, the people at home will get the feeling that they have one-on-one time. Due to direct address (looking directly into the camera), the audience will have the idea that they are having a conversation with their star (Barsam, 2016, p.495). Due to this direct interaction, the audience will get the feeling that the conversation is two-sided and that the performance is specifically for them (Ferchaud, 2017, p.90). This is a plus for hometour.events, because at a normal concert you wouldn't get this feeling so quickly.
Another benefit of the platform has something to do with what Baudrillard (1998) called 'the consumer society'. Linden (2017) describes this as the urge of millennials to continuously wanting to try new things and the fear of missing something (p.4). Furthermore, they argue, based on a statement of Guerrier (2015), that this urge of millennials causes a 'new era of fandom' (p.9). This is partly due to social media which makes it possible to get in touch with anybody and be 'a fan of almost everything' (p.9). This fits within the idea of hometour.events because they have a wide range of concerts and shows. This allows people to try something new and discover new artists or performances. The prices of a ticket are also lower than you would normally pay for a concert which makes it possible for everyone to go to a cultural event!
Bibliography:
AD. (2020, 20 april). Idee Timhofman leidt tot screamingplatform voor thuiszitters.https://www.ad.nl/nlthuis/idee-tim-hofman-leidt-tot-streamingplatform-voor-thuiszitters~a042a9e5/?referrer=https%3A%2F%2Fwww.google.com%2F
Alexander, Jeffrey C. 'The celebrity-icon.' Journal of cultural sociology. (2010): p. 323-336.
Barsam, Richard. Looking at movies. 2016.
Berryman, Rachel and Misha Kavka. 'I guess a lot of people see me as a big sister or a friend: The role of intimacy in the celebrification of beauty vloggers.' Journal of genderstudie. (2017): p. 307- 320.
Courtet, Philippe, Olié, Emlilie, Debien Christophe and Vaiva, Guillaume. 'Keep Socially (but Not Physically) Connected and Carry on: Preventing Suicide in the Age of COVID-19.' The journal of clinical psychiatry. (2020)
Ferchaud, Arienne and Jenna Grezslo, Stephanie Orme en Jared LaGroue. 'Parasocial attributes and YouTube personalities: Exploring content trends across the most subscribed YouTube Channels.' Journal of Computers and human behavior. (2017): p. 88-96.
Hometour (2020). https://hometour.events
Linden, Hendrik and Sara. Fans and fan cultures. University of East London London, United Kingdom (2017).
Turner, John. 'Interpersonal and psychological predictors of parasocial interaction with different Television performers.' Communication Quarterly. (1993): p. 443-453.
Turner, Graeme. Understanding celebrity. SAGE publications London, 2004.
Tsay, Chia-Jung. Sight over sound in the judgment of music performance. PNAS. (2013)
Yanjun, Guan, Deng Hong and Zhou Xinyi. Understanding the impact of the COVID-19 pandemic on career development: Insights from cultural psychology. Elsevier. (2020).