It's a Small World – Oculus' Quest 2 Redefine Distance
Oculus Quest 2, Facebook's latest wireless Virtual Reality (VR) headset, was released in September 2020. Similar to its predecessor Oculus Quest, the gadget has been largely used for gaming, however this is not where the possibilities end. According to Isabel Tewes – a product manager for Facebook Reality Labs (Facebook's Virtual Reality and Augmented Reality (AR) Team) – people are using the newest generation of VR in order to get things done and boost their productivity (Oculus Youtube).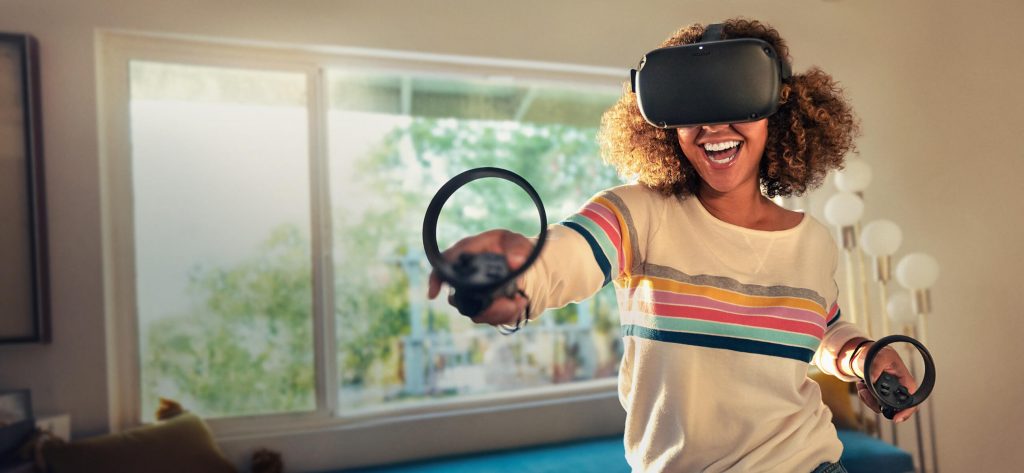 Especially nowadays, with people working from home more than ever, connectivity plays an immense role in human interactions. According to Andrew Bosworth, Head of Facebook Reality Labs, "Together, AR and VR will change how we work, interact, and play, with novel use cases we haven't even begun to imagine" (Bosworth). The issues of physical distance are to be defied by the possibility of sharing and customizing one's virtual space (Bosworth). The lower price of the new Oculus Quest 2 goes hand in hand with Facebook's strategy in making VR more accessible to broader public (Carter). 
Facebook and Virtual Reality
In March 2014, California based VR startup Oculus was acquired by Facebook for 2,3 billion USD. The initial aim of this purchase was to work on the Oculus product development in an effort to support a wider range of games. At the time, Oculus was to operate independently from Facebook (Constine). The original mission was later redefined by Mark Zuckerberg, who saw Oculus' potential in social media and coworking, that is, in merging VR with Facebook for a variety of social purposes (Carter).
How to boost your productivity with VR?
"User performance, or the efficiency with which users perform tasks or goals, is a key concern in virtual environments as with any other interface'' (Padmanabhan 227). Newly developed Oculus apps such as Infinite Office or Spatial serve as great examples of easily controllable and navigable virtual spaces. The ability to transform and interact with objects in the virtual space makes the VR experience particularly intuitive and immersive.
Infinite Office

It is now possible to enhance one's working space by using augmented reality technology adopted in the Infinite Office app. After putting on the Oculus headset, a number of virtual monitors appear in front of the user, while the real environment can be simultaneously perceived in a black and white background. The Oculus partnership with Logitech has produced a keyboard compatible with the app, perceivable while wearing the headset. Using a physical keyboard makes the transition to a virtual based working smoother, as it builds upon pre-existing work habits (Melnick).   

Spatial

Spatial is one of Facebook Reality Lab's collaboration apps used for VR teleconferencing. In the times of the pandemic, while working from home becomes a part of our everyday life, Spatial holds the potential to be used as a means of defying distance. The boundless VR space makes it possible to create a conference room where different participants can interact without the need to be physically present in the same room, let alone the same country. The shared virtual space can be wallpapered by a variety of different documents and notes which will stay in place for the next meeting if needed, accessible by all participants (Oculus Youtube). This feature not only saves time, but eliminates the need to make and store physical notes. Sharing a common space, according to Isabel Tewes, makes us understand each other better (Oculus Youtube). In line with Noureddine Elmqaddem, the interactive aspect of VR is proved to increase motivation and attention, whilst allowing for more direct understanding (238). Thanks to Spatial, entire teams of various professionals such as architects or designers will be able to collaborate in real time.
The Issue of Data Protection and Privacy
According to O'Brolchain et al., the convergence of virtual reality and social networks brings about a number of ethical issues (5). Virtual reality devices are generally based on the premise of measuring and tracking different body movements. Turning one's head with the goggles to look around the VR world is one such example. The data about this motion are continuously recorded and potentially stored. "Consequently, spending 20 minutes in a VR simulation leaves just under 2 million unique recordings of body language'' (Bailenson 1). This raises serious questions about the encroachment of data collection into our physical realm. 

With the release of the new Oculus Quest 2, some important updates in regard to the usage of the Oculus ecosystem have been introduced. As of November 2020, first time Oculus users will be required to use their Facebook account to be able to use their Oculus device. All the existing users will have an option to merge their accounts. However, as of January 1st, 2023 a Facebook account will be required in order to unlock various Oculus functions such as chats, parties and events (Oculus Blog). The introduction of this obligation provoked a heated debate regarding the EU's General Data Protection Regulation, since the necessity of a Facebook account seems to be contrary to the EU 'coupling ban'. According to the digital privacy expert Ray Walsh, "Consumers should be allowed to own a device without linking it to Facebook'' (Orland). In response to this issue, sales of Quest 2 have been paused in Germany, without any further negotiations so far (Orland). Additionally, Oculus Quest 2 utilizes outward-facing cameras, causing additional questions regarding data privacy and consent. These are however just a few of the many concerns associated with the usage of VR and AR devices. 

Conclusions

Virtual reality is no longer understood solely in terms of providing better entertainment and gaming experiences. Thanks to devices such as Oculus Quest 2, the mission of VR has progressively shifted towards socialization and coworking. Facebook VR Apps such as Infinite Office and Spatial make it possible for people all over the world to hold meetings and share a virtual space, whilst benefiting from the advantages of a physical presence. And while the benefits of AR and VR hold great potential for productivity, one of the biggest outstanding concerns regarding the usage of such technology remains the myriad issues surrounding data privacy.

Bibliography
1 "A Single Way to Log Into Oculus and Unlock Social Features." Oculus, Oculus Blog, 18 Aug. 2020, www.oculus.com/blog/a-single-way-to-log-into-oculus-and-unlock-social-features/.

2 Bailenson, Jeremy. "Protecting Nonverbal Data Tracked in Virtual Reality." JAMA Pediatrics, vol. 172, no. 10, 2018, doi:10.1001/jamapediatrics.2018.1909.

3 Bosworth, Andrew. "Introducing the New Facebook Reality Labs, plus Save the Date for Facebook Connect on September 16." Facebook Technology, 25 Aug. 2020, tech.fb.com/introducing-the-new-facebook-reality-labs-plus-save-the-date-for-facebook-connect-on-september-16/.

4 Carter , Marcus. "Facebook's Virtual Reality Push Is about Data, Not Gaming." The Conversation, 18 Sept. 2020, theconversation.com/facebooks-virtual-reality-push-is-about-data-not-gaming-145730.

5 Constine, Josh. "Facebook's $2 Billion Acquisition Of Oculus Closes, Now Official." TechCrunch, TechCrunch, 21 July 2014, techcrunch.com/2014/07/21/facebooks-acquisition-of-oculus-closes-now-official/.

6 Elmqaddem, Noureddine. "Augmented Reality and Virtual Reality in Education. Myth or Reality?" International Journal of Emerging Technologies in Learning (IJET), vol. 14, no. 03, 2019, doi:10.3991/ijet.v14i03.9289.

7 Oculus. Infinite Office, 16 Sept. 2020, www.youtube.com/watch?v=5_bVkbG1ZCo.

8 Oculus. Productivity, Super-Powered by VR l Facebook Connect, 18 Sept. 2020, www.youtube.com/watch?v=aUnos_zOIcY.

9 Orland , Kyle. "Facebook Halts Oculus Quest Sales in Germany amid Privacy Concerns." Ars Technica, 3 Sept. 2020, arstechnica.com/gaming/2020/09/facebook-halts-oculus-quest-sales-in-germany-amid-privacy-concerns/.

10 Melnick, Kyle. "Oculus Quest 2's 'Infinite Office' Lets You Create Your Own Virtual Workspace." VRScout, 17 Sept. 2020, vrscout.com/news/oculus-quest-2-infinite-office-announced/.

11 O'Brolcháin, Fiachra, et al. "The Convergence of Virtual Reality and Social Networks: Threats to Privacy and Autonomy." Science and Engineering Ethics, vol. 22, no. 1, 2015, pp. 1–29., doi:10.1007/s11948-014-9621-1.

12 Padmanabhan, Poornima. "Exploring Human Factors in Virtual Worlds." Technical Communication, vol. 55, no. 3, 1 Aug. 2008, pp. 270–276. JSTOR, www.jstor.org/stable/10.2307/43095348?refreqid=search-gateway:6504024f1464141af379239c74658b36.

13 Spatial, director. Spatial – Collaborate with Lifelike Avatars in VR/AR/Web, 12 May 2020, www.youtube.com/watch?v=NVujUnsKuhs&feature=youtu.be.