'Reinventing the wheel' – how online activism and e-bikes reduce the carbon footprint
Abstract: E-bikes are becoming an element of the clicktivism culture and by appearing eco-friendly they propose activist solutions to only a small group of people. This paper analyses the implications of e-bikes, how they help to develop a low-effort willingness for a change while managing to increase their profit by adapting to the consumer's activism means.
The making of electrical bicycles appears as a developing niche in the recent years due to the number of businesses promoting their services. Also, from an academic new media perspective, it is a combination of modern activism that is working through the capitalistic aspect of the organisation. This article will focus on E-Bike Kit, a US business, that offers simple-to-install electrical kits and will analyse the implications of its existence.
As a number of sources claim that usually online activism involves little to none real activity due to the lack of physical events, it is labelled as 'slacktivism' (Christensen, 2011; Kristofferson, White, and Peloza, 2013) or more recently 'clicktivism' (Halupka, 2018). That arguably jeopardizes the importance of the concept, despite its controversy according to specific groups of people. However, the Internet is a provider of opportunities to communicate, express own opinion, share information, etc. (Dey, 2019) and exactly that is what the businesses, in this case E-Bike Kit, rely on. By encouraging the web users to buy electric wheels for their bikes, they subtly subscribe them for reducing the carbon footprint and, therefore, take part in covert activism for keeping the environment clean. According to the blog Environmental Conscience (2019), the pros of electric bikes overcome the cons in numbers, with the main focus on eco-friendliness, cheap costs, and faster than regular bike riding. Overall, what makes E-Bike Kit different from the other businesses in the field is the variety of options they provide: less power for less money and more power for more money. That leads to a question – why does keeping the environment clean need to cost money?
On one hand, in a world like ours where the market is controlled by what the society requires, no one is made to buy an electric bike. It is subject to a person's willingness whether to reduce their carbon footprint or not. Menteş (2019) argues that people's participation in activism, regardless of its nature, is driven by their self-efficacy (Barak, Watted, and Haick, 2016; Javaid, 2017) and the willingness to explore their self-realisation. Arguably, online activism is a process of satisfying the inner self by contributing to a group of people's collective wish for a change. Due to the fact, E-Bike Kit is a service accessible online, this gives the users the chance to situate themselves in the dimension of political participation and decide whether they are in favour of a change, or not. Therefore, E-Bike Kit's service is part of the new movement, making it non-mainstream not only by its nature, the electric bike wheel but also due to the medium where it is accessible on (the Internet and its benefits for the online environmental activism).
On the other hand, the commercialisation of social movement is using iconography through individuals or products (Das, 2019) and, therefore, makes consumers believe they have managed to do something positive and moral (ibid.). Arguably, buying a product that supports in a way a movement or specific activism makes people less likely to continue the effort for a drastic change and stop there. Das (2019) claims that 'wokonomics' is a marketing strategy that makes companies change their production, so it aligns with the public's desires – common traits with populism in politics. Along with slacktivism, where brands and consumers do not produce real action, it is not unfamiliar how consumers believe that association with and buying certain products contribute to the effort while that profit only goes to the brand that produced the product. Therefore, in terms of the E-Bike Kit case, people are showing effort to satisfy only their own need of social participation while making profit for an organisation that does not claim it is donating or supporting a charity or an organisation that is directly linked to environmental activism.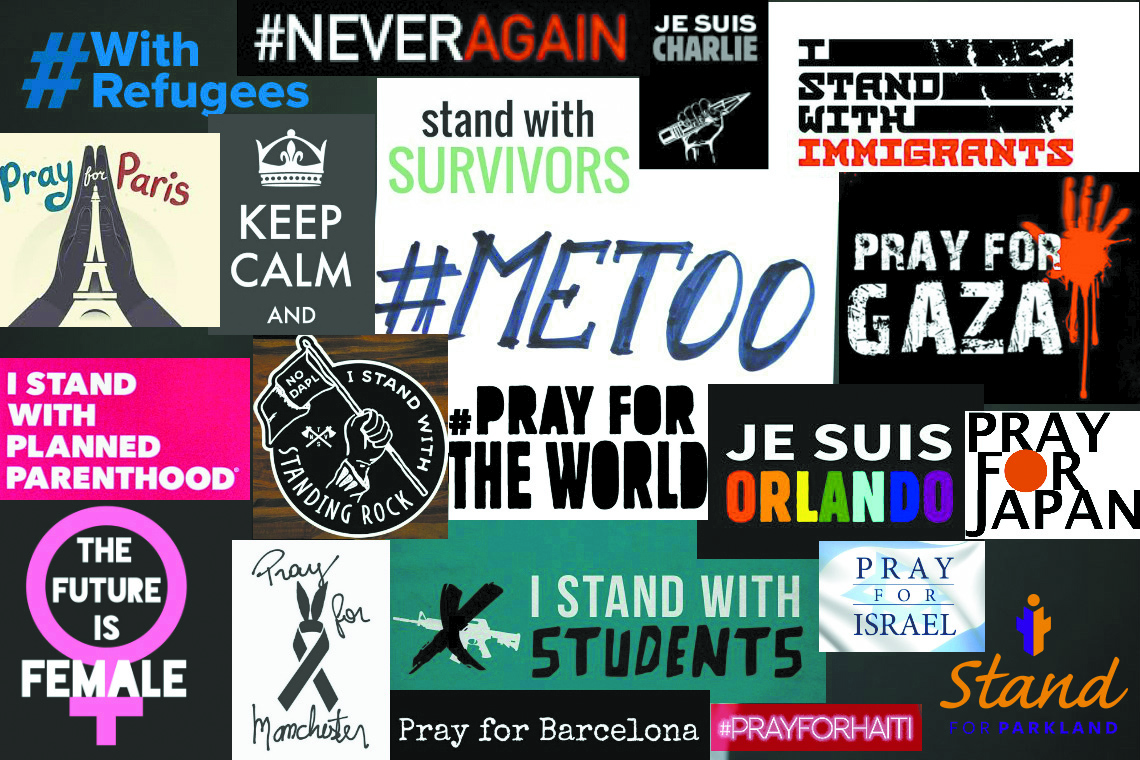 Also, as Casas and Webb Williams (2018) argue, the social movements attempt to produce emotional reactions within the users so this transforms to an extent into mobilisation and change afterwards. Stewart and Schultze (2019) claim that hashtags on social media are a way of creating 'imagined' and 'situated' solidarity – the former only based on social media activity while the latter managed to bring solidarity offline. Therefore, it could be argued that in the contemporary activism the focus in more on producing an internal reaction in people and, due to the presence of the Internet, where participation in public life could be done from home, offline demonstrations are seen as purchasing specific merch that represents a cause. Since that makes people believe that they have done their part in the communal effort, for many their participation ceases there. Copeland (2014) situates this phenomenon as 'buycott' – the manifestation of specific activism, also seen as a low-effort action that is visible to the public (Morozov, 2012).
In conclusion, online activism appears as a complex concept due to the vast amounts of factors that are incorporated with it. The consumer behaviour, that became part rather recently, the medium of the Internet which made communication and public exposure of certain issues more open, etc., are simply signs of how raising one's voice has changed and will continue changing as new technologies emerge. Therefore, the existence of products and services such as E-Bike Kit will only mark the intentions of change of a person, but rarely a willingness to bring that change to other people as well. Since society is the driving element of consumerism and capitalism, until it alters its behaviour itself, no other drastic change will take place.
Bibliography:
Barak, M., Watted, A., & Haick, H. (2016). Motivation to learn in massive open online courses: Examining aspects of language and social engagement. Computers & Education, 94, 49-60.
Casas, A. N. Webb Williams. (2018). Images that Matter: Online Protests and the Mobilizing Role of Pictures. Political Research Quarterly 72 (2) 360-375.
Christensen, H. S. (2011). Political activities on the Internet: Slacktivism or political participation by other means? First Monday, 16. Retrieved from https://firstmonday.org/article/view/3336/2767 [Accessed on 28/09/20]
Conscience, E., (2020). 33 Main Pros & Cons Of Electric Bikes – E&C. [online] E&C. Available at: <https://environmental-conscience.com/electric-bikes-pros-cons/> [Accessed 28 September 2020].
Copeland, L (2014) Conceptualizing political consumerism: how citizenship norms differentiate boycotting from buycotting. Political Studies 62(S1): 172–186.
Das, P., (2019). Commercialization Of Social Movements. [online] Berkeley Economic Review. Available at: <https://econreview.berkeley.edu/commercialization-of-social-movements/> [Accessed 28 September 2020].
Dey, S. (2019). Let there be clamor: Exploring the emergence of a new public sphere in India and use of social media as an instrument of activism. Journal of Communication Inquiry, 0(0), 1-21. doi:10.1177/0196859919827319
Halupka, M. (2018). The legitimisation of clicktivism. Australian Journal of Political Science, 53, 130-141.
Javaid, U. (2017). Predictors of online political participation among youth in Pakistan. The Anthropologist, 28, 41-51.
Kristofferson, K., White, K., Peloza, J. (2013). The nature of slacktivism: How the social observability of an initial act of token support affects subsequent prosocial action. Journal of Consumer Research, 40, 1149-1166.
Menteş, S., (2019). Online Environmental Activism: The Case of Iğneada Floodplain Forest. SAGE Open, 9(3), p.215824401987787.
Morozov, E (2012) Why Kierkegaard hates slacktivism. In: Morozov, E (ed.) The Net Delusion: The Dark Side of Internet Freedom. New York: PublicAffairs, pp. 179–203.
Stewart, M. & U. Schultze. (2019). Producing Solidarity in Social Media Activism: The Case of my Stealthy Freedom. Information and Organization 29, 1-23.