Signal – Speaking with no one listening
Signal is a messaging app that has been around since 2013. It is said to be one of the most secure messaging apps on the market. Whistleblower Edward Snowden uses it daily and describes Signal as the safest messaging app although, WhatsApp, the Facebook owned messenger, is still the most popular app for staying in touch with friends despite the known privacy issues.
WhatsApp has been downloaded more than 2 billion times since its launch in 2009. It is one of the most popular messaging apps for smartphones and is used in over 180 countries (1). Since 2014, WhatsApp joined Facebook and is one of the top messaging services in the world (1). Users share their weekend plans, inform their family and friends about their new job situation and even their current state of health however, who else has access to these information? Given the increasing automation of data collection and analysis one has to ask which systems drive these practices and which regulate them (8). Do we really want our health insurance companies or other external sources to know about our personal information? (11) Or a better question: Are we even interested to find out?
Signal, a messaging service introduced in 2013, became famous after whistleblower Edward Snowden revealed it to be his favourite app for sending text messages (3). Signal is a non-profit organisation which guarantees no ads or tracking of the users' data (6). It works similarly to WhatsApp with the end-to-end encryption and moreover, the encryption turns the messages and calls into a string of un-recognisable characters. This messenger app assures its users that their texts can only be seen by the sender and the selected recipient. In fact, not even the creator of the application can decrypt the messages. Furthermore, the end-to-end encryption is so secure that even government officials acknowledged that encrypted messaging applications make it difficult to track down criminals. (5)
The latest features of Signal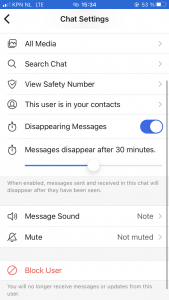 Given all the benefits of this app, one might wonder why Signal is not used more often. Could there be any disadvantages?
Signal is growing exceptionally during the Covid-19 pandemic, and in May 2020 alone Signal had over one million downloads worldwide (4). This might be linked to their different handling of data and privacy.
Just like WhatsApp and Telegram, on Signal you can create groups with an unlimited number of users. In addition, similar to messaging service Telegram, you can specify for how long your messages are visible in the chat such that even if your phone is stolen, others cannot access your previous sent messages.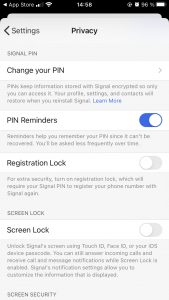 Unlike other messaging apps, Signal's newest feature is the use of a PIN as a form of identification instead of your cell phone number (5). This PIN enables the user to get in contact with other people without having to provide your phone number – an added security bonus. Nevertheless, the phone number is still required to setting up an account on Signal. WhatsApp seems to be working on this PIN concept as well, but has not yet managed to introduce it to its users (5). Moreover, unlike other messaging apps, your messages are not stored on Signal's server, but only on your phone (4).
While Signal does have many benefits, there are still few limitations to this app. For example, unlike WhatsApp, sharing location over Signal is not possible. Moreover, WhatsApp has a much larger user base in comparison to Signal and therefore, it is easier to connect with others. Finally, there are multiple messengers apps in the market to choose from however, given the data privacy issues in todays world, an app like Signal can seem very attractive to most.
"Is data about you yours, or should it be, now that data collection has become an always-everywhere proposition? Try to spend a day "off the grid" and you'd better leave your credit and debit cards, transit pass, school or work ID, passport, and cell phone at home—basically, anything with a barcode, magnetic strip, RFID, or GPS receiver."

Gitelmann, 2013,

Critical look at Signal
Todays companies are seeking more and more data for valuable insights. Started by data from the content and traces we leave online or data from daily electronic transactions (2). Signal states to be a non-profit organisation which guarantees no ads or tracking of the users data. However, since the app is "free", the question arises whether a non-profit organisation also needs money to perform well. It is said, if someone gives you something for free, you are usually the product (10). Even though it is claimed that they live on donations, would this be enough to make further enhancements to the app? As Manovich states, we are living in a world where pretty much everything can be controlled by the government. In some parts of the world they might even arrest you for searching on Google for a banned topic or sending a rash message. In the end it should not be about the government tracking or not tracking us but what will be done with the information. (9)
references.
(1) WhatsApp Inc. "About WhatsApp" WhatsApp, https://www.whatsapp.com/about/. Accessed 27.09.2020.
(2) David Stuart, (2015), "The Data Revolution: Big Data, Open Data, Data Infrastructures and Their Consequences", Online Information Review, Vol. 39 No. 2, pp. 272-272. https://doi-org.proxy.uba.uva.nl:2443/10.1108/OIR-01-2015-0011
(3) Wycislik-Wilson, Mark. "Whatsapp vs Telegram vs Signal" techradar, 26.07.2019 https://www.techradar.com/news/whatsapp-vs-telegram-vs-signal/. Accessed 19. September 2020.
(4) Nguyen, Nicole. "Signal: The Pros and Cons of a Truly Private Chat App" The Wall Street Journal, 14.06.2020 https://www.wsj.com/articles/signal-the-pros-and-cons-of-a-truly-private-chat-app-11592127002. Abesset 19. September 2020.
(5) O'Flaherty, Kate. "Is this new Signal feature enough to make you ditch WhatsApp?" Forbes, 21.05.2020 https://www.forbes.com/sites/kateoflahertyuk/2020/05/21/is-this-new-signal-feature-enough-to-make-you-ditch-whatsapp/. Accessed 25. September 2020.
(6) Lund, Joshua. "Accept the unexpected: Message requests are now available in Signal" Signal, 12.08.2020 https://signal.org/blog/message-requests/. Accessed 25.September 2020.
(7) Gitelman, L. (ed.) 2013. Raw Data Is an Oxymoron. Cambridge: MIT Press. Introduction chapter.
(8) Boyd, d. & Crawford, K., 2012. Critical Questions for Big Data. Information, Communication & Society, 15(5), pp. 662–679.
(9) Manovich, L., 2011. Trending: The Promises and the Challenges of Big Social Data, pp.1–17.
(10) Goodson, Scott. "If You're Not Paying For It, You Become The Product" Forbes, 05.05.2012 https://www.forbes.com/sites/marketshare/2012/03/05/if-youre-not-paying-for-it-you-become-the-product/#63e53abe5d6e. Accessed 27. September 2020.
(11) The Hated One. "Signal – the most secure messenger for everyone" Youtube, 22.08.2020 https://www.youtube.com/watch?v=3eC4Hp4MNBA. Accessed 27. September 2020.