Mobility for all, data for all?
Dockless bike sharing companies like to brand themselves as providing convenient, accessible and affordable mobility service to the public, but they rarely mention the importance of data collection in their business.
In his book The Data Revolution, Kitchin (2014, p.15) suggests that one way to frame and to understand data is by looking at the "diverse set of politics and economic rationalities… at play". Kitchen further argues that "data constitute an economic resource, one that is a key component of the next phase of the knowledge economy" (Ibid.).
Such framing is essential when applied to understand data in dockless bike sharing, since most of the platforms are profit-driven private business who directly and indirectly use data they collect from users for profit making. With a focus on data ownership and usage, this commentary will seek to unpack the imbalanced power relations between users and platforms in dockless bike sharing by connecting Kitchin's work with other scholarly work on data justice (Taylor, 2017), and to reimagine the relations through the notion of platform cooperativism (Scholz, 2016).
A dockless shared bike is a regular city bike with a built-in GPS tracker and a bluetooth lock. A user can unlock a bike by scanning the QR code on the bike with their cellphone. The GPS tracker, powered by solar, records the bike's location at the beginning and the end of a trip, when the bike is unlocked and locked by the user, and sends the data via 3G or 4G networks (Woyek, 2018). Data flow within this assemblage consisting of users, technology and public infrastructure as such: they are generated by users through bikes and APPs on the roads, and then are collected, stored and analyzed by bike sharing platforms.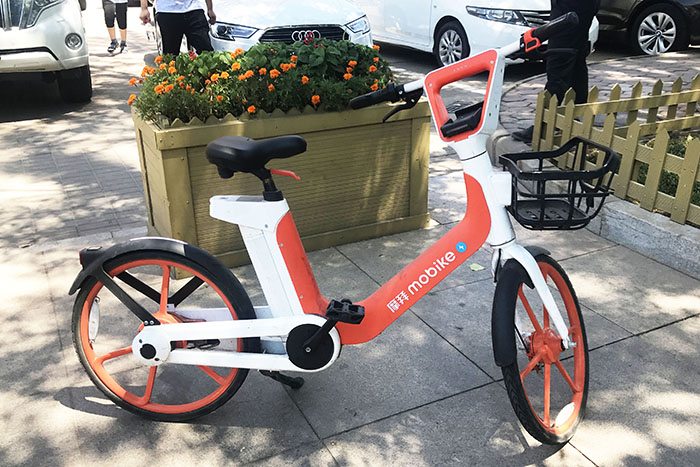 By claiming ownership of data and determining how data are used in different context, bike sharing platforms exploit data solely to maximize profit. Kitchin (2014, p.15) argues that data can often be used in scenarios where "alternative interests… aligned in paradoxical ways". Indeed, some of bike sharing platforms's usage of data do seem to serve users' or public interests, but it cannot be overlooked that the platform's ultimate goal is to profit from data.
Bike sharing platforms frame data to produce normative users who seek healthy lifestyle and care about the environment. When users encounter data on bike sharing APPs, the interfaces show a summary of total trip distance and reduced carbon emission. By interpreting all the data collected in such a way, the platforms frame users' action as healthy and environmental friendly, encouraging them to use the service more, and intentionally distract users from the fact that they themselves produce valuable data and voluntarily give them away.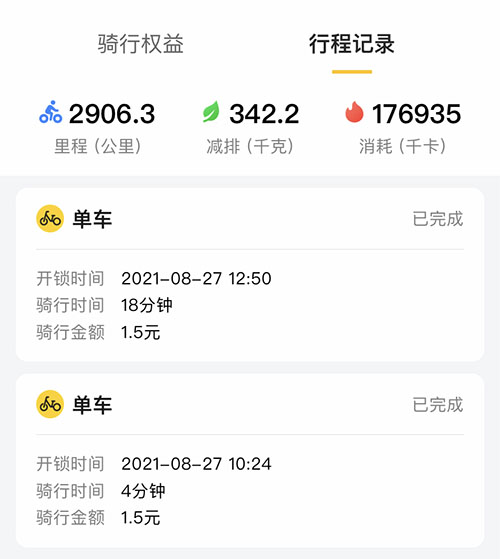 Since bike sharing programs cannot operate successfully without the public and local government approval, platforms use data as a resource for self-branding and business lobbying. In a study conducted by Spinney and Lin (2018) in Shanghai, China, they find that Mobike, the biggest private bike sharing company at the time, has full control over users' data. In one interview, the researchers discovered that Mobike funds research institutes to conduct research with their data, only to brand themselves as tech-savvy. Moreover, data become bargaining chips for the company when they seek to get local government approval to operate in certain districts.
Even when data are used to produce public good, it's important to critically analyze the results through the notion of data justice (Taylor, 2017) to evaluate if such use of data truly promote social justice. Taylor (2017) proposes that the three pillars to evaluate data justice are visibility, engagement and non-discrimination, and these are all relevant values in understanding data collected through bike sharing programs. Biking data can only represent the bikes and the users that are capable of producing such data, i.e. the GPS-equipped dockless shared bikes and people who can afford to use the service. When those data are used to understand biking patterns in cities for future infrastructure planning, bike sharing trip pattern will be disproportionately represented, misleading the planning process to serve a small group of bike users.
For example, Lime, one of the biggest dockless bike sharing company in the U.S., boasts that the company helps Boston city government to plan for safer biking infrastructure by looking into the travel patterns interpreted through the company's dataset (2nd Street, 2019). Given criticisms that their bike users tend to be upper-income, white, young men (Tonar & Talton, 2020), it is likely that roads built based on Lime's data only serve their clientele, not every resident in Boston.
Another implication for platforms to own user data is that they may be able to aggregate different sets of data to gain new insights on users. For example, China's biggest bike sharing business is run by Meituan, a platform that also offers services such as food delivery, grocery delivery and crowd-sourced restaurants reviewing. Although there is no evidence that Meituan is already aggregating data collected from those different markets, Meituan has the capacity to understand user behavior through the diverse sets of data they harvest from users. It also gives them enormous advantage when competing with a rival company that solely operates in bike sharing.
In order to address the power that dockless bike sharing platforms have in shaping user behavior and public infrastructure, a fundamental overhaul in restructuring the ownership and usage of data is necessary. One way to reimagine it is through what Scholz (2016, p.14) suggests as platform cooperativism, which "embraces the technology but wants to put it to work with a different ownership model, adhering to democratic values". Regarding data ownership and collection specifically, platform cooperativism emphasizes transparency on the handling of data, and a full involvement of users in the process of designing a platform (Scholz 2016). By challenging platform capitalism that only benefits the few, which has been argued in this commentary, platform cooperativism offers an alternative in which data can be used to benefit all in a transparent way.
Inspired by Kitchin's work, this commentary analyzes data ownership and usage in dockless bike sharing platforms through a political and economical framework to reveal data as a valuable resource for the platforms. The notions of data justice and platform cooperativism add more dimension to the analysis and further underscore the imbalanced relations between platforms, users and the public. It serves as a caution that no matter how platforms brand themselves, their handling of data cannot be overlooked. To reimagine a mobility service that truly serves all, data ownership and usage should be at the center of discussion.
Reference
Kitchin, R. (2014) The data revolution: big data, open data, data infrastructures & their consequences. Los Angeles, California: SAGE Publications.
Scholz, T. (2016) Platform Cooperativism: Challenging the Corporate Sharing Economy. Rosa Luxemburg Stiftung New York Office. Available at: https://rosalux.nyc/wp-content/uploads/2020/11/RLS-NYC_platformcoop.pdf (Accessed: 30 September 2021).
2nd Street (2019) 'Lime Data Is Helping Metro Boston Plan For Safer Bike Infrastructure'. Available at: https://www.li.me/second-street/lime-data-helping-metro-boston-plan-safer-bike-infrastructure (Accessed: 27 September 2021).
Spinney, J. and Lin, W.-I. (2018) 'Are you being shared? Mobility, data and social relations in Shanghai's Public Bike Sharing 2.0 sector', Applied Mobilities, 3(1), pp. 66–83. doi:10.1080/23800127.2018.1437656.
Taylor, L. (2017) 'What is data justice? The case for connecting digital rights and freedoms globally', Big Data & Society, 4(2), p. 2053951717736335. doi:10.1177/2053951717736335.
Tonar, R. and Talton, E. (2020) Cities Need To Rethink Micromobility To Ensure It Works For All, Forbes. Available at: https://www.forbes.com/sites/ellistalton/2020/01/07/cities-need-to-rethink-micromobility-to-ensure-it-works-for-all/ (Accessed: 30 September 2021).
Woyek, E. (2018) The secret data collected by dockless bikes is helping cities map your movement, MIT Technology Review. Available at: https://www.technologyreview.com/2018/09/28/139983/the-secret-data-collected-by-dockless-bikes-is-helping-cities-map-your-movement/ (Accessed: 27 September 2021).