"You're all caught up": Instagram's new attempt to expand data collection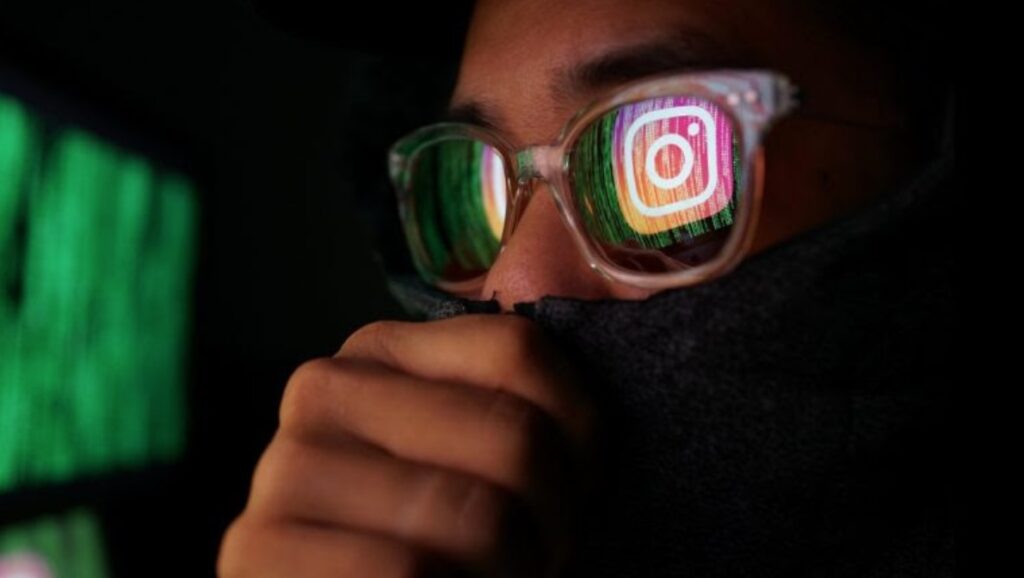 When you have browsed through all the posts that your following users have posted in the past few days, Instagram will tell You, "You're all caught up" by showing a banner. In the past, the subtext of this statement was that you caught up all the information you wanted and it is time to stop using this app. But now, when you see a "You're all caught up" banner, what follows would be "Suggested Posts", not old posts you have already seen anymore. There is no end on your feed page, as there are always new posts you have not seen on the platform.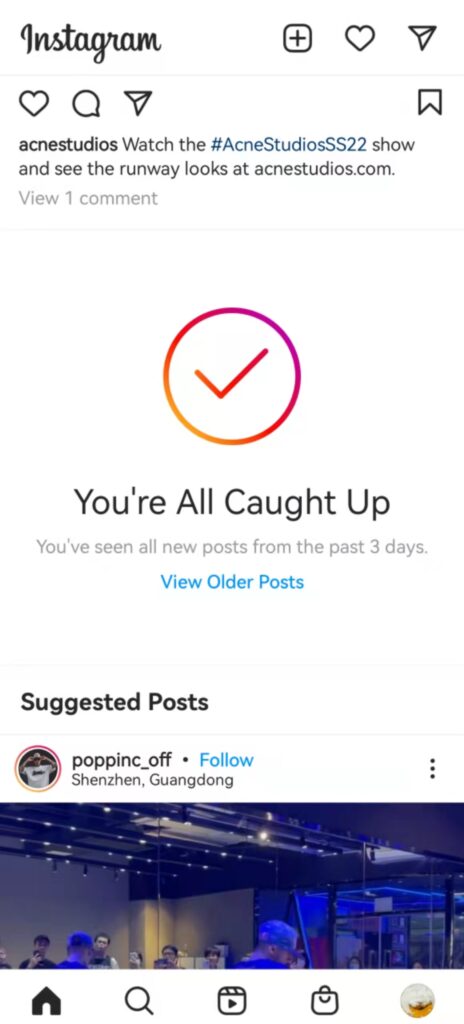 Data gathering is continuous, even insidious since every user click and every "Like" is saved someplace (Gitelman, 2013). New changes of Instagram expand the scope of data tracking and enable to test the interests of users more thoroughly than merely tracking the interactions with friends, local businesses, and celebrities that they are following. The question is just as Boyd and Crawford put it, will large-scale search data help us build better tools, services, and public goods when people's digital footprints are recorded? Or will it just be another round of invasive marketing and breach of privacy? (Boyd & Crawford, 2012)
Explore: expanding the data collection usage of algorithms
The usage of social media and addiction to it peaked during the COVID-19 epidemic. TikTok's attention to the For You Page and the algorithm behind it led to significant success, prompting other social media sites to speed up their algorithm iteration. In fact, since 2018, Explore's attempts have provided exploration experience for unfocused recommendation algorithms. Between 2020 and 2021, Instagram continued to experiment with using Explore as a feed page.
More than half of Instagram users visit the Explore page every month. While the main feed pages of Instagram also use algorithms to rank the posts, Explore page recommends the accounts and contents that users are not following, which relies more on collecting user data and filtering content using algorithms. Gillespie (2014) describes an algorithm as a computer program that outlines a sequence of processes that include modifying data to generate certain outputs. When users browse and like Instagram posts, data trails are left behind, and the algorithm then makes decisions and selections on the user's behalf based on the analysis of data.
The rationale goes as follows when the Explore page was designed. To begin, the data of the accounts that the user previously interacted (i.e. the user often like, comment or store the image) with are collected. These accounts are marked as seeded accounts, which are identified using account embedding technology on Instagram. Then, based on those accounts, the posts that these accounts uploaded or engaged with are included on the explore page (Facebook, 2019). Users license their data and information to the platform while ceding to the platform the option and decision of what they will see.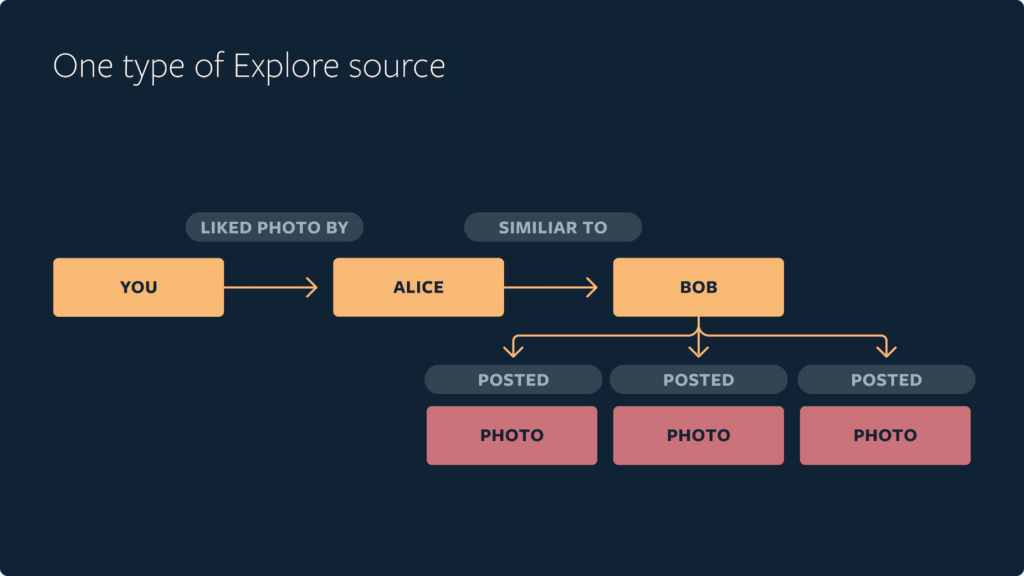 Since 2018, attempts to create the Explore page have provided experience with Instagram's recommendation algorithms. And then, Instagram experimented with utilizing Explore as a part of the main feed page by placing it below the "You're all caught up" banner from August 2020 till present. It leads to longer usage times and more personalized advertising recommendations.
More personalized recommendations: convenience and ethical dilemma
Whether you are purchasing online, watching a movie, listening to music, or discussing a product or service with friends, Instagram shows you related content or products in targeted ads. While personalized advertising and recommendations are widely used in social media, Instagram advertisements appear to be more accurate than those on other platforms. This is because Instagram gathers not only the users are looking at, but when and where they are looking at specific content as well (Kaur, 2021).
As part of its commercial strategy, social media collects data from users and distributes it to various configurations and products. Platforms like Instagram capture and monetize users' messages, clicks, likes, and hyperlinks, and they also give insights based on the information they gather. It is considered as a plan for the platform to position itself as a valued analytics supplier for the growing data industry (Venturini et al, 2018). For some users, having this personalized information is useful (Anan & Shachar, 2009), but for others, it is creepy and disturbing. The new Suggested Posts function, which is based on suggestions for a vast collection of personal data, becomes more useful as it is involved in the main feed page.
Facebook allows advertisers to target teens who are interested in smoking, gambling, or severe weight loss, according to the researchers, demonstrating the hazards of personalized advertising (Macaulay, 2021). In addition to the advertisements, Instagram has been chastised for its functionality. Once you start a video on Explore, Instagram does not provide you the option to turn off automatic content playing, making it difficult to stop watching and potentially creating usage and mental health issues for certain users (McLean,2021).
When the "You're all caught up" banner went from being a feature aimed at reducing usage to a new tool to increase the time users spend using it, it was not hard to say that Instagram does not care about its ethical dilemma. Instead, it is constantly trying out new strategies to win the battle of catching users' attention from other Apps. The approach of collecting user data, analyzing user behavior, and recommending algorithms is the path of social media iteration. However, the platform's social responsibility and user awareness are insufficient to reverse that trajectory. Users and platforms both should consider where this path leads us to.
Reference
Anand, B. N., & Shachar, R. (2009). Targeted advertising as a signal. QME, 7(3), 237-266.
Boyd, D., & Crawford, K. (2012). Critical questions for big data: Provocations for a cultural, technological, and scholarly phenomenon. Information, communication & society, 15(5), 662-679.
Burgess, M. (2020, June 14). How To Stop Instagram From Tracking Everything You Do. Wired. https://www.wired.com/story/how-to-stop-instagram-from-tracking-everything-you-do/
Facebook. (2019, November 25). Powered by AI: Instagram's Explore recommender system. Facebook. https://ai.facebook.com/blog/powered-by-ai-instagrams-explore-recommender-system/
Gillespie, T. (2014). The relevance of algorithms. Media technologies: Essays on communication, materiality, and society, 167(2014), 167.
Gitelman, L. (Ed.). (2013). Raw data is an oxymoron. MIT press.
Kaur, D. (2021, March 22). Instagram, Facebook, Uber Eats and more invasive apps on iOS. TechHQ. https://techhq.com/2021/03/the-three-most-invasive-apps-on-ios/
Macaulay, T. (2021, May 6). Signal's smartass ad exposes Facebook's creepy data collection. TNW | Neural.https://thenextweb.com/news/signals-instagram-ad-exposes-facebook-targetted-ads-data-collection
McLean. (2021, February 9). The Social Dilemma: Social Media and your Mental Health. McLean.https://www.mcleanhospital.org/essential/it-or-not-social-medias-affecting-your-mental-health
Venturini, T., Bounegru, L., Gray, J., & Rogers, R. (2018). A reality check (list) for digital methods. New media & society, 20(11), 4195-4217.
Hatmaker, T. (2021, June 23). Instagram's newest test mixes 'Suggested Posts' into the feed to keep you scrolling. TechCrumch. https://techcrunch.com/2021/06/23/instagram-suggested-posts-test-topics/