Social Networking Sites and the Surveillance Society. (Study Review)
Christian Fuchs was born in Austria in 1976 and is currently an associate professor at the University of Salzburg.
He is mainly interested in Media and in Information society research and he's the author of many scholar papers and of the book "Internet and Society: Social theory in the information age".
On this study, "Social Networking Sites and the Surveillance Society. A Critical Case Study of the Usage of studiVZ, Facebook, and MySpace by Students in Salzburg in the Context of Electronic Surveillance", Fuchs evaluates both on a quantitive and qualitative level a research done to see how students in Salzburg use Integrated Social Networking Sites (ISNS) in the context of the political and economic surveillance, focusing his study on three specific sites: StudiVZ, Facebook and MySpace.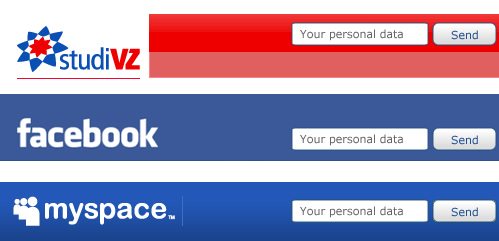 But make no mistake, the study conducted by the Unified Theory of Information Research Group (University of Salzburg) to 674 students from Salzburg analyzes further, beyond the evaluation of the gathered data (personal or as a collective).
Fuchs says that what makes this study differ from others is that it also focuses on a critical view how economic and political macro contexts shape ISNS.
Users are more active on the internet than in the reception of TV or radio content due to the decentralized structure of the internet. It's a many-to-many communication, but Fuchs does not see this as a democratization of the media towards a participatory system but as the total commodification of the human creativity.
According to Fuchs there are two major influences on the character of the contemporary surveillance: a political and an economic one.
The political influence revealed itself in a clearer way after 9/11, when a situation of war and terror potentially reinforcing each other led to a reaction from the west, an increase of surveillance. Just to give some examples of that rising in London, UK, the number of CCTV that are linked to the Mandrake facial recognition software rose; biometrical iris scanners or facial recognition software for identity matching were installed in numerous airports (Amsterdam Schiphol included); in Europe, the USA and Canada, biometric passports with digital photos and RFID that store data have been introduced, just to name a few examples.
Fuchs doesn't believe that surveillance solves societal problems, instead it is assumed in the study that there is high pressure and expectations from states on providers to store all data and to provide access and this is the kind of society where the state is suspicious of individuals – we are all automatically suspected as being guilty, it's the principle reverted.
But the gathering of data is not only done by and for the state, corporations like Google, Newscorp or Yahoo! all benefit from that surveilling and this is of course the economic surveillance. By storing and assessing user activities, data, content and clickstream on their sites or their afiliates made personal advertising possible and selling advertising is the basic business model that dominates the web. This is particularly relevant on ISNS that are sites with such incredible "population":
StudiVZ, one of the analyzed ISNS, is very similar to Facebook, but its focus is the German speaking market and has 9 million active users.
A colored advertising wallpaper on the start page of all users costs 78 000 Euro per day.
Facebook, the most popular ISNS, celebrated in April this year its 200 million users, if Facebook were a country, it would be the world's fifth-largest, after China, India, the U.S., and Indonesia, see the video.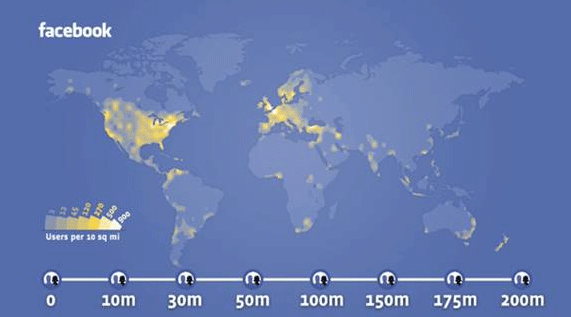 MySpace, the other analyzed ISNS, was the past rival of Facebook and according to PCworld had 125 million users in December 2008.
But what Fuchs points out is that the profit made by such new media companies is achieved by exploring the labor and the data of their users without paying them anything , and then aggregating, assessing and selling the data.
The study that Fuchs did is quite thorough and conclusive. Fuchs went to great pains in order to achieve a significant sample: invitations were posted in all discussion groups that were related to student life in Salzburg on Studivz, Facebook and MySpace, flyers were distributed at Salzburg's three universities, etc., with a link to a questionnaire available to the students.
674 students responded to this survey: 67,5% female and 32,5% male being the mean age of the responses 24,16 years old.
These platforms became very popular among students: 62,1% use them at least once a day but only 49,5% read the terms of use of these ISNS never or superficially, and a even shorter number, 13,9% replied to read them almost entirely.
Along with the responses given by the students, Fuchs tries to correlate or to create relationships between the ISNS usage by the students and their knowledge of surveillance, based on a test he led regarding the knowledge of the Austrian Security Policy Act and the European Data Retention Directive, and the students' behavior towards what the internet companies are allowed to do with the data they create on such ISNS.
One conclusion that may be drawn from these numbers is that the interest in what internet companies are allowed to do with users' data is rather small.
Fuchs thinks the providers are to blame because terms of use are usually very long and difficult to read.
The terms of use are a rather dear subject to Fuchs' study because it's by agreeing with those terms that the students allow these companies to use their data for several purposes. By other words, it's when users accept the terms of use, that they sign a contract with these companies, which can't be negotiated.
Gender, class and rural versus urban living environment were the three factors that influenced the Surveillance Knowledge of the Salzburg Students sampled on this study. Male students were much more aware of surveillance issues, I couldn't help to find it curious that a student whose father is a househusband is more well informed that one that has a white-collar father. Coming from a larger city increases the probability that the students have more knowledge of Surveillance.
The conclusions are that even though their knowledge of surveillance is rather low, their critical attitude towards surveillance is rather high.
And even though most students are aware of companies' interests while concerning students' personal data – 87% of the students agree that corporations have strong interest in gathering personal data -, and are also aware of surveillance and privacy risk, the conclusion is that the potential advantages seem to outstrip the potential risks.
In my opinion, the study is quite interesting but it would bring another perspective if it went through the possible social reasons why surveillance doesn't stop these students from using these technologies. It would be interesting to add a social layer to the economic and political ones.
Personally, I can only say that this study's conclusions don't appear to take us any further than common sense would. We are all more or less aware of the idea that people, particularly young people, are not too interested in protecting some their personal data (name, location, age, interests, etc). There could be several explanations for that, let me just state one that is also common sense: these Salzburg students never lived in a time in which it was truly dangerous to share data; they never lived through a time of persecutions. More than that, they live in a time in which not sharing data is a strange thing.
It appears to me that Fuchs may have a political and economic point of view on this subject.
If you find this post interesting, you may also find this one and this one.