Fakebook on Facebook
Do you have any fake friends on your Facebook? If you have, do you really care about them?
Fake is not necessarily referring to anything bad here. Basically they are real people with a fake or virtual identity. They are like actors on the Internet instead of movies or TV episodes. They have certain characters with their stories and lives. She or he is on Facebook with everything we have: name, information, friends, status update, photos, videos… However, very possibly, their profiles are accessed and controlled by a PR guy or a creative team from advertising agencies.
Here goes an example. Last summer Wieden Kennedy has been working on a refreshing advertising campaign with little approach on TV commercial and print ad. It is for the launch of Nokia Supernova series targeting young urban market around 20-30. So Facebook is reckoned as the proper media to collect attention. The concept for this campaign is 'My phone knows everything about me'. There are 3 characters created for different key markets: Europe, The United States and China. Online episodes around the 3 people are generated with scripts.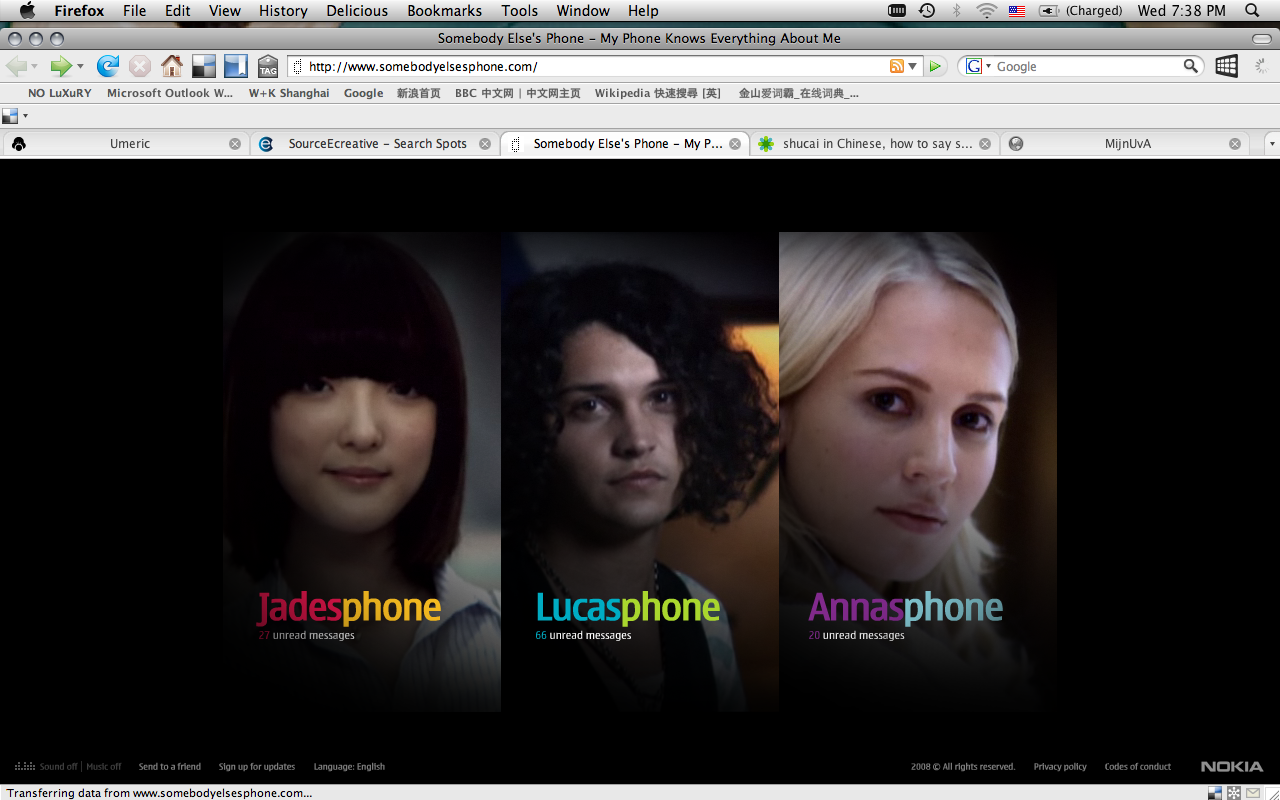 So for the Chinese market, the role is called Jade Yu. Her Facebook page has been activated before the campaign launch to create buzz online [1]. However by the consideration of practical matters, it is not a user page but a public figure page, which means that you can only be her 'fan', not her 'friend'. That is imperfect for equalized communications on a democratic platform like Facebook. Her 'friends' are those supporting roles in the episodes. However, 'Jade' does persistently interact with her fans as friends by replies their messages on her wall, updating her status randomly and uploading her pictures or videos.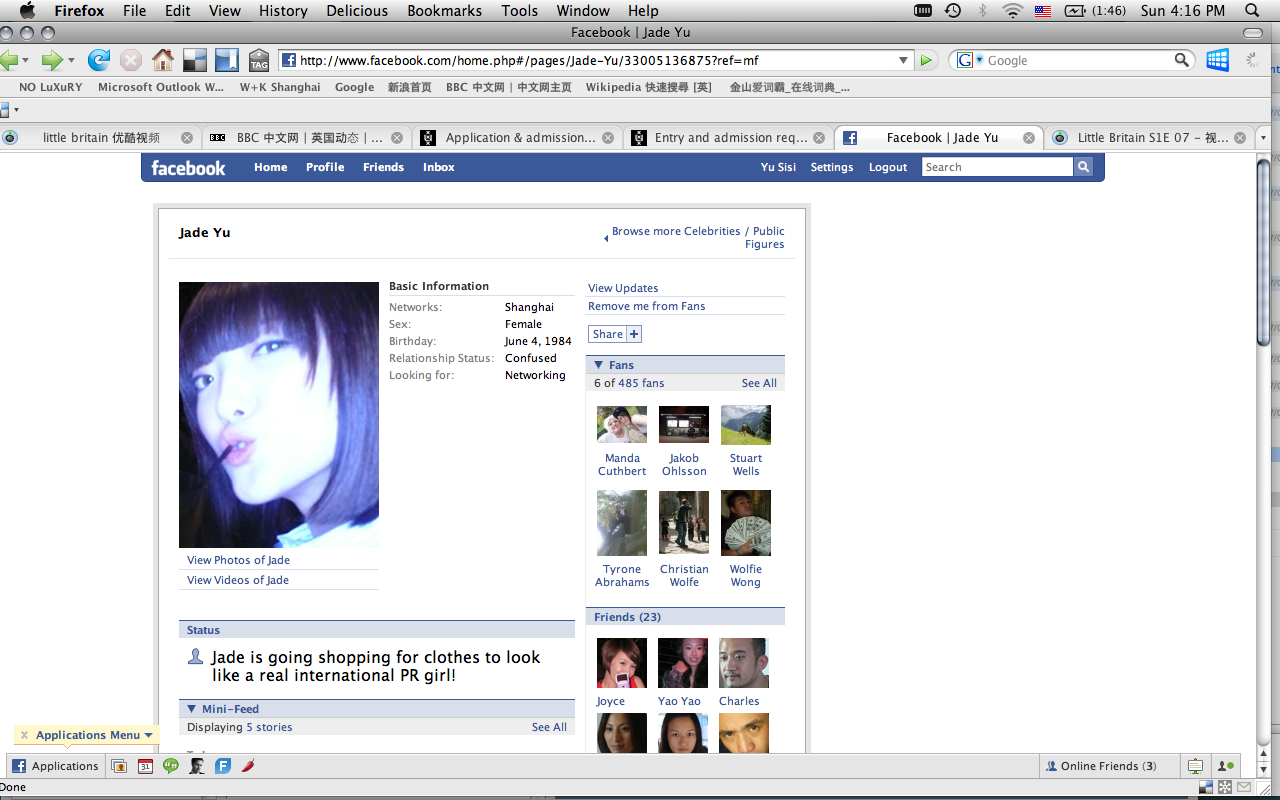 W+K does try to make her feel as real as possible by even providing Jade's photos from childhood. Meanwhile no obvious Nokia logo has been shown in the entire page. However by watching her videos people would get the idea of Nokia commercial. Language is not a problem but a barrier for amounts of users on Facebook. Though Jade is supposed to feed Chinese market, the English interface with English text of the page hasn't attracted many Chinese fans but mainly drawn attention from out of China.
Jade's page has successful recruited 2132 fans so far (although there several internal staffs who work on this campaign) and sharpened some fans' appetites. They've tightly followed up Jade's stories day by day and made comments after each episode. A user called Márcio Teixeira constantly wrote on her wall about his genuine feelings. For one long comment, he couldn't tolerance Jade's indecisiveness in her complicated relationships and pointed out that she should not play around any more, well, at least in the online episodes.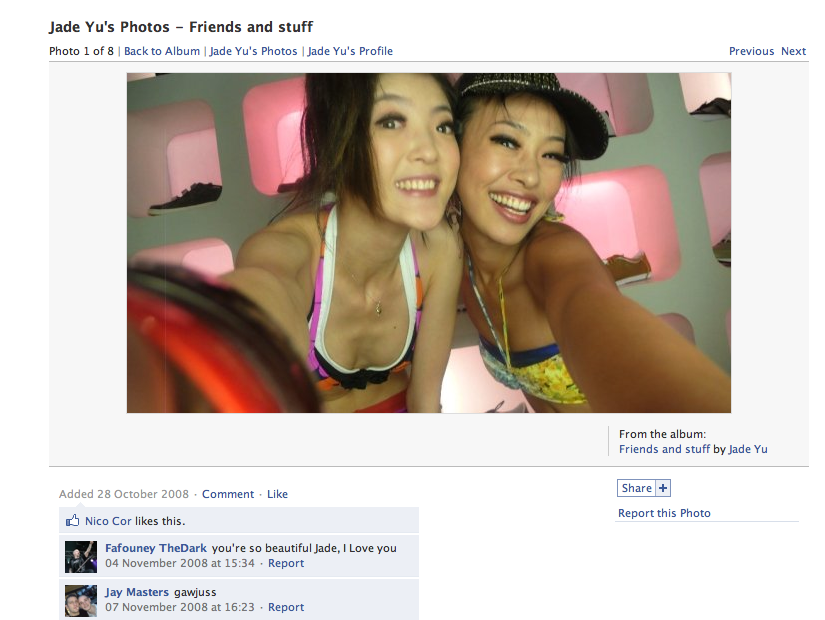 By the latest report from The Nielson Company, the advertising spending on entertainment ranks No. 1 on year-over-year percent growth (812%) [2]. Questions have been brought up: why do people care about a fake character on Facebook? (Is it the same rationale behind as people's fever for the popular roles in TV series?) How can a character be more entertaining to maintain people's interest? How influential are the virtual characters among Facebook users on their perception of certain branding or product?
In this case we see how a fake character is made up by a fake identity. Now we have another real story demonstrating how a real person is distorted by a fake image [3]. Recently four teenagers in the States have been sued for obscene fake Facebook profile, on which they created the victim's profile with his real name, real cell phone number, more than 580 friends, posted photos and status updates with obscenities and descriptions of his sexual acts. The boy was depicted as racist and gay, and suffered severe mental distress.
This issue warns us another side of fake profile: what is the boundary of faking an identity? What should be done to prevent illegality on social networking sites? In another word, how do we guarantee a 'Fakebook' serving for the purpose of entertainment instead of crime?
[1] http://www.facebook.com/pages/Jade-Yu/33005136875?ref=ts
[2] http://mashable.com/2009/09/25/social-networking-triple/
[3] http://mashable.com/2009/09/25/fake-facebook-profile/