We Are All In a show: Be a Mad Man on Twitter
Twitter for me is generally overrated by digital gurus and mass media especially during the recent months. So far the big percentage usage of Twitter is very much aggregated within America and part of Europe. However, as an occasional U.S. TV series audience, I still find something extremely fascinating about Twitter, the engaging instant communication community.
So here is the story. You log in your Twitter account and find one user named exactly as a character on one current TV episodes, then another, and another. Obviously they are not real, although they talk exactly as the roles you are familiar from the series. But who are they?
You may as me predict that it is just another online marketing scheme controlled by a PR or advertising agency. However, it has appeared totally the opposite. The best case study so far is the recent hit show "Mad Men", which just proved its success with 16 nominations and 3 Awards at the 61st Primetime Emmy Awards 2009. One of them was the big one, best drama series.
Set in New York City, "Mad Men" depicts the booming advertising scenes back in the 1960s. Besides the profound social changes reflected from the Madison Avenue and its crash with the old fashioned lifestyle pictured in the stories, the quirky and diverse characters also seize fans' hearts.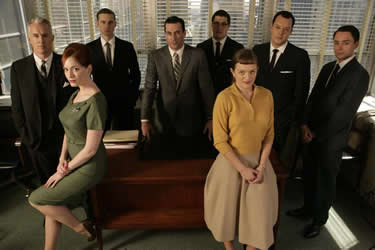 What happened is, those passionate fans set the accounts for the main roles from "Mad Men" on Twitter. No doubt Don Draper, the first leading role is the name to start with. On early August 2008, "Don" began twittering. Within just a few days, his updates were followed by over 3000 users, which made "Don Draper" one of the most followed users on Twitter. The real identity behind is a guy named Paul Isakson. Soon he was joined by other obsessive audiences with their roles: Roger Sterling, Betty Draper, Joan Holloway, Peggy Olson, Pete Campbell, etc. in a word, these interesting people virtually living in the television box are coming to life, thanks to Twitter.

These fans tweet in the exact same tone and manner of the roles from the show. They are the extensive online version of the episodes. It is funny to see these people talk about their life in the 1960s style on the modern media platform. Another form of "Second Life" as I evaluate it, this "Mad Men" role-playing takes the core advantage of microblogging. Instant, brief, transparent and open, microblogging like Twitter allows everyone to be part of the show without any barrier. You can either be the characters, or interact with them. This is "twittertainment", a new way of watching TV series.
Although people are used to picturing these as marketing strategy, the fact turns out unexpected. When people were having great fun Twittering as "Mad Men" and applauding for AMC's brilliant visions, the initial reaction from AMC is DMCA, Digital Millennium Copyright Act. They urged Twitter to take down the fake fan accounts, which upset "Mad Men" fans on Twitter big time. However, Deep Focus, AMC's digital advertising agency was smart to see the commercial value of the ongoing events. By their nudge that "Better to embrace the community than negate their efforts," says a Deep Focus spokesman [1], AMC rescinded the takedown notice they had sent to Twitter and restored the fan accounts. "AMC issued this statement about the restored accounts: 'We (AMC) did reach out to Twitter to discuss it. The network thinks this is a great expression of the passionate fan base of Mad Men.'" [2]
Apparently it is great news for the fans. But to dig a bit into the issue, there is no necessity for AMC to eliminate the original role-play accounts, unless they want to take over and put these names under their official supervision. As I reckon, "Mad Men" is already gaining an unprecedented success in the history of TV show: it automatically evokes unprompted branding among audience/consumers. Those fake accounts are absolute "brand ambassadors". At this stage, they don't need advertising any more. Just as Pestridge from Nike says, "Advertising is all about achieving awareness, and we no longer need awareness. We need to become part of people's lives and digital allows us to do that." [3]
Yes, "Mad Men" already reaches there. "When I asked why each person had chosen to start twittering as a fictional character from a television show, the answers were varied but shared a consistent theme: love." Says Bud Caddell, known as Bud Melman, a mailroom clerk in "Mad Men" on Twitter. [4] Now you can find almost every character of the show. You can join more than 22, 000 followers of Betty Draper, the canny blonde housewife.
What is more important, people zealously care about the roles on Twitter regardless of knowing the truth that they don't actually exist. The "blindingly earnest" character Peggy Olson with about15, 000 followers always gets advice from those who want to take her under their wings. "They love to tell her to watch out for Father Gill and to get away from Pete Campbell because he's mean." Says Carri Bugee who twitters as Peggy Olson. "They want to give her fashion and etiquette advice, tell her who to talk to, how to date, who to watch out for. And of course, they want to know whether she's going to be smoking more pot." [5] Meanwhile, they also ask suggestions from the dominating roles like Don Draper or Joan Holloway, such as " Dear Joan Holloway, what do you think of the institution of marriage?" and they will be twittered back like "Who wants to be institutionalized?"
Many fans believe they are tweeting with the actors from the show, or say they just want to believe. This new bounding relationship between audience/fans and TV programme reveals a new picture of future entertainment. There is full of potential to save the media of television from decline. The engagement and interaction from digital platform can associate compactly with TV programmes and help create new modality of mass entertainment. After all we are all in a show. Thus microblogging offers the opportunity to be in the show we love.
Acknowledgement
[1] http://benkessler.com/2008/08/21/mad-men-on-twitter/
[2] http://tv.popcrunch.com/amc-allows-mad-men-characters-on-twitter-mad-men-twitter-accounts-restored/
[3] http://www.revolutionmagazine.com/news/889695/Nike-Just-digital/
[4] "Becoming A Mad Man" by Bud Caddell, 2009
[5] http://www.msnbc.msn.com/id/32992149/ns/technology_and_science-tech_and_gadgets/page/2/#storyContinued