UberSocial App Review – Mobile Tweeting
Twitter's official app for Android is notorious for its limited features and overall lack of functionality. Let's face it – if people had a choice between the official app and using a computer, they'd choose the latter. Or maybe they'd choose another app. So I tried another app: UberSocial, formerly known as Twidroyd.

Last week I discussed the mobile tweeting phenomena and the lack of academic research in that particular field of study. Neglected or simply untouched, particularly with its psychological and social behavioural trends, mobile tweeting deserves more attention.
With no real data (focused on the varied platforms of mobile twitter) I posed several questions, namely whether you would be able to deduce or prove that a third party twitter app encouraged more frequent usage in comparison to the official app or any other app, based on aesthetics and features alone.
Today, I've gone one step in that direction by downloading the popular UberSocial app for Android. My goal was to explore the app's interface friendliness and aesthetical appeal – even if it was at a personal level, while at the same time considering its geolocational aspects.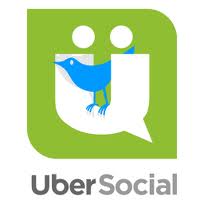 On first look the app is packed with an assortment of goodies in stark comparison to the official app. Feature differences range from being able to check your tweet's retweet status to being able to check tweeters near you – literally!
The set-up process was straightforward, as is the interface. A casual glance around and everything looks familiar – a glorified official app perhaps (well obviously, considering Twitter's API…). Being a casual tweeter myself, I wasn't sure quite how the app on its own could induce an energized or more frequent usage.
But going through the interface I could understand why.  The app offers integration with Facebook; offering the user the ability to tweet something and post it on Facebook at the same time. Obviously this isn't new, but previously you would have had to either download the Twitter app on Facebook, or selectively tweet by adding #fb with the Selective Twitter app. The fact with this app you can selectively tweet and post on Facebook without the hashtag seems like an additional convenience to enthusiasts who care about the intricate details.
Another convenience is the ability to mute certain individuals (not display their tweets without blocking them). The number one constraint (or challenge) with mobile phones lies in limited viewing space, so this feature, I'm sure, is welcomed by enthusiasts.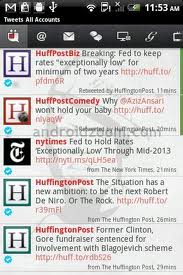 The other notable feature is the trend searcher. If you're simply interested, or have nothing to tweet about, you can check the latest trends in your area. Surely further evidence of how features can encourage tweets is epitomized by this nifty tool. See a trend you like, and tweet about it, or tweet about looking for a trend, or about tweeting about looking for a trend…
Pivotal to the long term success of Twitter lies within its location based integration and this is where UberSocial will leave its inducing mark. While location based apps are commonplace nowadays (Foursquare, Loopt), this app offers the ability to search for local tweeter's nearby (thereby encouraging networking and social interaction). Additionally, you're greeted by a voucher page, offering you Groupon'esque' deal's dependent on your location too. Why not tweet about the fantastic bargain you've just bought through UberSocial?
I believe the winner lies within the widget the app offers. The widget's design offer's more tweets than the official app and looks sleeker. You could argue you'd need to tap on the app itself before tweeting anyway, therefore criticizing the notion that an app can induce usage frequency. If you don't want to do something, you don't. But I believe widget's defy that statement. The widget takes up an entire page on your Android phone; it does the job in being that simple 'swipe' away from your Twitter networks. Besides, how many times a day are you swiping away, bored, fidgety, while travelling or waiting?
The need for a behavioural study, and data, on mobile tweeting, is in my opinion, backed up by this short analysis. Overall, yes, I believe UberSocial is evidence of third party Twitter apps being able to induce more frequent usage. Apart from the ads – which can be rather annoying if you haven't rooted your phone or paid for premium, the app does itself justice with the vast amount of features it offers.
Further Reading
UberMedia controversy with Twitter – Tech Crunch
UberSocial on the Android Market – Reviews