Prisma: The Photo App With Its Own Charisma!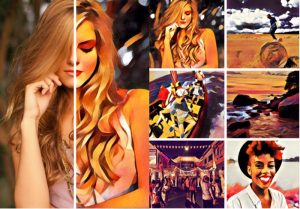 All the Instagram addicts must have already tried out or, at least, come across with artsy photos badged with the #prisma hashtag. For those of you who (strangely enough) haven't seen or heard of it before, Prisma is a photo app that turns your photos into artworks. And while there are hundreds of photo apps in the digital world, Prisma deserves having our attention since it has indeed its own charisma!
So, what's so special about it?
Instagram, VSCO, Snapseed,… and I could go on forever with naming good photo-editing apps that are freely available in smartphones. All of them are equipped with (basic or even advanced) editing tools, as well as with custom-designed filters to create effects, play around and have a vintage – or muted – or any look one wants applied to their photos.
Prisma, on the other hand, provides only filters. The users simply snap or upload a picture, choose a filter and then adjust the intensity and, of course, download or share it on Instagram or Facebook.
Below, a photo of a canal in Amsterdam is changed using Prisma filters: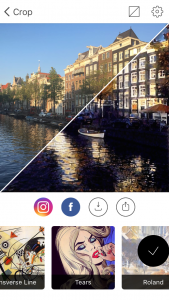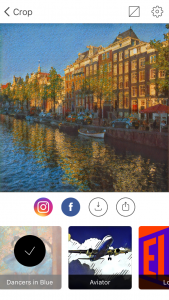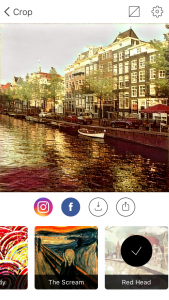 What makes Prisma especially different is the system behind it. Prisma takes a photo and uses parts of its content to apply brushes of techniques and styles "learned" from Degas, Van Gogh, Picasso, and other famous artists. It does "learn" because it works with neural networks – a form of machine learning, i.e. a type of Artificial Intelligence. The co-founder, Alexey Moiseenkov, explains to TechCrunch:
"We're not just overlaying like an Instagram filter. We create the photo from scratch. So there is no photo, we took your photo, then perform some operations and give a new photo to you. So deep learning is like an artist, something like that."
Hmm, sounds familiar?
Yes, it is familiar. Prisma's tech is not entirely new. It has been a year since computers became artists. You have probably heard about Google's DeepDream which transforms images into psychedelic, abstract art. Also, DeepArt.io offers similar artistic results. In fact, the research of Gatys, Echer and Bethge (the founders of DeepArt), along with the research of Li and Wand is what Prisma's tech is based on. Inspired by how human brains perceive patterns in objects, Convolutional Neural Networks (that is the AI used in Prisma) imitates this process. Therefore, the system can be trained on a series of images and learn and apply stylistic features to different images. As Gatys, Echer, and Bethge wrote,
"it is truly fascinating that a neural system, which is trained to perform one of the core computational tasks of biological vision, automatically learns image representations that allow the separation of image content from style" (9).
Then, why Prisma has its own charisma?
Unlike DeepDream and DeepArt services which have Desktop-first approach, Prisma not only has a mobile-first approach but also transforms the photos in a near-instant. Being impressive, fast, easy and free, Prisma has found a commercial success – unlike the others. Particularly, King writes:
"Since launching in June, Prisma has been downloaded more than 52 million times and has 4 million daily active users. The app has processed over 1.2 billion photos and makes money through sponsored styles."
Therefore, Prisma success is due to its user friendliness and speed, but also because of its "unpaid advertising army" (Hartog). As Instagram doubles its active users and currently becomes one of the most powerful social media, Prisma users, using #prisma on Instagram to draw attention to their artsy photos, promote the app and contribute to its success.
With its latest updates and potentials, it seems that Prisma is here to stay. Campaigns like Elbi creates its own filter enabling user to donate. Companies like Gett also uses sponsored filter, something that "is challenging traditional approaches to marketing & brand awareness", as the team reports.
Now Prisma can be used offline, meaning that the tech has been simplified and that "a lot of server capacity will be freed up so Prisma can focus on making its technology work for video"(King). Apart from video, the company is also developing a virtual reality version of the app and a 360-degree image capture (Strange).
The Prisma Phenomenon 
Through this simple app, not only a new kind of advertising is being introduced, but also a new way on how neural networks can be implemented for mobile phones. The latter implication opens up questions to two big debates. First, the questions of continuous permeation of mobile phones in our daily life and second, the potential threads that AI imposes to humanity. Nevertheless, one can easily foresee that the use of AI in art may generate changes in aesthetic values.
Moreover, making art share-able, on the one hand – quoting Walter – "mechanical reproduction emancipates the work of art from its parasitical dependence on ritual", but on the other hand, the "aura" of a masterpiece will not fade.
Nonetheless, concerns about the state of traditional art cannot be prevented, also since digital art becomes even more accepted and appreciated widely. As Bershidsky writes,
"Yet it further devalues artistic skill, replacing it with technology to an extent that was impossible until very recently. Ingenuity, stories, the choice of content become the artist's only relevant tools."
In any case, new technologies enforce the need for redefinition – and so do they to the complex term of art.
Works Cited
Costine, Josh. "Instagram doubles monthly users to 500M in 2 years, sees 300M daily". TechCrunch. Jun 21, 2016. Web. 18 Sept 2016. https://techcrunch.com/2016/06/21/instagram-500-million/
Bershidsky, Leonid. "New Masters: Software Has Painterly Technique Down Pat". Bloomberg. June 20, 2016. Web. 18 Sept 2016. https://www.bloomberg.com/view/articles/2016-06-20/new-masters-software-has-painterly-technique-down-pat
Gatys, Leon A., Ecker, Alexander S., & Bethge, Matthias. "A Neural Algorithm of Artistic Style". Aug. 2015. Cornell University Library. Web. 16 Sept 2016. http://arxiv.org/pdf/1508.06576.pdf
GetTaxi team. "Gett and Prisma Join Forces To Launch Custom #GettUrban Filter". Gett. Jul 15, 2016. Web 18 Sept 2016. http://gett.com/gett-and-prisma-join-forces-to-launch-custom-getturban-filter/
Hartog, Eva. "Why Russia's Prisma App Could Take Over the World". The Moscow Times. Jun 30, 2016. Web. 17 Sept 2016. https://themoscowtimes.com/articles/why-russias-prisma-app-could-take-over-the-world-53516
King, Hope. "Wildly popular Prisma app just made a major breakthrough". CNN. August 23, 2016. Web. 18 Sept 2016. http://money.cnn.com/2016/08/23/technology/prisma-offline/index.html?sr=twCNN082316prisma-offline0641PMStoryLink&linkId=27973571
Li, Chuan & Wand, Michael. "Combining Markov Rndom Fields and Convolutional Neural Networks for Image Synthesis". Jan 2016. Web. 18 Sept 2016. http://arxiv.org/pdf/1601.04589v1.pdf
Lomas, Natasha. "Prisma uses AI to turn your photos into graphic novel fodder double quick". TechCrunch. Jun 24, 2016. Web 16 Sept. 2016. https://techcrunch.com/2016/06/24/prisma-uses-ai-to-turn-your-photos-into-graphic-novel-fodder-double-quick/
Strange, Adario. "Prisma's stunning art effects are coming to VR and video". Mashable. Jul 12, 2016. Web 18 Sept 2016. http://mashable.com/2016/07/11/prisma-vr-video/#FqJI4_Hs0iqJ
Walter, Benjamin. The Work of Art in the Age of Mechanical Reproduction. Penguin UK, 1936. Web. 18 Sept 2016. https://www.marxists.org/reference/subject/philosophy/works/ge/benjamin.htm