App Store Killer? The Storm of WeChat Mini Programs Swept Over The Mobile App Ecosystem
Are you a "app for everything" type of guy? How many apps you have installed on your phone? For me, there are 85! Have you ever imagined accessing to all of these apps just through one single entry point? Recently, WeChat Mini Programs make it! And that might arouse a new revolution in mobile app ecosystem.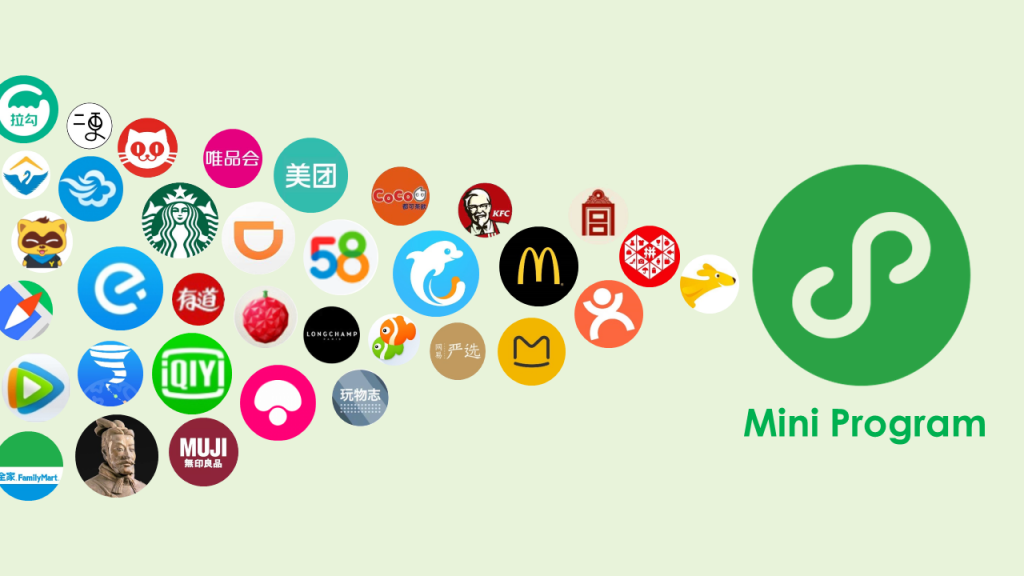 WeChat Mini Program is emergent
WeChat is a China's most popular social media app which is developed by a tech giant, Tencent. Since it was launched in 2011, WeChat has owned over 1 billion active users in the world (Jao). Based on its enormous amount of users and strong technical support, it released a new feature, named Mini Programs, within WeChat platform in 2017. Mini Programs refer to apps that run inside the app of WeChat, which are also called mini apps or sub-applications. They are easier to be accessed to by simple operations within WeChat, such as through scanning QR code or typing in keywords in the search bar, without downloading or installing (Woo). According to the annual report, WeChat has reached over 1 million Mini Programs which half the size of Apple's App Store (Liao).
In this case, Mini Programs act and function in the similar way with native apps, which means the emergence of mini apps does not change the nature of mobile applications. However, the emergent thing here is, mini apps are accessible through one entry point embedded in the "bigger" app of WeChat rather than downloading each install-package separately.  Users could access to apps' interface directly within WeChat platform. Moreover, Mini Programs tied the practice of using apps to multiple functions of WeChat, such as messaging, sharing moments of lives and making payments. This emergent new media practice transform media ecosystem.
Mini Programs challenge the way that users interact with apps
People used to shop and download applications in a few dominant and giant app stores for reliability and security. However, the development of Mini Programs provide new ways for users to approach apps. Comparing the most biggest app store which is from Apple company with Mini Programs, Apple's App Store provides a central location for showcasing apps and enables users to install applications which account for certain sizes in iPhone storage. In the contrary, there is no need for Mini Programs to be downloaded or installed during the operation. Just clicking on their icons within WeChat, these mini apps could be available in the blink of an eye. Moreover, Mini Programs run on the cloud and require no storage space which contrasts to the conventional app store experience (Sarnoff). Mini Programs enable mini apps to be available for users instantly, and provide the new experience of using apps inside an app rather than operating multiple installed applications separately.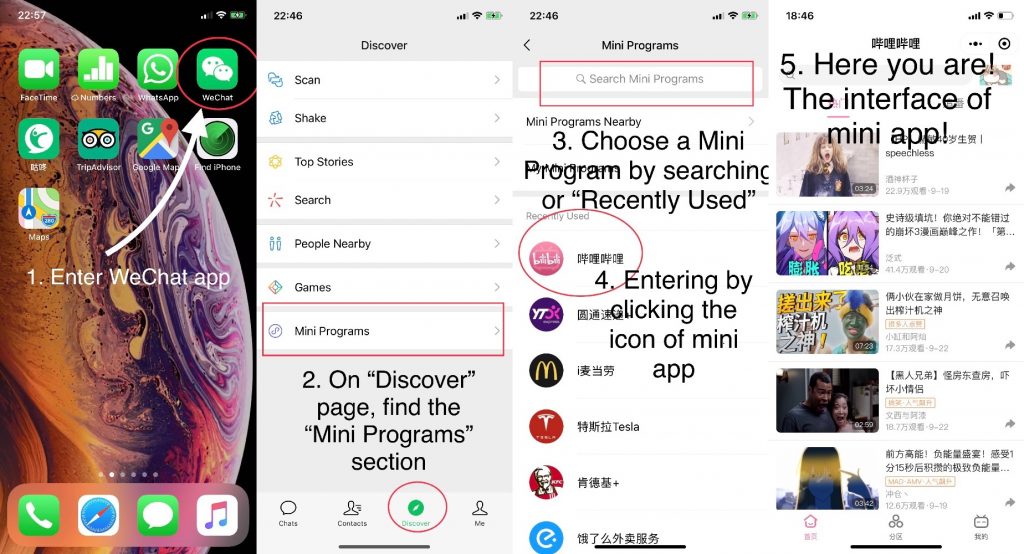 Mini Programs also break the barriers between different mobile operating systems and system versions for app users. Downloading native apps in conventional app stores leveraged restrictions of compatibility. For instance, downloading a Bilibili app (a popular video platform in China) in Apple's app store requires the system of IOS 9 or later, while the only necessity for a "mini" Bilibili is the supporting platform, WeChat, no matter in the system of Android or IOS. The instant availability, smaller size and stronger compatibility of Mini Programs reconfigure the interactive relations between users and apps. They change the situation that distributing users to separate and various applications and centralize users' app activities by integrating these end apps into one bigger ecosystem – WeChat.
Mini Programs turn WeChat from a social media platform into an integrated and new form of "app store"
The role of WeChat is shifting from a messaging social media into a "app-store" social media with the development of integrating practices that run apps inside an app. App store is defined as "an online curated marketplace that allows developers to sell and distribute their products to actors within one or more multi-sided software platform ecosystems" (Jansen and Ewoud 195). From this given definition, Mini programs make WeChat own inclusive capacities to launch apps and deliver them to users, which could be seen as a kind of "app-store" experience.Moreover, WeChat not only provide entrances to app products, they also enable the using activities to happen directly on this new "app-store" platform. The mini apps provided within WeChat could afford main features of native apps with the smaller size and instant availability.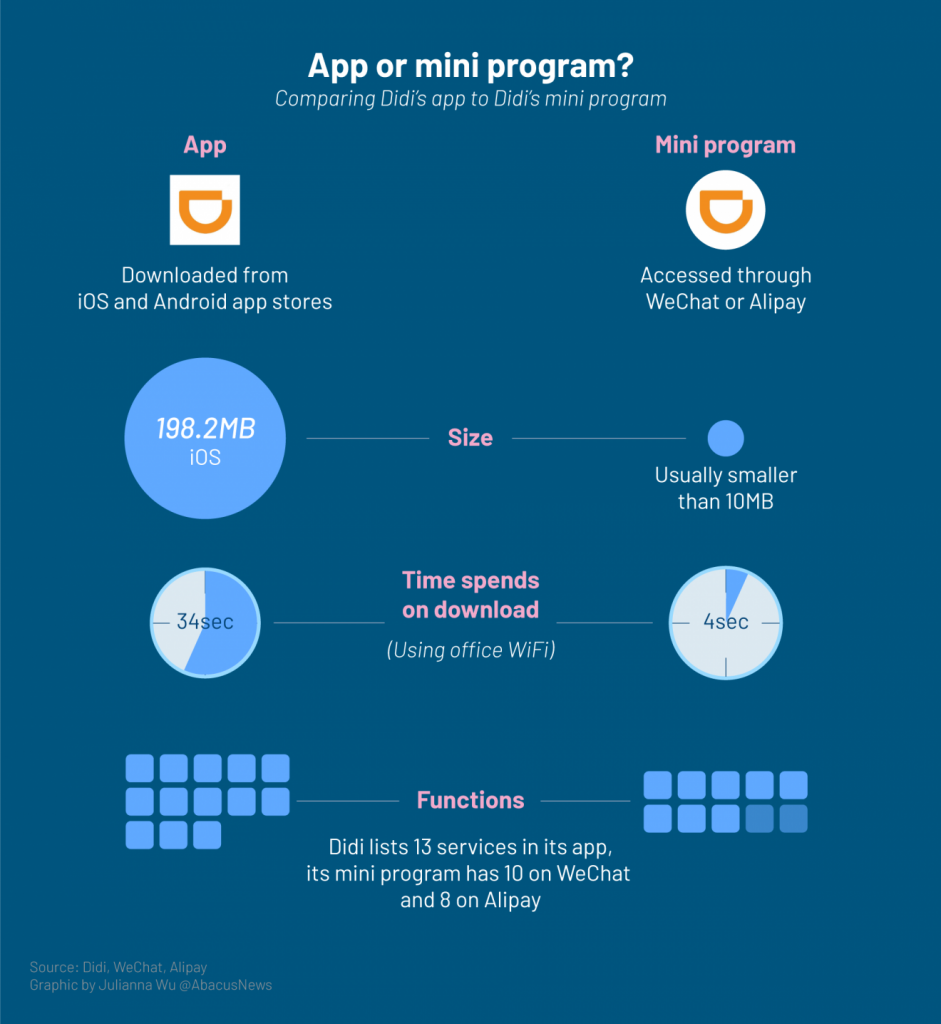 Affordances were considered as behaviors that an environment offers or constraints (Gibson, 4), which mainly refer to actions that users could take in relation to deal with WeChat and Mini Programs. WeChat worked as a multi-functioned social media which affords the communicative features, functions of sharing moments, making payment transactions and identifying QR codes. This new emergence of "app-store" social media is achieved by combining the original affordances of WeChat with its capacities of supporting mini apps. Operating Mini Programs realizes running apps inside an app and implement social actions simultaneously. For example, mini apps enable smooth user experience by allowing users to check their WeChat messages without having to retrieve mini program pages. Also, within a communicative social media platform, users could share the mini apps to their contacts within messaging function. Light et al. (2) suggested to learn affordance by acknowledging the role of social and material influences on the perceiving actions taken by users. WeChat Mini Programs enable people building social relations, make e-commercial activities and having entertainment experience by affording apps to concentrate users.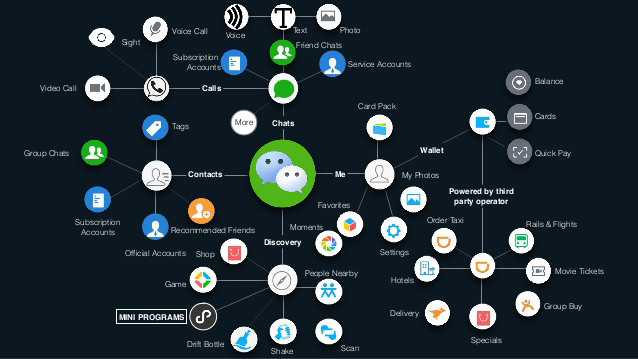 Data, privacy and the future of Mini Programs
Mini Programs also met the problems with data and privacy. They need users to authorize mini apps to access to their real-time location and personal information, such as name, profile photo, region and gender. Exposing the private data is unavoidable in an ecosystem that social activities and app experience happened at the same time. This problem would be a huge limitation for mini apps comparing to independent native apps. WeChat Mini Programs would not take over conventional app stores, at least in recent future, due to the insufficient functions of mini apps and the protection of apps' copyright. However, the launch of Mini Programs still provide new possibilities for the evolution of app ecosystem.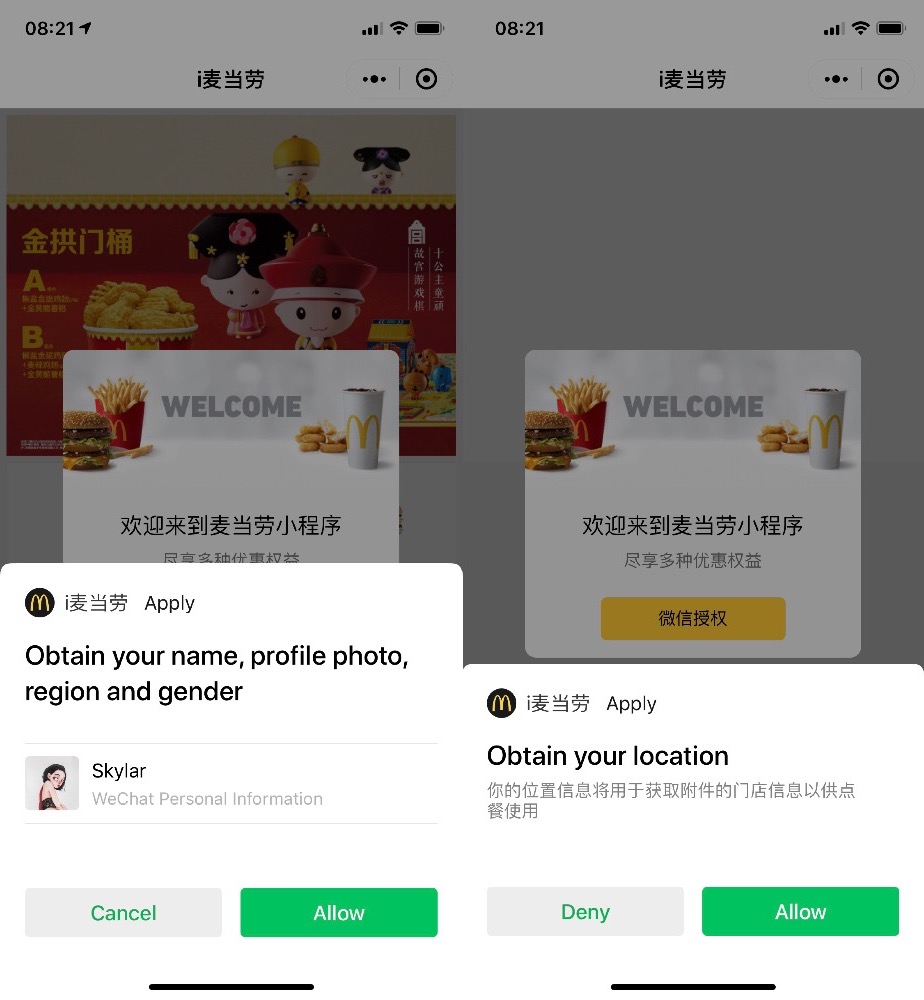 References:
Gibson, James J. The ecological approach to visual perception: classic edition. Psychology Press, 2014.
Jansen, Slinger, and Ewoud Bloemendal. "Defining App Stores: The Role of Curated Marketplaces in Software Ecosystems." Lecture Notes in Business Information Processing Software Business. From Physical Products to Software Services and Solutions, vol. 150, 2013, pp. 195–206., doi:10.1007/978-3-642-39336-5_19.
Jao, Nicole. "Wechat Now Has Over 1 Billion Active Monthly Users Worldwide". Technode, 5 Mar. 2018, https://technode.com/2018/03/05/wechat-1-billion-users/. Accessed 21. Sep. 2019.
Liao, Rita. "Wechat Reaches 1M Mini Programs, Half The Size Of Apple'S App Store". Techcrunch, 7 Nov. 2018, https://techcrunch.com/2018/11/07/wechat-mini-apps-200-million-users/. Accessed 20. Sep.
Light, Ben, Jean Burgess, and Stefanie Duguay. "The walkthrough method: An approach to the study of apps." New Media & Society 20.3 (2018): 881-900.
Sarnoff, Peter. "Wechat Is Spelling Trouble For App Stores". Business Insider, 9 Nov. 2018, https://www.businessinsider.com/wechat-mini-program-growth-2018-11?international=true&r=US&IR=T. Accessed 22. Sep.
Woo, Junwen. "Wechat Launches A New Platform, Mini Programs". IHS Markit Technology, 20 Jan. 2017, https://technology.ihs.com/587909/wechat-launches-a-new-platform-mini-programs. Accessed 21. Sep.