Designing identities with Memojis – Apple's animated avatars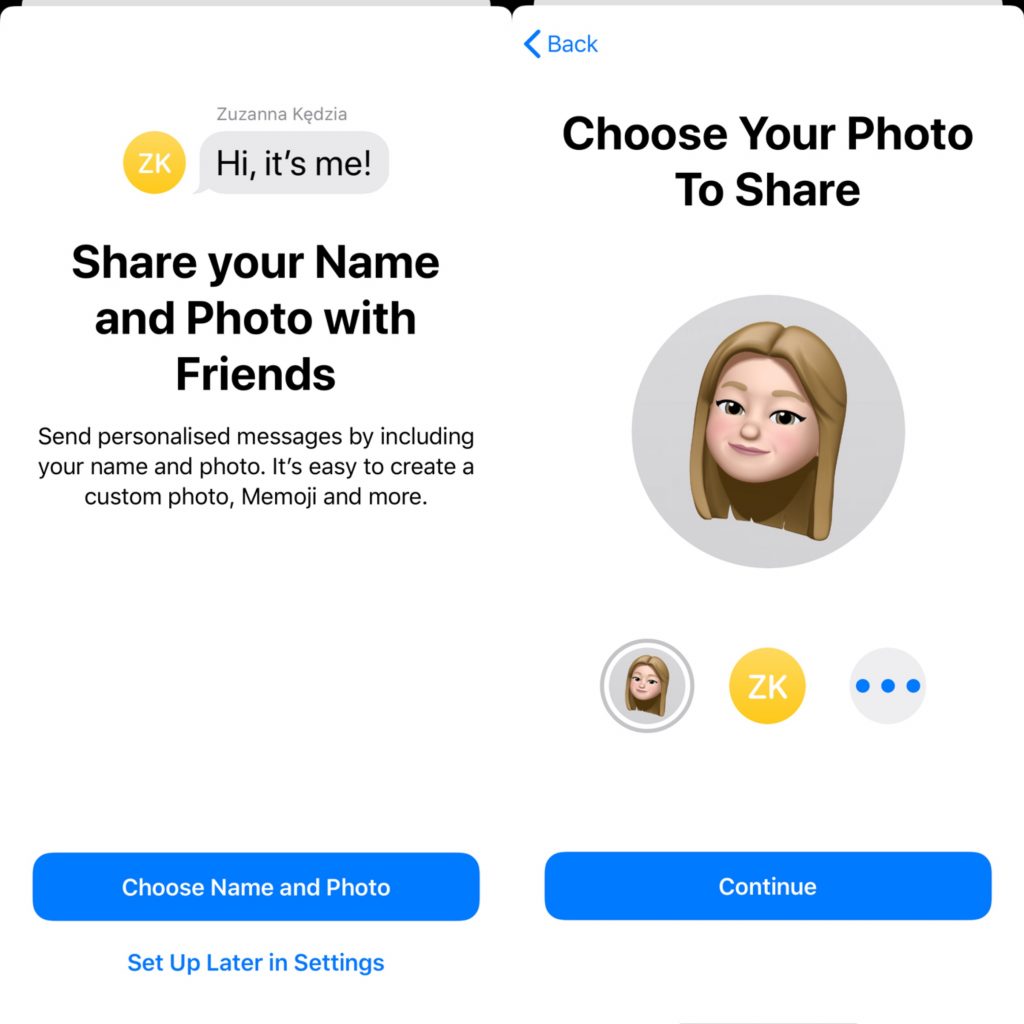 Together with the arrival of iOS 13 operating system in 2019, Apple has introduced a new feature for iPhone and iPad devices, which affords its users to create their own profiles for iMessage, Apple's messaging service. The purpose behind this feature is to enable its users to share their profiles among others, who also own an iOS device. One's information – desired name and contact picture – can be either sent automatically to all contacts or only when granted permission from the profile creator, which is done manually. After setting up one's profile, anyone receiving a new message from that contact will have the option to update the information of the sender locally, with the chosen name and picture.
Such direct influence over how one shares their contact information is unprecedented, at least among Apple users. Before the introduction of iOS 13, no personal info would be distributed to those we communicate with via iMessage – meaning that Apple's contact managing tool, Contacts, would have to be updated manually. The new profile set-up action can be conveniently performed directly within the interface of iMessage, without the need to switch between applications on the device.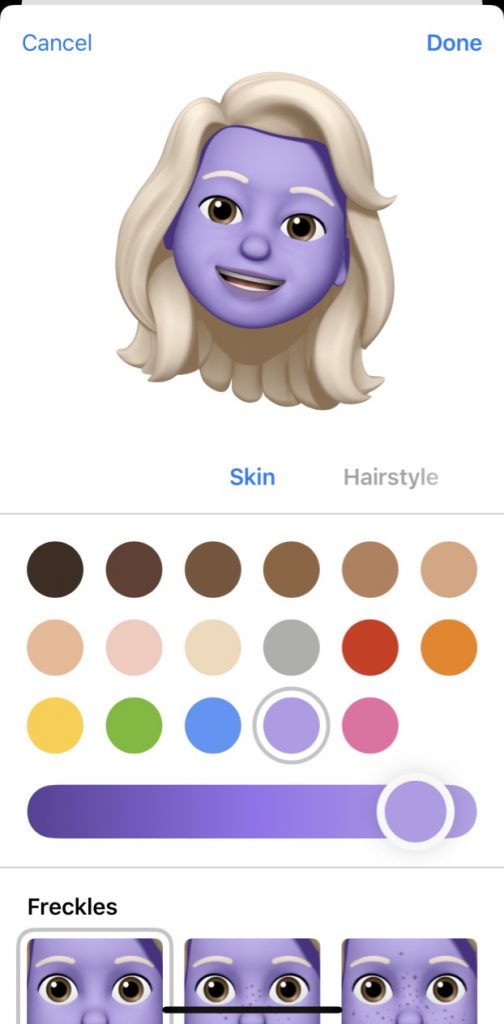 What is key about this modern affordance is that it allows iOS users to create a digital version of themselves, called Memoji. A Memoji can be described as a transition from a more universal mean of visual communication – Emojis – to a highly personalised, unique design of oneself. How unique? In the case of skin, hair, eye and make up, one is able to choose a suitable colour from a reasonably wide pallet, the hue of which can be additionally modified by sliders. There is a broad range of facial piercings available, accessories such a glasses, headwear, braces or even Apple's AirPods. However, some limitations are still noticeable in the feature's toolset. For example, there are only three almost identical nose options accessible, varying in wideness alone.
The technology behind Memojis is based on a facial recognition system, used previously for Apple's Animojis – a custom, animated versions of commonly popularised emoji characters. Using Apple's Face ID camera system, one is able to map an emoji onto a 3D model of their face. The characters will then appear to mimic one's facial expressions in real-time, what can be captured with a photo or video recording and later saved and/or sent to others. It is worth mentioning that in order to create an Animoji or Memoji, one must be using one of the latest Apple devices – either an iPhone X, iPad Pro 11-inch or iPad Po 12.9-inch (Apple Inc.), due to the Face ID hardware requirements. To put things into perspective, iPhone 11 became the second best-selling mobile phone of the 2019 worldwide, 4 months after its launch (Thubron, 2020). The only better selling phone of the year was iPhone XR.
Comparable to another widely popularised image format, GIF, Memoji can be understood as a way to convey emotions or feelings that could not be fully expressed through sheer text. When sent to others as a message, Memoji's recording is looped, its sound can be either turned on or muted. When used, it provides a sensation of flexibility due to its personalisation tools, as well as the real-time recording option – one's face mimics are captured directly on the spot. In addition to Apple's new iMessage profile creation feature, Memoji could be understood as a format that aims to become community-oriented. GIF, for instance, acquires its meanings and values when observed from the perspective of a community (Miltner & Highfield, 4). However, as Memoji is Apple-user exclusive, it faces a pre-imposed limitation, corresponding to the range of reachable audience. Therefore, I believe it is too soon to consider Memoji a potential form of a culturally ingrained, meaning-conveying rhetoric.
Significantly, Memojis can be conceptualised as a form information visualisation. Unlike the traditionally understood practices of data visualising, creating an Apple avatar does not entail handling a large sets of textual data. Nonetheless, considering the overtime evolution of visualisation, it's transition from geometrically-grounded to colourful (Manovich, 2011), as well as the overwhelming amount of data shared on every-day basis (Christin, 1116), is it completely erroneous to consider one's face an information source? I believe it is not – the actual number of facial micro-movements detectable by current Face ID technology, TrueDepth camera system, is 52 (Fowler, 2017). Transforming the mimics of one's eyelids, cheeks and mouth into a face-like image, sensing one's smiles or frowns is a a practice of character visualisation. One's imagination of the "self" is here seen as contemporary data.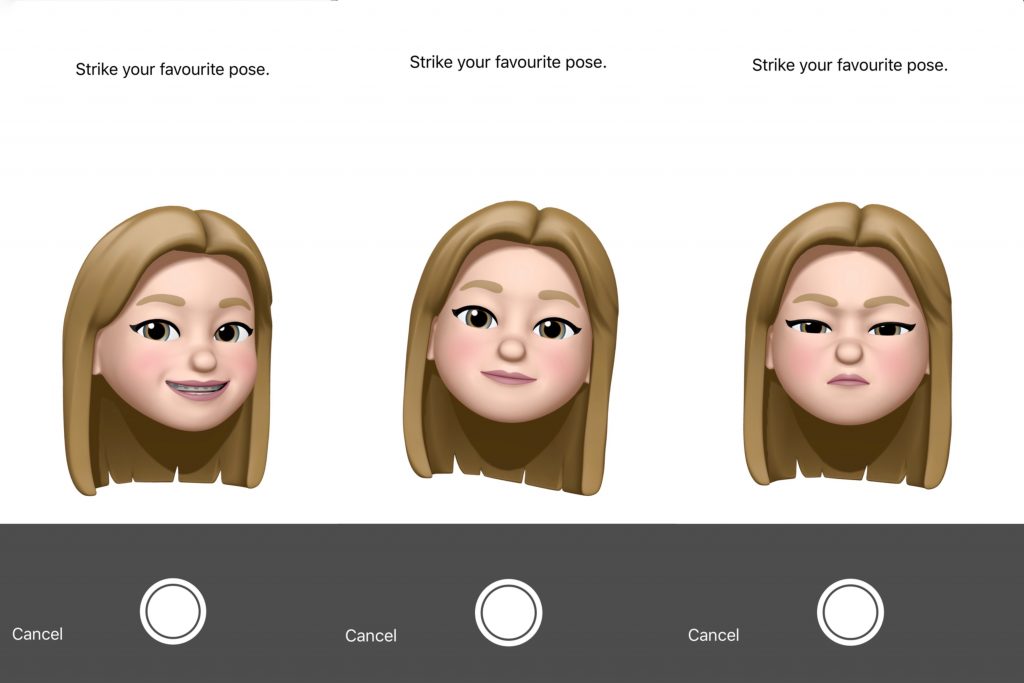 Thus, if human frontal body parts are recognised as data, what happens to it? How designing a Memoji is an action culpable of data sharing? In that regard, Apple has received widespread praise, as Face ID data is device-encrypted (Nachreiner). Technologically, Apple's own software does not authorise face data to be stored elsewhere than on one's smartphone or iPad. Using other applications based on facial recognition is nonetheless a different case. There are numerous apps purchasable on Apple's AppStore, such as MeasureKit, which take advantage of the TrueDepth camera system ("Measure Kit"). 3D models of users' faces, gathered by external intermediaries are stored in their computer databases and therefore become vulnerable to exposure (Fowler, 2017). What is entailed by replacing human contact with a Memoji profile then? As much as it is unclear if and how broadly are personalised contacts culturally acknowledged, a group of teachers from University of Hawaii conducted an experiment using Memoji characters. Teaching a significant amount of courses online, they aimed to improve engagement and student watch duration by including the avatars in voice over lectures (Ogawa, Mosier, McDermott & Nagatoshi, 2020). In overall, the classes have been found more personable by students. Nonetheless, some experienced issues with paying close attention to the actual course content.
To conclude, Apple's emergent affordance intends to structure the engagement of users within its software environment (Bucher & Helmond, 2017). The practice of profile creation through avatar design shifts the contemporary understanding of data visualisation methods, while subjecting gathered information to potential misappropriations and insecurities. I believe that future advancements on Memojis' popularisation process might further redefine human perceptions of character and identity notions. However, it cannot exist as a sheer representation of a technological affordance – first it must acquire a broad recognition across online communities.
References
Apple Inc. How to use Animoji on your iPhone and iPad Pro. 2020. https://support.apple.com/en-au/HT208190 Accessed 27 September 2020
Bucher, Taina. Helmond, Anne. "The Affordances of Social Media Platforms." The SAGE Handbook of Social Media. Sage Publications. 2017. pp. 11 – 41
Christin, Angèle. "What Data Can Do: A Typology of Mechanisms." International Journal of Communication, vol. 14. 2020. pp. 1115 – 1134
Fowler, Geoffrey A. "Apple is sharing your face with apps. That's a new privacy worry." The Washington Post. 2017. https://www.washingtonpost.com/news/the-switch/wp/2017/11/30/apple-is-sharing-your-face-with-apps-thats-a-new-privacy-worry/ Accessed 26 September 2020
Manovich, Lev. "What is visualisation?" Viusal Studies, vol. 26, no. 1, 2011. pp. 35 – 49.
"Measure Kit." https://measurekit.com/ Accessed on 27 September 2020
Miltner, Kate. Highfield, Tim. "Never Gonna GIF You Up: Analyzing the Cultural Significance of the Animated GIF." Social Media + Society. Sage Publications. 2017. pp. 1-11
Nachreiner, Corey. "Apple's Face ID: No match for multifactor security." TechBeacon. https://techbeacon.com/security/apples-face-id-no-match-multifactor-security#:~:text=Apple%20says%20the%20model%20of,called%20the%20iPhone's%20secure%20enclave. Accessed on 27 September 2020
Ogawa, Michael-Brian. Mosier, Sean. McDermott, Kelly. Nagatoshi, Nicole. "Building Engagement through Memoji Enhanced Asynchronous Video Lectures". Proceedings of EdMedia + Innovate Learning. 2020. pp. 1125-1130 https://www.learntechlib.org/primary/p/217427/ Accessed 27 September 2020
Thubron, Rob. "The iPhone 11 was 2019's second best-selling phone despite launching in September" Techspot. 2020. https://www.techspot.com/news/84203-iphone-11-2019-second-best-selling-phone-despite.html Accessed 26 September 2020