Getting to know Amsterdam through festivals
Hopefully the new international students already got a glimpse of The Nederlands and noticed that is not only a country filled with tulips, windmills and grazing cows. No, the Dutchies also have a lot to offer regarding art and music: a little under 700 cultural festivals are held here each year and that number increases annually. In this app review I will be talking about I'm in. An application where two typical Dutch things meet: being gezellig and being cheap.
As I said, there a loads of festivals in Holland and many of them are located in Amsterdam, where I have been living for the past year (to be quiet frank; I live in Diemen, which is not really Amsterdam, but since I can reach the city center by bike I still think it counts). There is so much to be seen and so much to be done, but that might also be the problem with getting to know this city. I noticed that I encountered some great locations of Amsterdam, like Westergasfabriek, NDSM-werf, Roest and Ruigoord,  through festivals. It was a fun way of going to new places and since a month or two I discovered an app that might help you as well. And it is free!
I'm in
A little while ago a friend of mine posted in our 'old roomies' WhatsApp-group that we all should win tickets for Damaris, a brand new festival at NDSM-werf. And how to win those? By one of my favourite applications: I'm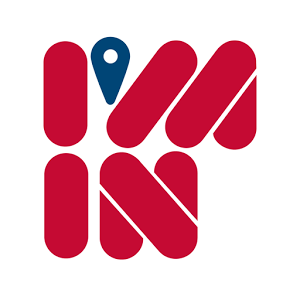 in. This is an app for the smartphone, where you can win free tickets for festivals throughout the year. Its distributor is Floom.nl and it goes back to spring 2014. The tickets are made available by sponsors of the festivals, like for example Heineken and DANCE4ALL.
Winning is easy, just go to your App Store or Google Play and download the app. Then get this little pearl of only 3,0 MB started and make your own profile. Important note: sign in with your real name, since the tickets that you win are personal and sometimes only valid with an ID. Once started, you can select an upcoming event and play a spinning game. The spins you get depend on the stars you have. Each star represents a spin. Showing up at the festival will give you extra stars, hence extra spins. Not going to a festival without cancelling your ticket will lose you stars and decrease your winning chances. The maximum of stars is five.
Winning gives you a ticket for yourself and an optional ticket for a friend. You get one hour to make up your mind if you want to invite someone along and activate the ticket(s). When giving a ticket away, the invitation should be accepted within 12 hours and if not, you will lose your own ticket as well, so inform your friend about the invitation (a tip not only from the app itself, but also from my own experience..).
Then, a few hours before the festival a barcode appears in the app. This code is your ticket to the festival! You can save it in offline mode, so no worries about slow 3G at the festival area.
The plus sides for I'm in? You win two tickets for free, but you have the option to go alone. There is a variety of festivals: popular, new, mainstream or with a specific genre. The bigger festivals that sell out or that are sold out already, like this weekend its Valtifest, are a bit more difficult to win (that is, from my experience). The smaller ones or the big ones that do not sell out, like Dutch Valley, are more easy. And when the festival is nearby your registered location, you have a bigger shot of winning.
The downsides? Not really a problem for me, but it might be for international users: the app is almost completely Dutch. Since the game is easy, that should not be a problem though. Furthermore, the app only gets three points out of five through user reviews. The comments (30 of them) mostly contain critique about technical problems, like crashing.
For me, digital media was a key factor in exploring Amsterdam. I found visiting festivals a great way of getting to know the city. And although Amsterdam has a lot of free stuff to offer on a cultural level to begin with, I'm in can provide a free entry for the ones that do require tickets. Interested? You might want to follow their motto: play, win, enjoy!