Live-Stream Shopping: The Future of E-Commerce?
In the era of e-commerce, did you imagine that one day we can buy a Maserati, a house, or even a rocket launch service on our smartphones? Don't be surprised. It is certainly happening on the live-stream shopping platforms in China.
Social Intercourse + E-Commerce= Interactive Shopping
"Livestreaming is broadcast video streaming services provided by web-based platforms and mobile applications that feature synchronous and cross-modal (video, text, and image) interactivity." (Cunningham, Craig, and Lv 2019). When it combines with online shopping, the newest e-commerce model: Live-stream shopping is born.
There are 3 main live-stream shopping platforms in China: Taobao, Douyin (known as Tik Tok oversea), and Kuaishou. Only Taobao is an originated e-commerce platform, and the other two are both social platforms. In the live-streaming studio, live-streamers usually act as models or demonstrators to display all the features and functions of the products they're selling. From locally farmed goods to luxury fashion brands, viewers watch live-streamers taste foods, try on clothes and cosmetics. Real-time communication is also possible during the live broadcast. In short, live-stream shopping is a combination of QVC and Facebook Live. Just imagine, your favorite live-streamers are introducing some products they love via Facebook Live and you can add the products into your shopping cart by clicking the embedded links in the video. What's more, all the products are on sale, but the promotions will end with the live streaming. Don't you want to make an order immediately?
Let's watch the video below to feel the power of live-stream shopping. (Don't forget to turn on the English subtitle.)
As you can see, in total 81,000 books were sold out just in a few seconds. Viya, who is known as the Queen of Taobao Live, sold the RMB40 million (about $5.7 million) rocket launch service which we mentioned at the beginning in just 10 seconds on 1 April 2020. It's not a joke, though. Viya thinks, there is no need to pretend yourself in front of your friends, and she gets along with her buyers like close friends. This kind of interactive marketing contributed RMB2.47 billion (about $350 million) turnover for her in August 2020, and she was awarded the "Social Marketing Special Contribution Award" by the China Advertising Association for her role model in the e-commerce live-streaming industry. (Marketing Weekly News 2020)
A Driver of Economic Recovery
There is no doubt that live-stream shopping is emerging in China. According to iiMedia Research (2020), the live broadcast e-commerce industry is expected to have a 961 billion market in 2020 due to the global pandemic.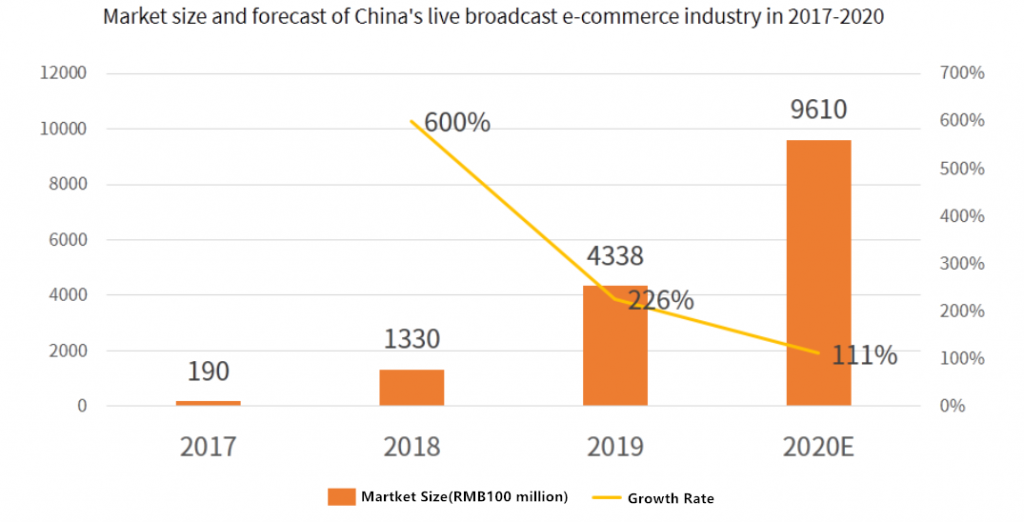 "During the crisis of COVID-19, consumers' demands and purchasing behaviors have been changing fundamentally" (Kantar 2020), "people must isolate themselves at home and decline physical contact to prevent infection" (Wang et al. 2020); thus, the time they spend on online shopping is much more than ever. Compared to most e-commerce platforms that are simply a website with a few product photos, are neither engaging nor easy to trust, live-stream viewers can engage with live-streamers to ask questions or learn about why the product is being sold or why the product would be relevant to the viewer's lifestyle. (China Weekly News 2018) "Users can interact with their favorite live-streamers in real time, so they can have a more immersive, informative shopping experience than most physical stores, e-commerce platforms, and home-shopping channels." (Zheng 2018)
Many farmers, influencers, top stars, even the deputy mayor, are helping Wuhu, the Chinese city where the coronavirus was first reported late last year, to reboot the economy via live-streaming platforms. After Wuhan reopened, more than RMB60 million ($8.5 million) worth of agricultural products from Hubei, the city's province, were sold out on live-streaming platforms. "Growers who had once sold 90% of their products offline have now flipped to selling 90% online." (Hao 2020) The trend of live-stream shopping seems unstoppable and will continue even pandemic is over.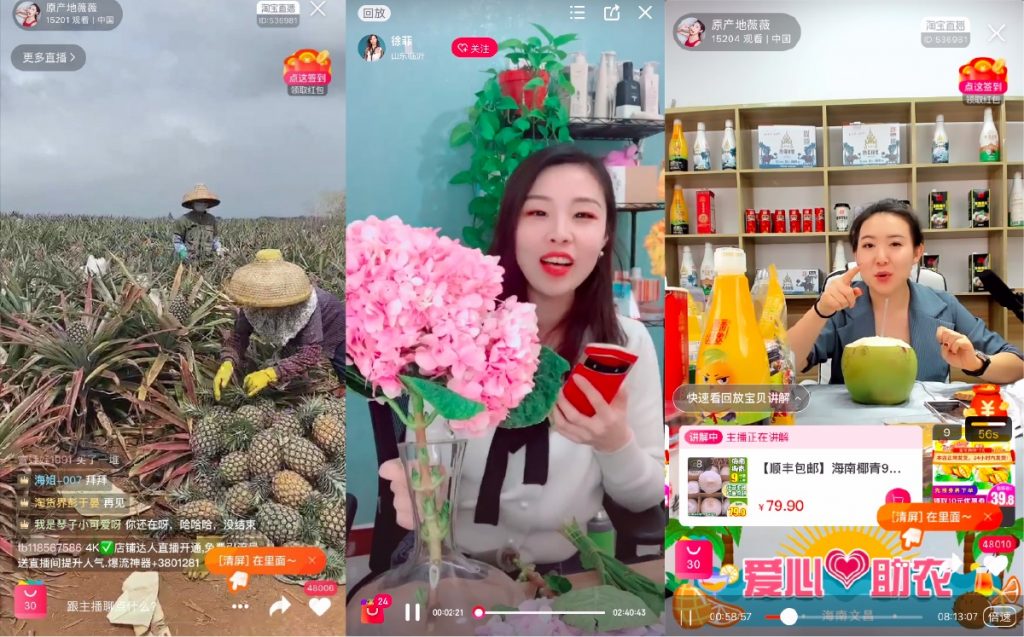 A Battle between Tradition and Innovation
Live-stream shopping makes direct sales possible, which means customers can buy the products from sellers by skipping the middleman. Therefore, everyone can be a seller. Just like Cooper (2019) takes live-streaming as the biggest challenge to journalism, Andrew Keen (2007) also worried that everyone, even the most poorly educated amongst us, can use digital media to express and realize themselves, which will undermine the authority of learned experts and the work of professionals. The problem is, if live-stream shopping keeps booming after the pandemic, will it kill the traditional retail outlets and make retailers lost their jobs? I don't think so. Austin Li (Jiaqi Li) used to be a professional beauty advisor of L'Oreal, he now is the king of lipstick on the live-streaming platform. He once sold 15,000 lipsticks in only 5 minutes on Taobao Live. His professional knowledge and communication skill make him successful in the new e-commerce model. On Singles Day (A Chinese shopping event like Black Friday), Austin had a sales battle with Jack Ma, to see who can sell more lipsticks in 2 hours. And the result? Austin sold 1,000 lipsticks and Jack Ma sold only 10. Why was that? Jack Ma is much more famous than Austin, but Austin knows how to interact with users to stimulate their consumption desire: He always demonstrates the lipsticks on his lips instead of arms, which will give a direct visualization to consumers.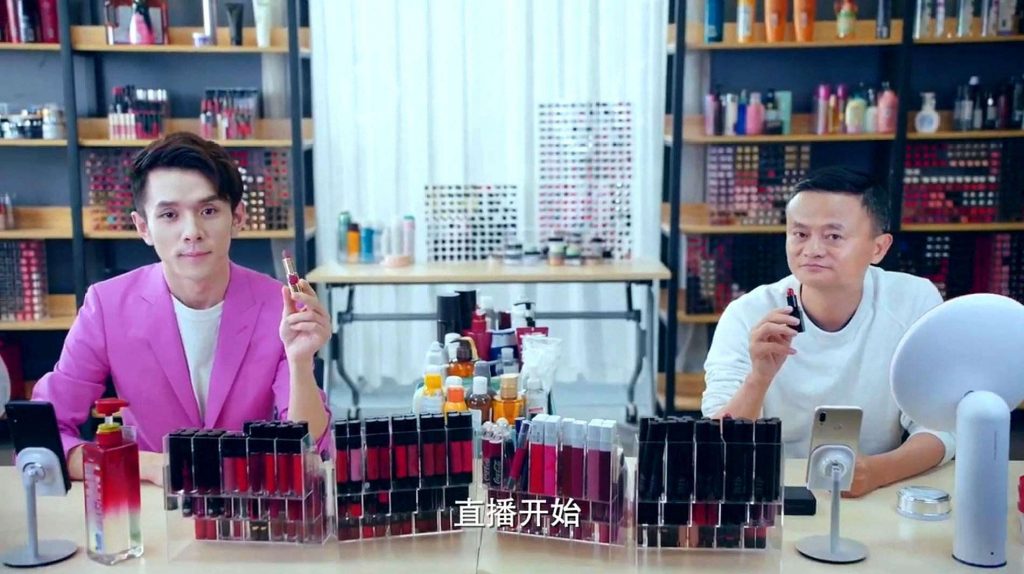 "The available work reveals that the digital has not displaced sensuous human interaction, but has instead reworked sophisticated sets of devices that pre-existed it." (Ruppert, Law and Savage 2013) Wijnand Jongen mentioned the concept of Personal Emotional Connection (PEC) in his book "The End of Online Shopping". He indicates that the more you talk with customers, the happier they are, which will lead to a deal easier. Therefore, to build up a closer relationship with customers is the key to future sales model. As Robinson and De Shano (2011) suggest, the center of the universe has been changed from media to users.
"Live-stream shopping is a natural confluence of several current tech trends-streaming, influencers, social, commerce-and offers sellers a new path to consumers' hearts and wallets." (Bloomberg News 2020) If you can't stop it, try to embrace it. Once you find out a better way to interact with customers, you will survive in future e-commerce competition.
References
Cooper, Glenda. 'Why Livestreaming Symbolises Journalism's Current Challenges.' Journalism 20, no. 1 (January 2019): 167–172.
Cunningham, Stuart, David Craig, and Junyi Lv. 'China's Livestreaming Industry: Platforms, Politics, and Precarity.' International Journal of Cultural Studies 22, no. 6 (November 2019): 719-736.
iiMedia Research. 'Research Report on China's Live Streaming E-commerce Industry Chain and Operation Concentration Issues in the First Half of 2020.' (Accessed 20 September 2020).
Available at: https://www.iimedia.cn/c400/73426.html
Jongen, Wijnand. 'The End of Online Shopping: the Future of Retail in an Always Connected World.' Hilversum: Nubi, 2017.
Karen Hao. 'Live-Streaming Helped China's Farmers Survive the Pandemic. It's Here to Stay.' MIT Technology Review. (Accessed 26 September 2020).
Available at: https://www.technologyreview.com/2020/05/06/1001186/china-rural-live-streaming-during-cornavirus-pandemic
Kantar. 'Coronavirus outbreak's impact on China's consumption.' 13 February 2020. (Accessed 26 September 2020).
Available at: https://mp.weixin.qq.com/s/OptUHteL3zGVHahnDolRDg
Keen, Andrew. 'The Cult of the Amateur: How Today's Internet Is Killing Our Culture 1st Ed.' New York, NY: Doubleday/Currency, 2007.
'Live broadcast Turnover List in August.' Tencent News. (Accessed 26 September 2020). Author unknown, obtained online.
Available at: https://new.qq.com/omn/20200910/20200910A0IUTT00.html
NewsRX LLC. 'P&G Innovate Cooperation Model in E-Commerce Livestream.' Marketing Weekly News, May 16, 2020, 51. Gale OneFile: News (Accessed 26 September 2020).
Available at: https://link-gale-com.proxy.uba.uva.nl:2443/apps/doc/A623349878/STND?u=amst&sid=STND&xid=21dfb0c7
Robinson, S, De Shano, C (2011) 'Anyone can Know: Citizen journalism and the interpretive community of the mainstream press.' Journalism: Theory, Practice, Criticism. 12(8): 963–982.
Ruonan Zheng. 'How Chinese consumers engage with luxury Livestreamers.' Jing Daily, 13 May 2018. (Accessed 26 September 2020).
Available at: https://jingdaily.com/luxury-livestream
Ruppert, Evelyn, John Law, and Mike Savage. 'Reassembling Social Science Methods: The Challenge of Digital Devices.' Theory, culture & society 30, no. 4 (2013): 22–46.

'The World's Livestream Queen Can Sell Anything.' (Accessed 26 September 2020). Bloomberg News, 5 June 2020, Author unknown obtained online.
Available at: https://www.bloomberg.com/features/2020-viya-china-livestream-shopping
Ni, Vincent, and Yitsing Wang, 'Coronavirus: Can live-streaming save China's economy?' BBC News. (Accessed 26 September 2020).
Available at: https://www.bbc.com/news/business-52449498
Wang, Yonggui, Aoran Hong, Xia Li, and Jia Gao. 'Marketing Innovations During a Global Crisis: A Study of China Firms' Response to COVID-19.' Journal of business research 116 (1 August 2020): 214–220.
Figures
Figure 1: Market Size and Forecast of China's Live Broadcast E-Commerce Industry in 2017-2020. Source: data.iimedia.cn. (Accessed 26 September 2020)

Figure 2: Live-streaming Captures of Chinese Farmer, Floweriest, and Merchant. Source: MIT Technology Review. (Accessed 26 September 2020).

Figure 3: The Lipstick Sales Battle of Austin Li and Jack Ma. Source: Austin Li's Streaming Room
Video
Year One of E-Commerce Live Stream in China, How Strong is the Trend? Source: Yit. (Accessed 26 September 2020)
Available at: https://www.youtube.com/watch?v=HVM1daULKac&t=194s